There are some great choices for compact, mini, and even travel-sized air fryers which will let you take advantage of the cooking prowess of an air fryer, without having to give up all your counter space.
With many people looking to change to healthier lifestyles, air fryers have become one of the most useful tools to have in your kitchen. An air fryer is the perfect addition to any kitchen because it allows you to quickly cook just about anything without ever turning on the oven.
» Check out Air Fryer vs Instant Pot: Which is Better?
However, air fryers are generally known for taking up quite a bit of counter space. If this is the only thing holding you back, then this post will help you discover the smallest air fryers so you can give it a try.
You can still cook many things in a small-sized air fryer, like chicken burgers and hashbrowns, you just won't be able to cook for everything at once for a large family or make larger foods, like a whole chicken. I think it's absolutely worth it, and I know you will too once you try it.
Choosing a Small Air Fryer
There are a few things you'll want to consider before choosing one of the smallest air fryer, such as how much space you have in your kitchen or where you plan to store it. It's also important to consider how many people you'll generally be cooking for and what types of foods you want to cook in your air fryer.
Versatility is another consideration. Some of the smallest air fryers don't have a lot of functionality, while other compact air fryers offer several cooking functions.
The choice is ultimately up to you and your needs. You might find that you want a few of those extra functions, of you want to cook something a little bigger – and then the space needed for a 5-quart air fryer will seem worth it.
What Size Are Air Fryers?
The most typical or average size of an air fryer is 5 to 6 quarts, like the Ninja Max XL 5.5 qt. Most of the popular air fryers fall into this size range. This is enough space to cook a full chicken, or a bag of French fries, or to make a meal for 3-4 people, depending on what you're cooking.
The next most popular size is a smaller 3.8 to 4 quart size. These smaller air fryers take up less space on the counter and are perfect for small things like chicken wings. They allow you to make food for 1-2 people.
Finally, there is a very large size of air fryer – from 10 to 11 quarts, like the Instant Vortex – that look more like a toaster oven, and can cook an entire meal for a 4-6 person family. Of course, these beasts take up a ton of space.
There's an even smaller size air fryer, like the Dash 2.6-quart. We'll look into some of those really small air fryers below. These are great for 1 person, or for carrying with you on the road, or for a very small kitchen.
6 of the Smallest Air Fryers You Can Buy
Dash
* A Retro-Style Mini Air Fryer
Size: 2.6-quart | 10.7 x 8.7 x 11.3″
This simple air fryer mini has an adorable design. It also comes in a range of colors, so it's guaranteed to look good on your kitchen counter. With a 2.6 QT-sized basket (which can hold around 1 LB of fries), it's the perfect size for couples or a family of four.
The Dash air fryer has a built-in, 30-minute auto-shut-off function that prevents your food from being overcooked. This little air fryer also has a cool-touch handle, so it's kid-friendly too.
If you're concerned about cleaning this bad boy, don't worry – the interior has a non-stick coating. So there will be no hassles when you're cooking items like chicken wings.
---
The Chefman
* A Simple, Compact Air Fryer Under $40
Size: 2-quart | 11.5″ x 7.5″
To get an air fryer, or not to get an air fryer? That is the question. Well, if you've found yourself going back and forth with this decision, here's the perfect air fryer for you.
Not only is this air fryer small and compact, but it also won't break the bank. This makes it the ideal choice for those wanting to test this kitchen appliance out. It also comes with a one-year warranty, giving you that extra peace of mind.
This manually controlled air fryer has a temperature range of 200°F – 400°F and an integrated timer of 60 minutes. The BPA-Free basket has two quarts of space, so you can easily cook two large chicken thighs in it. This makes it an ideal air fryer for singles and couples.
And did we mention that the fryer basket is non-stick, removable, and dishwasher safe? So you definitely won't have any hassles when it comes to cleaning up.
There's a slightly larger 3.7-quart size available too with a footprint of 12 x 12 x 10″.
---
Instant Vortex 4-in-1
* A Small Air Fryer With All the Bells & Whistles
Size: 2-quart | 9.2 x 11.75 x 11.26″
The Instant Vortex 4-in-1 is a great small air fryer for those looking to have more functionality, like the one-touch smart programs that allow you to cook your favorite things with a touch of a button.
Air fry
broil
roast
reheating
Another plus is that the air fryer basket and tray are non-stick and can safely be washed in the dishwasher.
This small air fryer is just 2-quarts, with a footprint of 9.2 x 11.75 x 11.26″. It can hold up to a pound of French fries. It's a pretty small amount of space, so you won't be able to do a lot of cooking for more than 1 person.
However, there is a 4-quart Instant Vortex Plus that has 4-quarts of space available, and its dimensions are only 13.03 x 10.2 x 11.02 inches. So you'll get a lot more internal space without having to give up much extra counter space.
Note: previous customers have complained about a plastic smell. However, many have said that you simply must ensure you remove the plastic, silicone rubber shipping legs that hold the tray and basket and place them during shipping.
---
Cosori: A Sleek, Portable Air Fryer
Size: 3.7-quarts | 10.75 x 10.9 x 12.25″
A lot of people who are just starting out with an air fryer buy the Cosori brand air fryer. It has 11 presets, a preheat setting, and a shake reminder, all of which offer convenience and ease of use for first timers. The "shake" function is particularly useful because it lets you know it's time to give your food a little shack midway through cooking.
While it's only 3.7 quarts, it's a powerful air fryer with a high wattage. The removable baskets are also PFOA-free and BPA-free, so there's no need to worry about my harmful chemicals.
With a touch screen pane and a digital LED display, this is the ideal modern, sleek-looking appliance to add to your kitchen.
There's a larger 5.8-quart size available that is 11.8 x 11.8 x 12.6″. For less than an inch all around, you can have quite a bit more internal cooking space.
---
Ninja AF101 Air Fryer
Size: 4-quart | 8.5 x 12 x 11″
The Ninja brand of air fryers are some of our favorites, because they're very reliable and have all the features you really need in an air fryer. This 4-quart size is perfect for 2-4 people and it has one of the smallest bases of an air fryer of this capacity.
This air fryer is a top choice if you're looking for a multifunctional appliance. With its rapid air technology, this fryer can fry, grill, and even bake your food – think air-fried egg rolls and delicious ribs. Its 105°F-400°F temperature range gives you plenty of cooking options.
The parts are all dishwasher safe and it has a ceramic coated non-stick basket which makes cooking and cleaning so much easier.
The Ninja also comes in a 5.5-quart size if you need one that's a little bit bigger.
Copper Chef: A Beautiful Air Fryer with Stylish Accents
Size: 2-quart | 12.4 x 9.6 x 9.6"
This tiny air fryer is only 2-quarts and is around 12.4 x 9.6 x 9.6 inches in size. Serving one to two portions, it's perfect for those living in small apartments or even dorm rooms.
You might think that this small of an appliance would have a low wattage, but this one has 1000 watts of power and a maximum temperature of 400°F, which is quite impressive.
The air fryer accessories are also dishwasher safe, so you can easily clean the air fryer after use. The basket is also cool to the touch, ensuring you don't accidentally burn yourself.
The copper design is unique, but none of the inner parts are made of copper.
OUR FAVORITE AIR FRYER
COSORI PRO LE 5-QT AIR FRYER
There are a lot of features to love about this air fryer, but top of our list are the tempered glass display, super easy to clean basket, and ability to add shake reminders.
Final Thoughts on Mini Air Fryers
Whether you're a lover of fried snacks or simply want to find a more straightforward method of cooking your favorite meals, an air fryer is the kitchen appliance for you.
While some may be chunky, these compact, mini air fryer ovens are the ideal solution. So get ready to make and enjoy the most delicious, crunchy snacks.
Like this post? Save it on Pinterest!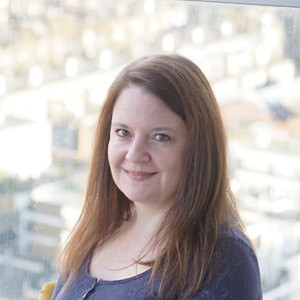 Laura is a passionate foodie and owner of Air Fry Anytime She is dedicated to sharing delicious recipes and helpful tips for using air fryers at home. With years of experience in the kitchen and a love for healthy, flavorful cooking, Laura has become an expert at using air fryers to create amazing meals that are both nutritious and delicious.