Air Fryer Chicken Wings are so simple to make and they come out so crispy on the outside with a nice juicy interior. You can dress them up however you like to change up the flavor.
» You might like these Air Fryer Boneless Chicken Thighs or Air Fryer Chicken Strips as well.
🥳New customers to ButcherBox get 2 packs of bacon FREE in every box for 1 year! Offer ends 8/13/23 SIGN UP HERE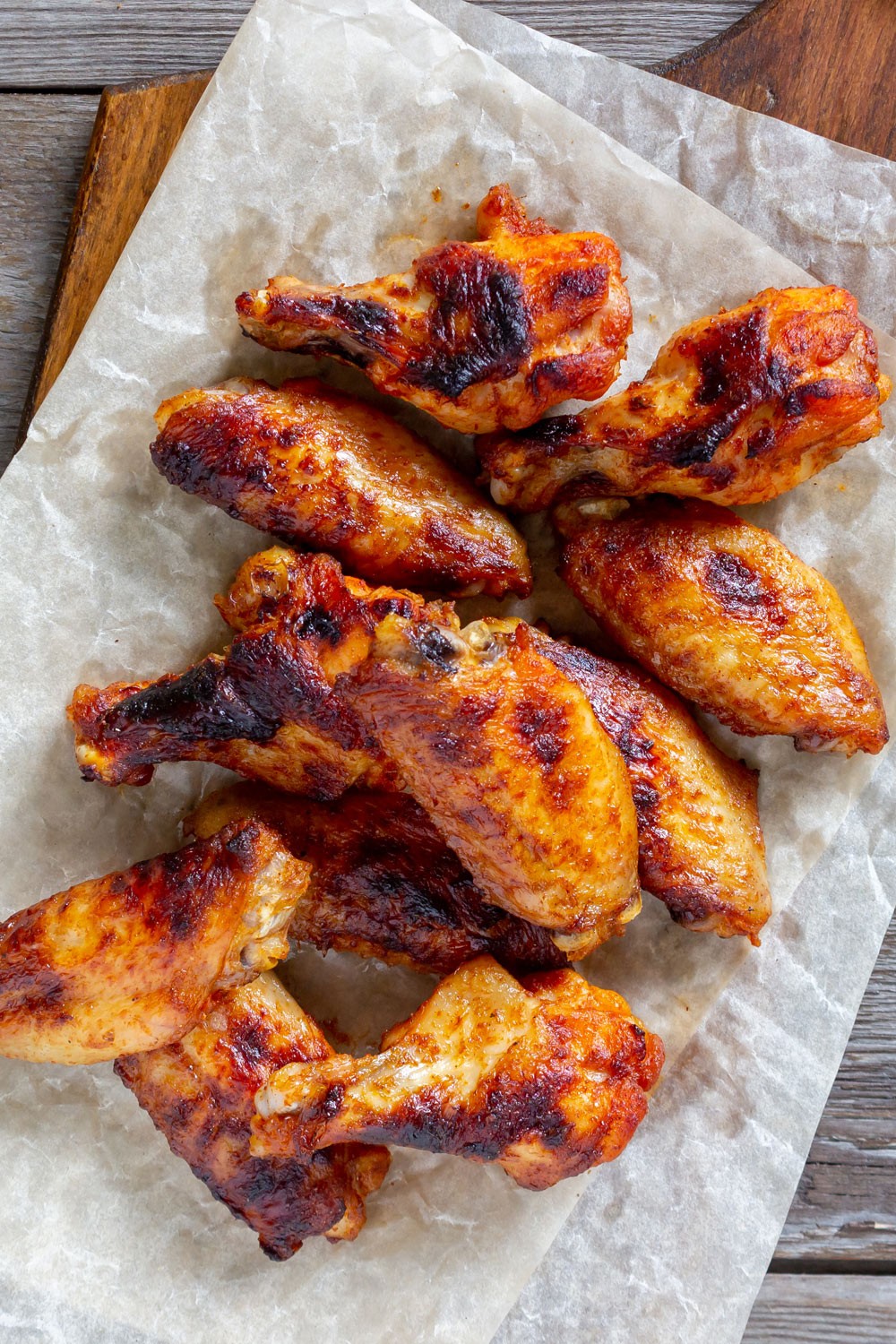 Cooking chicken wings in the air fryer is going to make you want to make them way more often. If you ask me, there's no easier thing to make for just about any occasion. All you have to do is toss the wings into the air fryer basket and turn it on. I'm telling you – super simple!
The forced circulating hot air in the air fryer is what makes the skin super crisp, while keeping all the juices locked inside. It takes a lot longer to achieve the same result in the oven, so the meat ends up getting dried and tough if you attempt to get the perfect crispy skin.
Air fried chicken wings cook in just 20 minutes. You'll get a nice crispy skin and juicy interior. There's no need to preheat the air fryer and you'll have way less splatter than you would deal with in the oven.
Ingredients for Chicken Wings
You'll need the following ingredients for these chicken wings:
1 pound chicken wings – If they aren't cut into pieces when you buy them, you might have to remove the wing tip and detach the wing joint.
Extra virgin olive oil – I like the flavor that the olive oil adds to the chicken, however you can use any cooking oil you want. It just helps crisp up the skin. If you want to spray the chicken with oil, that's fine too, just make sure you coat them well to keep the skin from drying out.
Paprika – Use Spanish paprika if you have it. It gives a lovely color and nice sweet flavor. You could also use a smoked paprika if you like a smoky flavor.
Salt and pepper – we keep this recipe very simple so you can decide what sauce or seasoning you want to add once they're cooked.
How to Make Chicken Wings in the Air Fryer
Rinse and pat the chicken wings dry. Removing any excess moisture from the wings will help the skin crisp up. Detach the wings at the joint, if necessary. I have to do this about half the time that I buy them, depending on the brand.
In a large bowl, combine the wings with the olive oil, salt and pepper. Toss to coat the pieces evenly. If you want, you can add a dry rub or seasoning salt instead of just salt and pepper, if you want more flavor.
You can also spray the wings once you've put them in the air fryer, if you don't want to toss them in the oil. This will save you the extra bowl too.
Put the wings in the air fryer basket. It's okay if they overlap. They don't need to be in a single layer to cook properly. Cook the wings on 400 degrees F (200C) for 20 minutes.
At the halfway point, shake the basket so you move the wings around. This will help them get cooked evenly on all sides. You might do another shake near the end of cooking, too.
If you want to add a glaze to the wings, do it after the first shake, and around the 14 minute mark. Use a basting brush to brush on BBQ sauce, Franks Buffalo sauce, or any other glaze of your choice, if you want to.
After 20 minutes, the wings will be nice and crispy and ready to serve. If your wings were a little on the large side, you may need to cook them longer to make sure they're cooked through. Insert a meat thermometer and make sure the wings have reached 165 degrees F. If not, put them back in for a few more minutes.
If you're looking for a sauce to serve them with, check out these dips for chicken wings. I personally love to serve them alongside BBQ sauce, a sweet soy sauce glaze, or Frank's Red Hot Sauce.
PRO TIP – The air fryer is the perfect way to reheat your leftover chicken wings without sacrificing their crispy, juicy texture.
Can I Double the Recipe?
Yes, you can double the recipe and make up to 2 pounds of chicken wings at a time, if you have a larger air fryer. I have a 5.5-quart air fryer basket and I find that 1.5 pounds of wings is the max that will fit without them being too crowded to get crispy.
When doubling, air fry for 22-25 minutes, or until the skin is crisp. Make sure you shake the basket at least twice during cooking. With so many wings, you might have to stir them with a spatula instead. Bake time will vary based on the size of your air fryer basket and the size of the wings, so be sure to check the temperature of the wings.
Can These Chicken Wings Be Baked Instead?
If you don't have an air fryer, you can bake the chicken wings in the oven instead. Preheat the oven to 400 degrees F and cook the wings on a baking sheet with a silicon mat or parchment paper for 30 minutes, flipping them halfway through cooking.
Can I Baste the Chicken Wings in the Air Fryer?
You can baste chicken wings with a sauce – like one that was mentioned above – in the air fryer, if you wish. You don't want to do it too early on in the cooking process or it might burn.
To baste the chicken wings with a sauce, wait until the last 5 minutes of cooking. So if you're cooking them for 30 minutes, you'll flip them after 15 minutes, then baste them after 25 minutes. Baste one side of the wings, cook for another 3 minutes, then flip and baste again. Cook until they reach your desired crispiness.
Why Use an Air Fryer
An air fryer is an incredibly easy way to cook just about anything. You place the food in a fryer-style basket and hot air rapidly circulates all around the food, making the food crisp – much like deep-frying, but without the oil. You can cook anything you'd make in the oven.
Chicken recipes are always handy to have for a quick dinner. Try air fryer chicken drumsticks, or this easy air fryer whole chicken recipe.
Related Posts:
Like this recipe? We'd love for you to share it with your friends on social media. For more great recipes, follow us on Pinterest and Facebook, where we share our recipes daily.
Air Fryer Chicken Wings
Air Fryer Chicken Wings are so simple to make and they come out so crispy on the outside with a nice juicy interior.
Ingredients
1

pound

chicken wings

1

tablespoon

extra virgin olive oil

1/2

teaspoon

paprika

1/2

teaspoon

salt

1/4

teaspoon

ground black pepper
Instructions
Rinse and pat dry the chicken wings.

In a large bowl, combine the wings with the olive oil, salt and pepper. Toss to coat the pieces evenly.

Place the chicken wings in the air fryer basket and cook on 400˚F (200˚C) for 20 minutes, shaking the basket halfway through cooking.
Notes
Bake time will vary based on the size of your air fryer and how many wings you put in the basket. You will need to increase the cook time for larger wings or when cooking more than 1 pound at a time.
If you want to baste the wings with sauce, do a first basting after 14 minutes and a second after 17 minutes.
There is no need to spray the basket or preheat the air fryer before cooking.
All air fryers have different wattage and may cook at different rates. You may need to adjust the time or temp for the best results.
Nutrition
Calories:
168
kcal
Carbohydrates:
1
g
Protein:
11
g
Fat:
13
g
Saturated Fat:
3
g
Polyunsaturated Fat:
2
g
Monounsaturated Fat:
6
g
Trans Fat:
1
g
Cholesterol:
47
mg
Sodium:
336
mg
Potassium:
99
mg
Fiber:
1
g
Sugar:
1
g
Vitamin A:
91
IU
Vitamin C:
1
mg
Calcium:
9
mg
Iron:
1
mg
🥧 If you're interested in more great recipes, I share all my favorite recipes over at A Food Lover's Kitchen, and you'll find Instant Pot recipes at A Pressure Cooker Kitchen, and cocktails and drinks at Savored Sips. Check it out today!
Pin it for later!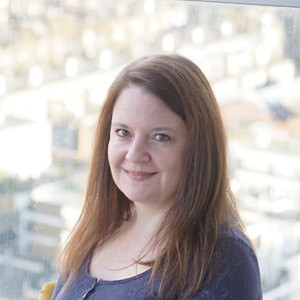 Laura is a passionate foodie and owner of Air Fry Anytime She is dedicated to sharing delicious recipes and helpful tips for using air fryers at home. With years of experience in the kitchen and a love for healthy, flavorful cooking, Laura has become an expert at using air fryers to create amazing meals that are both nutritious and delicious.