This Air Fryer Crispy Breaded Shrimp is so easy to make in the air fryer and it turns out perfectly crispy and delicious in just 6 minutes.
»You will love this Air Fryer Frozen Fish Fillets or Easy Air Fryer Halibut.
Air fryer shrimp are super versatile and they are the perfect recipe to add to your repertoire. Tender seafood with a crispy breading, what's not to love? Frozen seafood can be so easy to cook in the air fryer. Try these air fryer frozen calamari as an appetizer at your next party.
Sometimes fried food can be a bit intimidating. Not to mention the dreaded oily fish smell that hangs around after deep frying. I'm happy to report that the air fryer gets rid of that problem! Now you're free to have delicious crunchy shrimp whenever you like.
Ingredients You'll Need
Shrimp – 1 pound of shelled, cleaned, and deveined shrimp.
Flour – All-purpose flour
Salt
Egg
Bread crumbs – You can use regular bread crumbs or panko. I would stay away from the Italian bread crumbs since they have herbs and spices added.
Equipment Information
Air fryer: I use this 4-quart basket-style air fryer. It's large enough to fit a meal for 4-6. But some things need more space in the air fryer basket, so they cook evenly.
Kitchen tongs: It's very easy to remove food from your air fryer with kitchen tongs. I use these kitchen tongs that are silicon coated so they don't scratch the interior.
2 independent XL air fryer baskets
Integrated Foodi® Smart Thermometer
Cook 2 foods 2 ways that finish at the same time
How to Make Air Fryer Crispy Breaded Shrimp
One of the best things about this recipe is that it's easy and fast. Thaw your shrimp, making sure they're cleaned, deveined, and shelled. Then pat them somewhat dry.
Mix seasonings and flour to create a dredge then crack the eggs into a bowl and scramble them. Pour the Panko onto a plate. Your seasoning could be just about anything. We used plain old salt and pepper but lemon pepper, old bay seasoning, cajun seasoning or this dry rub would work great.
For each shrimp, season with salt and pepper, coat them in flour, dip in the egg and coat in Panko before adding them to the air fryer basket.
Air fry at 400° F for three minutes on one side, flip the shrimp over and cook for three more minutes at the same temperature.
Then you're finished!
These shrimp go great with just about any sauce you can dream up. We recommend bang bang sauce or honey sriracha sauce.
What Shrimp To Use
I like to use a large sized shrimp so that you get a nice big bite.
I buy fresh raw shrimp that are already shelled and cleaned (who has the time for that!) If you do have that time, it's totally fine to get shrimp with the shells on and do the shelling and cleaning yourself.
You can use frozen shrimp, but you'll have to thaw it first in order to bread them properly. The flour, egg and breadcrumbs won't adhere to the shrimp when they're frozen.
Here is a list of the number of shrimp by size:
Jumbo (21/25 count per pound)
Extra Large (26/30 count per pound)
Large (31/35 count per pound)
Medium (41/50 count per pound)
How To Thaw Frozen Shrimp
Thawing frozen shrimp safely is important to prevent the growth of harmful bacteria. Here are some of the best and safest ways to thaw frozen shrimp:
In the refrigerator: The best way to thaw frozen shrimp is to transfer them from the freezer to the refrigerator and let them thaw slowly overnight. Place the bag of frozen shrimp in a bowl or on a plate to catch any drips. This method can take several hours, so it requires some foresight, but it is the safest way to thaw shrimp as it keeps the shrimp at a consistent, safe temperature.
Under cold running water: If you need to thaw shrimp quickly, you can place them in a colander or strainer and run cold water over them for several minutes until they are fully thawed. Make sure to keep the shrimp in their packaging or in a sealed plastic bag during this process to prevent any contamination.
In a bowl of cold water: Fill a large bowl with cold water and place the bag of frozen shrimp in the water. Change the water every 30 minutes until the shrimp are fully thawed. This method can take longer than running water over the shrimp, but it's still faster than thawing them in the refrigerator.
Why Use an Air Fryer
An air fryer is an incredibly easy way to cook just about anything. You place the food in a fryer-style basket and hot air rapidly circulates all around the food, making the food crisp – much like deep-frying, but without the oil. You can cook anything you'd make in the oven.
Tips for Making Air Fryer Shrimp
As seasoned air fryer veterans may know, you shouldn't use normal non-stick cooking spray. It contains additives that can mess with the non-stick finish of your cooking basket. In order for these to not stick to the air fryer basket you need to spray the basket with oil. A light spray will do.
We picked up an avocado oil sprayer from the store and that did fantastic. You can also buy a reusable oil sprayer and fill it with any kind of oil you like (vegetable, avocado, canola, or peanut work best).
Since every air fryer is different you should consult your models instructions on cooking times.
You may need to adjust your cooking time for the size of shrimp you are using. Shrimp tend to get rubbery when overcooked, so you really don't want to overdo it. In this recipe we are using large-sized shrimp.
How To Store And Reheat
If you have any leftovers wait until they have cooled to room temperature and then store them in an air tight container in the refrigerator for up to 5 days.
Reheat them in the air fryer at 350° F for 2-3 minutes. You don't want them to become rubbery.
What Oil & Oil Sprayer is Best for the Air Fryer?
The biggest issue most air fryer lovers face is finding the right oil and oil sprayer to use on food cooked in the air fryer. A fine mist of oil will help the entire piece of food crisp evenly, so it's very important.
My personal preference is to use canola oil, extra virgin olive oil, or avocado oil. I use both a refillable spray bottle like the Evo one pictured below and non-propellant extra virgin olive oil, which has not harmful aerosols or chemicals.
Before You Go
Since you've made it this far, you might want to see more shrimp recipes. Here are a few more articles we think you might enjoy.
Like this recipe? We'd love for you to share it with your friends on social media. For more great recipes, follow us on Pinterest and Facebook, where we share our recipes daily.
Air Fryer Breaded Shrimp
Air Fryer Breaded Shrimp is so easy to make in the air fryer and it turns out perfectly crispy and delicious in just 6 minutes.
Ingredients
1

pound

shrimp

shelled, cleaned and deveined

1/4

cup

flour

1/2

teaspoon

salt

1

egg

1/2

cup

panko bread crumbs
Instructions
You need three shallow bowls. Add flour and salt to one bowl, egg to another bowl, and breadcrumbs to the third bowl. Start by coating the shrimp in flour, then dip it in the egg mixture, then coat it with breadcrumbs. Bread all the shrimp this way.

Preheat the air fryer to 400° F.

Lightly spray air fryer basket with oil and place shrimp in the basket leaving space between each shrimp. Lightly spray the tops of the shrimp.

Cook for 3 minutes. Flip shrimp over and cook an additional 3 minutes. Cook for 4 minutes per side for larger shrimp. Continue in small batches until all shrimp are cooked.
All air fryers have different wattage and may cook at different rates. You may need to adjust the time or temp for the best results.
Nutrition
Calories:
187
kcal
Carbohydrates:
11
g
Protein:
26
g
Fat:
3
g
Saturated Fat:
1
g
Polyunsaturated Fat:
1
g
Monounsaturated Fat:
1
g
Trans Fat:
1
g
Cholesterol:
327
mg
Sodium:
1242
mg
Potassium:
129
mg
Fiber:
1
g
Sugar:
1
g
Vitamin A:
59
IU
Vitamin C:
5
mg
Calcium:
186
mg
Iron:
3
mg
Related Posts:
🥧 If you're interested in more great recipes, I share all my favorite recipes over at A Food Lover's Kitchen, and you'll find Instant Pot recipes at A Pressure Cooker Kitchen, and cocktails and drinks at Savored Sips. Check it out today!
Pin it for later!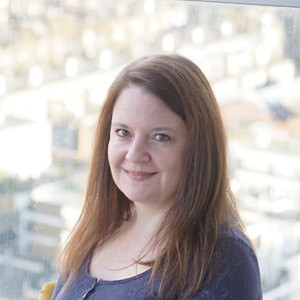 Laura is a passionate foodie and owner of Air Fry Anytime She is dedicated to sharing delicious recipes and helpful tips for using air fryers at home. With years of experience in the kitchen and a love for healthy, flavorful cooking, Laura has become an expert at using air fryers to create amazing meals that are both nutritious and delicious.