There are so many different models of air fryers on the market today. It's difficult to decide which one to buy, right? Weeding through all the reviews takes a lot of time and I don't know about you but it's not really how I want to spend my free time.
We've been using all kinds of different air fryer since long before starting this website, so we have an incredible amount of experience with some of the top air fryers on the market. So we've put together a list of the top air fryer brands and models, so you can quickly choose which air fryer you should buy in 2023.
» You might be interested in What You Shouldn't Put in an Air Fryer.
The Air Fryer is an incredible tool in the kitchen for making dishes that you would usually have to cook in the oven. Gone are the days of having to pre-heating the oven to cook a meal for one. You can leave those extra pans and dishes stacked up in the oven now, because you won't be using it anymore.
I find that I have very little need for an oven anymore. The air fryer does it all – from roasting a whole chicken to making corn on the cob, and of course crisping up any frozen foods you're craving – french fries, onion rings, tater tots? It's absolutely brilliant.
» The Air Fryer is great for cooking all types of chicken. Try one of these tasty Air Fryer Chicken Recipes.
Air Fryers We Recommend
No one has time to weed through all the air fryer options available today, so we've put together a quick list of our top recommended air fryers. We've tried each of these air fryers ourselves and stand behind them.
There are small and large air fryers, basket style and toaster style air fryers on this list, so you can choose the one that fits you best.
---
» Check out these 8 Super Useful Air Fryer Accessories.
Important Air Fryer Specifications
Buying an air fryer is a big decision. No one wants to buy an expensive appliance only to find that it doesn't work very well. You want to find the best one from the start.
Below are the criteria that we consider when purchasing an air fryer. You can really narrow down your needs and find the best fit for you just by considering a few things.
Size & Capacity
One of the most important factors for which air fryer you buy is the size and capacity. As you can imagine, they come in all different sizes. There are small air fryers that don't take up much space in the kitchen, but they can only hold a small amount of food. And there are large ones that fit a lot of food (even a whole turkey!) but take up much more space on the counter.
Most air fryers can cook between 1.5 and 2.5 pounds of food at a time. If you're cooking for just one or two people, a smaller fryer (usually 3.7 qt) will probably suit you just fine. If you're cooking for 4 or more, you'd want a larger size (usually referred to as XL), with a capacity of at least 5.5 quarts.
If you're cooking large amounts of food often, or have a large family, then you'll want to buy the biggest models on the market, which are usually around 7 to 10 quarts. There are even larger toaster-oven style air fryers that can go up to 30 quarts.
Special Features
Special features include temperature gauges, baskets and trays, timers, pre-set buttons, dishwasher safe parts, etc. These extra features can turn the cooking process into a breeze, while machines lacking in features can make it a chore.
For instance, a removable basket will make it much easier for you to clean the air fryer after it's been used. Don't skimp on the features you might want. They can add slightly to the overall price, but those features may well be worth it.
The features that I must have in an air fryer are:
Cooking temperature up to 450 degrees F
Easy to clean parts
Features I don't really care about:
Dishwasher safe parts
Multiple pre-programmed buttons
Wattage
You really don't want to skimp on wattage with your air fryer. A higher wattage means it is a more powerful fryer. It's easy to become frustrated with low-wattage fryers that don't seem to do their job well.
Typically, fryers range in wattage from 800-2100. It's wise to make sure your power outlets can support a higher wattage before you purchase it, particularly if you're in an old house.
The air fryer that I currently use (the Ninja MaxXL) uses 1750 watts and I can definitely tell the difference between it an my old one that had 1400 watts. It cooks a lot faster and crisps better.
Price
Air fryers range in price from around $50 to $200. Is it worth it to splurge on a more expensive air fryer/ Sometimes! Likely you'll be getting more features in the higher-end product, but you do need to read the included features to be sure. It's not always the case. Sometimes you're just paying for brand recognition.
A brand name, like Ninja or Philips, will cost more than a no-name brand, but that doesn't mean a no-name brand isn't a good one. Read the reviews to know what you're getting.
Top Rated Air Fryers 2023
The best air fryer for you is heavily determined by your individual needs and preferences. But here we have selected 7 of the best air fryers, based on our own extensive personal experience and customer reviews. We have used each one of these air fryers personally, so we know how they compare.
Ninja's air fryers are some of the best air fryers out there. They are compact for their size and nice looking with a lot of great functionality.
After having used other air fryers and now using the Max XL, I can easily say that it's better in almost every way than others I've used (with exception of the Cosori, which is a very close contender).
The best part of this air fryer for me is how well the basket holds up. I use it every single day, sometimes multiple times, and the non-stick coating on the basket and the tray insert are still just as good as they were the first day. No flaking or rusting.
They are also very easy to clean. There is a basket with an insert, and both pieces are dishwasher safe, but also very easy to hand clean.
It also crisps food to perfection without the need to preheat. Roasted potatoes turn out golden with just the right amount of crispiness. Reheating pizza is a dream.
The Ninja line includes three different models: Ninja AF101, the Ninja AF161 Max XL, and the Ninja DZ which is the dual basket model that comes in a 6-quart or 10-quart size. The AF101 is about $90 while the AF161 is around $130.
The DZ is around $180, but well worth it if you have a large family or want to cook multiple things at once, because it has two baskets with separate cooking temps. See more about this one down below.
The Max XL is the model that I have an the one that I recommend for almost anyone. It has a 5.5-quart capacity and it heats to 450 degrees, so it cooks foods up to 30% faster than the Ninja AF100. For this reason it's very important to pay attention to foods as they cook because they will cook faster than most recipes call for in the Max XL.
Read our review of the Ninja Max XL air fryer.
5.5 quarts (fits 3 pounds of fries)
Temperature range: 105 to 450 degrees F
Ceramic-coated non-stick basket
Can be used as a dehydrator
Dishwasher safe parts
One-touch control panel
7 programable cooking functions
1750 watts
---
If you have a large family or often cook a large amount of food at one time, then the Ninja Foodi DZ (dual zone) model is the way to go.
This thing is a serious workhorse. It's available in 8-quart or 10-quart size. Each basket is full sized and has it's own time and temperature zone, so you can cook completely different things in each side. This saves tremendously on time because you can do your meat in one side and your side dish in the other without waiting on one to finish.
When I used this air fryer I was worried that it would be cumbersome and take up too much space on the counter but it really didn't bother me at all. It was just so convenient to have two baskets that I was really loving it.
There are two cool features on this machine – smart finish and match cook. Smart finish helps you set the cook time so that both sides finish cooking at the same time, so if your chicken takes longer than your green beans, you can set it to finish at the same time.
Match cook allows you to set both sides the same with one button in case you're cooking the same thing in both sides.
Be aware that there are a few different versions of this dual air fryer available. There's the basic DZ101 which has 4 programed settings and the more upgraded DZ201 which has 6 settings. There's also the fancier DZ401 and DZ550. The DZ201 is the one recommend for most people, but you can fancy it up if you want.
8 or 10 quarts

(fits 4-5 pounds of fries)

Temperature range: 105°F–450°F
Two ceramic-coated non-stick baskets
Dual-zone baskets so you can set two different times and temps at once
4-6 customizable programs: air fry, air broil, roast, bake, reheat, and dehydrate
Easy-to-clean baskets and dishwasher-safe crisper plates
1400 to 1790 watts
---
The Cosori Pro LE Air Fryer has a 5-quart basket, which makes it the perfect appliance for moderate household use or families of four. It also features nine cooking functions, a tempered glass display, and the basket is dishwasher safe.
The Cosori Pro LE's nine cooking functions offer preset temperatures for chicken, veggies, fries, seafood, steak, bacon, and frozen foods. It also has preheat and keep warm settings which are quite useful.
If you're switching from traditional cooking to air frying, you're going to love the preset cooking functions. They automatically choose the correct temperature and time to ensure the best results, not that I want to discourage you from visiting our site for more recipes!
This model even comes with a shake reminder, which alerts you when it's time to give your fries, veggies, or seafood a toss. By far, one of my favorite features!
Changing the temperature and function on the Cosori Pro LE Air Fryer is easy, thanks to the tempered glass digital display. The one-touch selection and ergonomic design make this air fryer a pleasure to use.
I actually love that the display is on the top so you don't have to hunch over or crane your neck to see the buttons.
5.8 quarts (can fit a whole 5 lb chicken)
13 one-touch cooking functions
Non-stick, dishwasher safe, PFOA-free and BPA-free
Square basket fits most foods
Digital display and one-touch panel
Has a unique preheat and "shake" reminder
1700 watts
There are a few other models of the Cosori to consider. There's a 5.8-quart upgraded Pro Gen 2 that has 13 cooking functions and a built-in NTC sensor that automatically adjusts the cooking temperature to keep fluctuations within 3°F, so your food is always evenly cooked.
There's the Pro III Air Fryer Dual Blaze that's a 6.8-quart with dual cooking zones for more precise temp control, that has a free VeSync app that lets you control your air fryer remotely, monitor the cooking progress, and activate voice control with Amazon Alexa and Google Assistant.
Read our full review of the Cosori Pro LE air fryer.
---
The basket style air fryer isn't the only type you can buy. A lot of people prefer a toaster-oven style that allows you to cook food in a slightly different way. These are also larger capacity so you can fit a full chicken or larger amounts of food.
The Cosori toaster oven is a 26.4-quart convection oven that can roast, bake, air fry, toast, etc. It's really an all-in-one type of air fryer. It has 6 heating elements, a 2-speed fan, and two levels so you can cook more things at once.
The temperature goes up to 450°F and it comes with the VeSync app so you can program the oven and make adjustments from your phone or smart device.
---
Instant Brands is another toaster style air fryer that does a very good job and the footprint is smaller than some, so it might fit your kitchen space better. If you have an Instant Pot, you likely already trust this brand. They make good appliances.
This is a 10-quart air fryer that can air fry, broil, bake, roast, dehydrate, reheat, and rotisserie. Yes, it's also a rotisserie. My parents have this model and love it because they can cook a whole chicken or prime rib in it with the rotisserie feature and it comes out perfect.
The temperature ranges from 95 to 400°F and it doesn't require any preheating time. It's "instant", pun intended.
The pack includes a non-stick drip pan and 2 perforated cooking trays, as well as stainless-steel rotisserie basket, rotisserie spit and forks, and lift tool so you can get the tray out easily.
One of the things I don't love about a toaster-style oven is that the door gets greasy easily because you have to slide the food across it to take it out. This one's door removes easily and cleans easily with a damp cloth and dish soap.
10 quart (also available in 6-quart)
Temperature range: 95F to 400F
Includes a rotisserie and dehydrate function
Digital display
There's an app included that has recipes and it works with Alexa and your phone
1500 watts
Cons: There is an initial chemical burn off that needs to take place before the smell dissipates. I recommend running the machine for 30 minutes with no food and the air vents going or the door open. It will go away after several uses.
---
A new brand that I just discovered is Paris-Rhone. They have both a basket-style and a toaster-style air fryer that are working out really well for me right now. The toaster style comes in 3 different sizes, each with their own set of features, though they all range in temp from 100F to 450 F.
There's a smaller 14.8-quart air fryer oven that's good for beginners to air fryer. It has easy-turning knobs to set the temperature, timer and cooking functions and it can air fry, toast, bake, roast, and warm. It fits quite a bit of food, it's lightweight, and has 1400 watts.
The 19-quart design that has a mix of digital display and manual knobs. You can put food on 3 levels with the provided trays and all of the trays are dishwasher safe. Another pro of this model is that it includes a child lock function.
The last one is a 26-quart model that's a 24-in-1 convection oven. It has a rotisserie function that can accommodate a really large amount of food. It has and LED digital touchscreen and turn knob and it runs at 1700 watts, so it's quite a bit more powerful than the smaller model.
---
The Dash is the smallest of the air fryers. It's meant to be a convenience for smaller spaces and those who just want to quickly heat up food. It's also half the size. So if you're looking for something for 1 person, for a dorm room, or for a work lunch room, this is the one.
2.6 quarts
Temperature range: 200 – 400 degrees F
Non-stick cooking basket
Dishwasher safe parts
Analog temperature and time setting (up to 30 mins)
Automatic shut off
No complicated buttons
1000 watts
Cons: No digital display. Numbers can wear off the timer.
There is a larger 6-quart Dash with 1700 watts that is better suited for a family or as a permanent appliance in the kitchen.
---
Why Use an Air Fryer
An air fryer is an incredibly easy way to cook just about anything. You place the food in a fryer-style basket and hot air rapidly circulates all around the food, making the food crisp – much like deep-frying, but without the oil. You can cook anything you'd make in the oven.
Conclusion
If you know what to look for in an air fryer, you can find one that perfectly fits your needs, whether it be a smaller or larger size, one that has all the programs, or one that just makes things as easy as possible.
Our list includes all the top models, so we're sure you can find one that's right for you on the list. If you buy one, we'd love to hear what you think and if it met your expectations. Leave us a comment!
Share this post on Pinterest!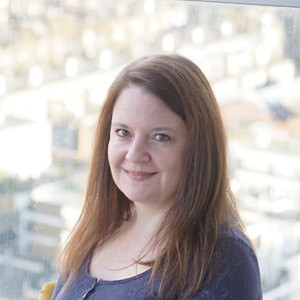 Laura is a passionate foodie and owner of Air Fry Anytime She is dedicated to sharing delicious recipes and helpful tips for using air fryers at home. With years of experience in the kitchen and a love for healthy, flavorful cooking, Laura has become an expert at using air fryers to create amazing meals that are both nutritious and delicious.