There are so many different models of air fryers on the market today. It's difficult to decide which one to buy and to weed through all the reviews will take some time. That's why we've put together a list of the top air fryer brands and models, so you will know which air fryer you should buy in 2022.
The Air Fryer is an incredible tool in the kitchen for making dishes that you usually have to cook in the oven. Gone are the days of having to pre-heating the oven to cook a meal for one. You can leave those extra pans and dishes stacked up in the oven now, because you won't be using it anymore.
» The Air Fryer is great for cooking chicken. Try one of these tasty Air Fryer Chicken Recipes.
Air Fryers We Recommend
If you don't have time to weed through all the options available today, we've put together a quick list of our top recommended air fryers. We've tried each of these air fryers ourselves and can stand behind them.
---
»Check out these 8 Super Useful Air Fryer Accessories.
Important Air Fryer Specifications
You'll want to consider these important things before purchasing an air fryer. As we've said, there are so many different ones out there, so you can narrow down your needs and find the oil-less fryer that works best for you. Be sure to ask yourself these questions before buying:
Size & Capacity
One of the most important factors to which air fryer you buy is the size and capacity. As you can imagine, they come in all different sizes. There are small air fryers that don't take up much space in the kitchen, but that can only hold a small amount of food. And there are large ones that fit a lot (even a whole turkey!) but take up much more space to store.
Most fryers can cook between 1.5 and 2.5 pounds of food at a time. If you're cooking for just one or two people, a smaller fryer (usually 3.7 qt) would probably suit you just fine. If you're cooking for 4 or more, you'd want a larger size (usually referred to as XL).
Extra Features
Extra features include temperature gauges, baskets and trays, timers, pre-set buttons, dishwasher safe parts, etc. These extra features can turn the cooking process into a breeze, while machines lacking in features can make it a chore.
For instance, a removable basket will make it much easier for you to clean the air fryer after it's been used. Don't underestimate the features you might want. They can add slightly to the overall price, but those features may well be worth it.
Wattage
You really don't want to skimp on wattage with a power air fryer. A higher wattage means it is a more powerful fryer. It's easy to become frustrated with low-wattage fryers that don't seem to do their job well.
Typically, fryers range in wattage from 800-2100. It's wise to make sure your power outlets can support a higher wattage before you purchase it.
Price
Air fryers range in price from around $65 to $250. Likely you'll be getting more features for the higher-end products, but you need to read the included features to be sure.
The price also takes into consideration the brand. A brand name, like Hamilton Beach or Philips, will cost more than a no-name brand, but that doesn't mean a no-name brand isn't a good one. Read the reviews to know what you're getting.
Top Rated Air Fryers 2022
The best air fryer for you is heavily determined by your individual needs and preferences. But here we selected 5 of the best air fryers, based on customer reviews.
This is one of the best air fryers out there. It's compact and nice looking and has a lot of great functionality.
Read our review of the Ninja Max XL air fryer.
4 quarts (fits 2 lbs or fries)
Temperature range: 105 to 400 degrees F
Ceramic-coated non-stick basket
Can be used as a dehydrator
Dishwasher safe parts
One-touch control panel
4 programable cooking functions
1500 watts
---
If you have a large family or often cook a large amount of food at one time, then the Ninja Foodi is the way to go.
8 quarts

(fits 4 lbs of fries)

Temperature range: 105°F–450°F
Two ceraminc-coated non-stick baskets
Dual-zone baskets so you can set two different times at once
6 customizable programs: air fry, air broil, roast, bake, reheat, and dehydrate
Easy-to-clean baskets and dishwasher-safe crisper plates
1690 watts
---
GoWISE USA is another brand that does a very good job and the footprint is smaller than some, so it might fit your kitchen space better.
5.8 quarts
Temperature range: 180F to 400F
PFOA-free non-stick cooking basket
8 pre-programmed cooking functions including fries/chips, pork, chicken, steak, shrimp, cake, fish and pizza
Digital display
Alarm to remind you to shake your food at the halfway point
Available in 4 colors
1500 watts
Cons: Can only cook for up to 30 minutes. Some customers have reported that the non-stick surface comes off quickly. Not dishwasher safe.
There are many different sizes so you can find one that suits you. There's a 2.75 quart, 5 quart, 5.3 quart, and a 12.7 quart. See the options here.
---
There are a lot of buttons on this air fryer, so it's not for everyone, but it does do a good job with even cooking, and its square basket makes it easier to fit all types of food.
5.8 quarts (can fit a whole 5 lb chicken)
13 one-touch cooking functions
Non-stick, dishwasher safe, PFOA-free and BPA-free
Square basket fits most foods
Digital display and one-touch panel
Has a unique preheat and "shake" reminder
1700 watts
Cons: Some customers say the steam from the basket leaves a puddle of condensation on the countertop.
There's a smaller 3.7 quart version, if you don't need such a large basket. This smaller size is more ideal for 2 people.
Read our review of the Cosori Pro LE air fryer.
---
The Dash is the smallest of the air fryers. It's meant to be a convenience for smaller spaces and those who just want to quickly heat up food. It's also half the size. So if you're looking for something for 1 person, for a dorm room, or for a work lunch room, this is the one.
2.6 quarts
Temperature range: 200 – 400 degrees F
Non-stick cooking basket
Dishwasher safe parts
Analog temperature and time setting (up to 30 mins)
Automatic shut off
No complicated buttons
Cons: No digital display. Numbers can wear off the timer.
There is a larger 6-quart Dash that is better suited for a family or as a permanent appliance in the kitchen.
Why Use an Air Fryer
An air fryer is an incredibly easy way to cook just about anything. You place the food in a fryer-style basket and hot air rapidly circulates all around the food, making the food crisp – much like deep-frying, but without the oil. You can cook anything you'd make in the oven.
Conclusion
If you know what to look for in an air fyrer, you can find one that perfectly fits your needs, whether it be a smaller or larger size, one that has all the programs, or one that just makes things as easy as possible.
Our list includes all the top models, so we're sure you can find one that's right for you on the list. If you buy one, we'd love to hear what you think and if it met your expectations. Leave us a comment!
Share this post on Pinterest!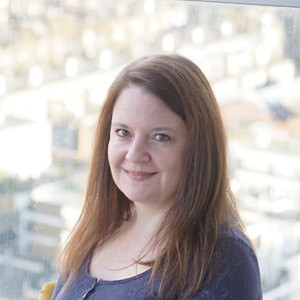 Laura spends a lot of her time cooking and creating recipes to share. She loves traveling and learning about new foods around the world to bring into her own recipes at home.