The air fryer quickly and easily cooks food. In fact, you might never have to turn on your oven again (unless you really want to), because the air fryer is so efficient at making meals. Many foods can even be cooked from frozen in the Air Fryer and it will take less time and make less of a mess than doing it in the oven.
Now wouldn't it be great if you had a handy guide – a sort of air fryer cooking times cheat sheet – to help you get on?
» You might be interested in Can You Put Foil in an Air Fryer?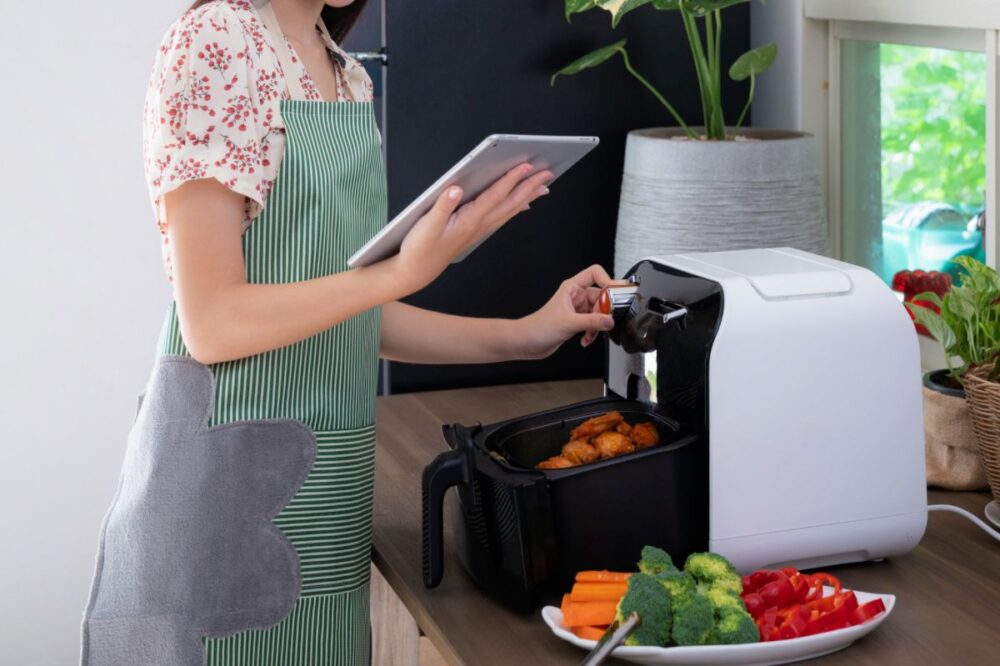 The problem we often have with the air fryer is not knowing exactly what temperature or for how long to cook each type of food. If you had that information at your fingertips, wouldn't it be THAT MUCH easier to cook with your air fryer?
Well, we've got it all right here for you. Find out the exact times and temperatures for your favorite foods in our Air Fryer cooking times cheat sheet below.
🥳🍗Don't miss out! New customers to ButcherBox get FREE wings for life! That's 3 pounds of free-range organic chicken in every box for the life of your membership SIGN UP HERE
Notes About Cooking Times
Most often, people find that recipes for the air fryer don't work well for them and this is due to a few reasons. Keep these things in mind when you make a recipe, so you can adjust the time and temperature accordingly.
Air fryers come in different wattages. If you have an air fryer that is 1400 watts, it will likely cook slower and not get food quite as crispy as an air fryer with 1800 watts. You may need to cook your food differently to take that into account.
Air fryer sizes also vary. The space inside the air fryer will affect how it cooks. If you have a small air fryer or an extra large one, they will likely cook slightly differently to each other.
Basket vs toaster-style air fryers can also make the cook times vary. These two styles can cause the air to circulate in a different way.
You can even download a copy here and print it out, if you want.
Air Fryer Cooking Times Cheat Sheet
Super Useful Air Fryer Accessories
Once you've started using your air fryer more regularly, you'll find there are so many other ways you *could* be using it, if you had a few extra useful accessories. Here are a few favorites that we use almost every day.
12-piece accessories kit for 3.7-5.8 quart air fryers – includes silicone cake pan, cake barrel, pizza pan, toasting/warming rack, skewer rack, silicone mat, bread rack and more
Thermopen instant read thermometer for checking the internal temp of your meats
Evo Oil Sprayer Bottle – BPA, latex, and dehp-free plastic, won't clog or shatter, reusable, refillable, recyclable
What Can You Cook in An Air Fryer?
The Air Fryer can be used to cook almost anything you can make in the oven, so it eliminates the need to turn on the oven and preheat it. It also cooks faster, thanks to the circulated air and the smaller space to heat.
You can cook hamburgers, onion rings, even whole butternut squash or a whole chicken. It's also super useful for cooking chicken from frozen, so you don't have to mess with defrosting anymore.
Seriously, gone are the days of frustration caused by not having defrosted anything for dinner when you need to have the food on the table in 30 minutes. The air fryer solves that problem.
You just need to know the proper cooking times for these foods, and you're good to go. That's why we've put together this useful cooking times cheat sheet that you can use to remember all the cooking times for the foods you make all the time.
TRY THESE AIR FRYER RECIPES
How to Convert Oven Recipes to Air Fryer
You can make just about any food you would in the oven in the air fryer instead. There are many benefits to doing this, including not having to turn on your oven (which takes more energy and time to heat), it cooks faster, and it cooks more evenly.
As long as the food will fit in the air fryer, you can cook it in there. You'll just need to adjust the cooking time and temperature slightly.
Keep in mind that the air fryer cooks faster because the air is circulating all around the food in a much smaller space than the oven. Even a fan oven, which is very common in the UK and Europe, and cooks faster than a conventional oven, won't cook as fast.
I convert my oven recipes by either lowering the temperature, cutting down the cook time, or both. But sometimes, you can keep the same temperature and just reduce the cooking time.
As a general rule of thumb, reduce the cooking temp by 25-50 degrees and the cook time by 25-30%. For instance, I would normally cook chicken wings at 425 degrees F for 35-40 minutes in the oven. In the air fryer, I would cook them at 400 degrees F for 20-25 minutes.
Why Use an Air Fryer
An air fryer is an incredibly easy way to cook just about anything. You place the food in a fryer-style basket and hot air rapidly circulates all around the food, making the food crisp – much like deep-frying, but without the oil. You can cook anything you'd make in the oven.
How to Reheat Food in an Air Fryer
One of the things people often ask me about is how they can use their air fryer to reheat food. A lot of people are not wanting to use a microwave anymore, to avoid microwave radiation. If you're like me, that was how I reheated most foods. I'm now using my air fryer to reheat food.
Most things can be reheated in the air fryer. You can reheat steak, burgers, french fries, muffins, biscuits, chicken. You can even reheat soup and stew in the air fryer, as long as you put it in an oven safe bowl that fits inside your basket.
When reheating, you can also use our cheat sheet cooking times, but cut the time down by half and be sure to turn the food over halfway through cooking, or shake the basket, to ensure even heating.
What Oil & Oil Sprayer is Best for the Air Fryer?
The biggest issue most air fryer lovers face is finding the right oil and oil sprayer to use on food cooked in the air fryer. A fine mist of oil will help the entire piece of food crisp evenly, so it's very important.
My personal preference is to use canola oil, extra virgin olive oil, or avocado oil. I use both a refillable spray bottle like the Evo one pictured below and non-propellant extra virgin olive oil, which has not harmful aerosols or chemicals.
Like it? Please share it on Pinterest!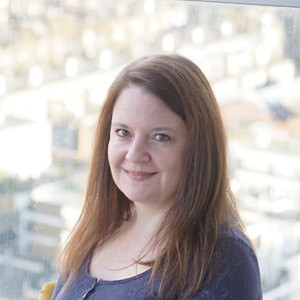 Laura spends a lot of her time cooking and creating recipes to share. She loves traveling and learning about new foods around the world to bring into her own recipes at home.