Air Fryer Sausage and Peppers are seasoned with spices to create a super easy and low-carb lunch or dinner, made with sausage, red and green bell peppers and the addition of delicious onions. You won't believe how much flavor develops in the air fryer.
>> You might also like this Air Fryer Tilapia.
Super Useful Air Fryer Accessories
Once you've started using your air fryer more regularly, you'll find there are so many other ways you *could* be using it, if you had a few extra useful accessories. Here are a few favorites that we use almost every day.
12-piece accessories kit for 3.7-5.8 quart air fryers – includes silicone cake pan, cake barrel, pizza pan, toasting/warming rack, skewer rack, silicone mat, bread rack and more
Thermopen instant read thermometer for checking the internal temp of your meats
Evo Oil Sprayer Bottle – BPA, latex, and dehp-free plastic, won't clog or shatter, reusable, refillable, recyclable
Of all the dishes I make in the air fryer, this is one of my absolute favorites. a quick, easy, healthy, and delicious recipe for lunch or dinner.
Elevate your typical sausage and peppers with a few spices and toss it all into the air fryer to work its magic. It's a really hands-off meal that's easy to make and fun to eat.
Ingredients You Need
Bell peppers: Based on the colors, their flavors can vary from fruity to citrusy. You can choose any colored bell pepper or a combination. Cut them in equal chunks, and that's it.
Onion: Onion has a unique sweet and savory flavor. You can use either red or white onion for this recipe. Cut the onion in chunks as well.
Sausages: Sausages come in different varieties, and you are free to choose any. You can go for chicken, turkey, beef or pork sausages as well. We typically use Italian or Polish sausages. Cut them in thick slices.
Olive oil: Olive oil is rich in healthy fats. You can use any other vegetable oil as well.
Paprika: A dash of paprika will add smokiness and a punch of flavor to this dish.
Garlic salt: Garlic salt adds a great garlic flavor while seasoning the veggies with salt.
Onion powder: For a more savory flavor, use onion powder. If you are looking for more depth, add garlic powder as well.
Herbs: Herbs like rosemary and thyme don't just add aroma but also a distinct flavor to the dish. You can choose either fresh or dried herbs.
Salt & pepper: No dish is complete without adding salt and black pepper at the end, to taste.
OUR FAVORITE AIR FRYER
COSORI PRO LE 5-QT AIR FRYER
There are a lot of features to love about this air fryer, but top of our list are the tempered glass display, super easy to clean basket, and ability to add shake reminders.
How to Make Air Fryer Sausage and Peppers?
Making Air Fryer Sausage and Peppers is super easy. Here is what you need to do:
Step 1: Cut up the bell peppers, onions and sausage into pieces that are all about the same size. This will ensure they cook at the same rate. Put them all into a large bowl.
Step 2: Add olive oil and the rest of the herbs and seasonings to the bowl. Mix everything together until it's all well combined and the seasoning is evenly distributed.
Step 3: Pour the mixture into your air fryer basket. It's okay if the pieces overlap. Generally, you'll be filling the basket at least halfway up, depending on the size of your basket. It's okay, because you'll be stirring it twice during cooking.
Step 4: Cook on 400° F (200° C) for 10 minutes. Shake or stir the contents of the basket twice during cooking so that everything is cooked evenly. Once done, serve!
Why Use an Air Fryer
An air fryer is an incredibly easy way to cook just about anything. You place the food in a fryer-style basket and hot air rapidly circulates all around the food, making the food crisp – much like deep-frying, but without the oil. You can cook anything you'd make in the oven.
FAQs
What Sausage Should I Use?
There are so many different types of sausage. We'd hate to dictate what type you use! Especially because this recipe can be made with any type of sausage you like. That's what makes it a truly versatile meal.
We typically use Vienna sausage (which is what is used in the pictures), but we've also used Italian sausage, Polish sausage, and even breakfast sausage. This is a really great breakfast hash with a fried egg served over the top!
Does it Matter What Peppers I Use?
Nope. Just like with the sausage, you can use whatever peppers you want. Bell peppers are the best type because they're thick and large. Any color is fine. Red peppers have more sweetness. Green are more bitter and savory. You can also use anaheim or pointed peppers…
Can I Reheat Air Fryer Sausage and Peppers?
Yes. You can store the leftover by placing them in an airtight container. They will last for up to 3 days in the refrigerator. Simply reheat in the air fryer at 400° F for about 5 minutes.
You can also freeze this dish, either before or after cooking. It will last for up to 3 months in the freezer. This is a great freezer meal that you can always have on hand to toss into the air fryer when you're needing to make a quick meal.
How to Change It Up A Bit
If you're looking for some different ways to spice this dish up a bit, we've got a few great ideas here.
What Side Dishes to Serve?
There are some really easy side dishes you can serve with your main dish cooked in the Air Fryer. In some cases, you can even cook them together in the air fryer to make it even faster.
Some of our favorite side dishes to serve include air fryer cauliflower, brussels sprouts, and corn on the cob. We love these crispy smashed potatoes and cottage fries because they go with just about anything. Other quick options are to make a side garden salad or some macaroni and cheese.
Like this recipe? We'd love for you to share it with your friends on social media. For more great recipes, follow us on Pinterest and Facebook, where we share our recipes daily.
Air Fryer Sausage, Peppers, and Onions
Air Fryer Sausage Peppers and Onions are seasoned with spices to create a super easy and low-carb lunch or dinner, made with sausage, red and green bell peppers and onions. You won't believe how much flavor develops in the air fryer.
Ingredients
2

bell peppers

any color, cut in chunks

1

large onion

cut in chunks

2-3

Sausages

thick sliced

1/2

tablespoon

olive oil

1/4

teaspoon

paprika

1/4

teaspoon

garlic salt

1/4

teaspoon

onion powder

Dash rosemary

Dash thyme

Salt & Pepper to taste
Instructions
Put the bell peppers, onions, and sausage in a large bowl. Drizzle with olive oil. Sprinkle with seasonings. Stir to coat.

Pour the sausage mixture into the air fryer basket. Cook on 400°F (200C) for 10 minutes, shaking the basket or stirring twice during cooking.
All air fryers have different wattage and may cook at different rates. You may need to adjust the time or temp for the best results.
Nutrition
Calories:
175
kcal
Carbohydrates:
6
g
Protein:
7
g
Fat:
13
g
Saturated Fat:
4
g
Polyunsaturated Fat:
2
g
Monounsaturated Fat:
6
g
Trans Fat:
1
g
Cholesterol:
31
mg
Sodium:
419
mg
Potassium:
273
mg
Fiber:
2
g
Sugar:
4
g
Vitamin A:
1905
IU
Vitamin C:
79
mg
Calcium:
15
mg
Iron:
1
mg
🥧 If you're interested in more great recipes, I share all my favorite recipes over at A Food Lover's Kitchen, and you'll find Instant Pot recipes at A Pressure Cooker Kitchen, and cocktails and drinks at Savored Sips. Check it out today!
Pin it for later!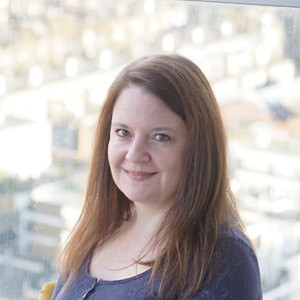 Laura spends a lot of her time cooking and creating recipes to share. She loves traveling and learning about new foods around the world to bring into her own recipes at home.