Air fryer Boneless chicken thighs are juicy, tender, and loaded with flavor, but they are nearly effortless to make. The flavors come from brushing the chicken with a sweet and tangy sauce while air frying.
» You might like this Air Fryer Tri Tip Steak.
🥳🍗Don't miss out! New customers to ButcherBox get FREE wings for life! That's 3 pounds of free-range organic chicken in every box for the life of your membership SIGN UP HERE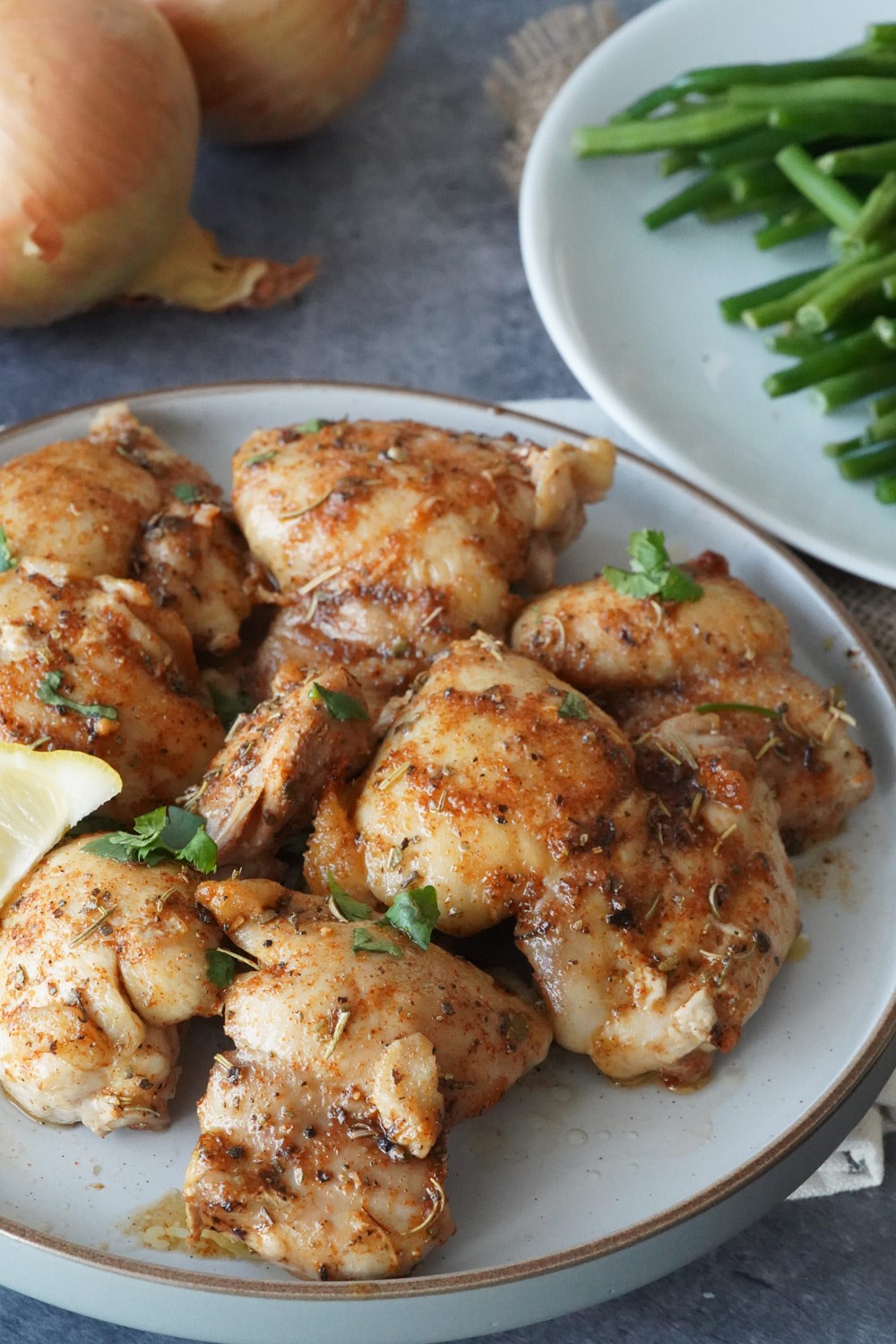 Super Useful Air Fryer Accessories
Once you've started using your air fryer more regularly, you'll find there are so many other ways you *could* be using it, if you had a few extra useful accessories. Here are a few favorites that we use almost every day.
12-piece accessories kit for 3.7-5.8 quart air fryers – includes silicone cake pan, cake barrel, pizza pan, toasting/warming rack, skewer rack, silicone mat, bread rack and more
Thermopen instant read thermometer for checking the internal temp of your meats
Evo Oil Sprayer Bottle – BPA, latex, and dehp-free plastic, won't clog or shatter, reusable, refillable, recyclable
This is a great recipe that you can serve with rice, pasta, or roasted vegetables. You can even air fry the chicken thighs from frozen, if you didn't have enough time to thaw them beforehand. That makes this dish incredibly easy to make whenever you want.
The sauce is made with a combination of flavorful ingredients that comes together for the perfect tangy and rich sauce. You can marinate the chicken in the sauce before cooking for extra flavor, or if you're cooking from frozen, you can just brush on the sauce during cooking.
OUR FAVORITE AIR FRYER
COSORI PRO LE 5-QT AIR FRYER
There are a lot of features to love about this air fryer, but top of our list are the tempered glass display, super easy to clean basket, and ability to add shake reminders.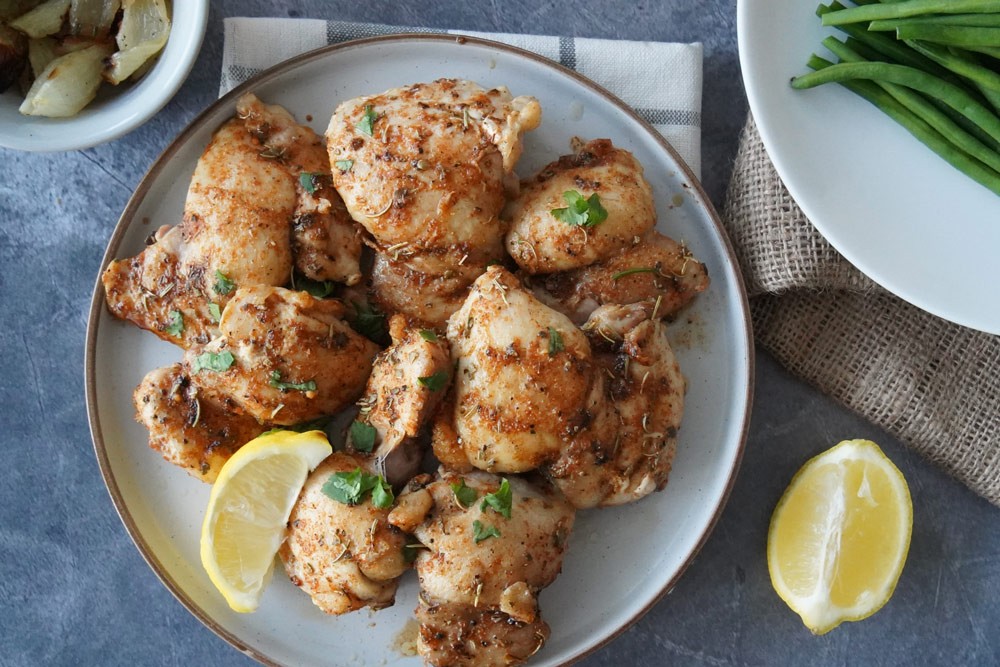 Ingredients You'll Need
Chicken thighs: You will need boneless chicken thighs for this recipe. Chicken thighs are a great alternative to chicken breasts, because the meat is very tender after cooking and doesn't dry out. The easiest to make in the air fryer are boneless, but you can use bone-in, skin on chicken thighs if you want. They will just need longer to cook.
Olive oil: Olive oil is my go-to for this recipe because it works well in the marinade/sauce. You can also use avocado oil or canola oil, but olive oil has the best flavor.
Salt: Salt is just what you need to make your taste buds happy. You can use flaky salt, sea salt, or plain table salt.
Worcestershire sauce: Worcestershire sauce has a slightly sweet and salty flavor. It is made from molasses, vinegar, sugar, chili, and tamarind. It is known for its umami flavor.
Garlic salt
Spanish paprika: Spanish paprika is known for its mild chili flavor. It's not very spicy and it doesn't have any smokiness to it. If you want, you can use smoked paprika, or even cayenne pepper if you want more heat.
Dried sage: Dried sage has a herbal, earthy, peppery flavor. If you are not a big fan of sage, add Italian herbs or any other dried herb instead.
Black pepper
Lemon juice: Freshly squeezed lemon juice adds tanginess and acidity to the dish.
How to Make Chicken Thighs in the Air Fryer
Making chicken thighs in an air fryer is effortless, even if you start from frozen, which is what I do most of the time. The only difference will be that frozen chicken thighs need to cook a bit longer.
Whether your chicken thighs are frozen or thawed, start by placing them in a bowl and coating them with a little bit of olive oil and seasoning them with salt. This will keep them from drying out while they cook.
Spread the chicken thighs out in the air fryer basket. Cook at 385°F for about 6 minutes (8 minutes if frozen).
Meanwhile, add the remaining olive oil, garlic salt, Worcestershire sauce, paprika, sage, remaining salt, black pepper, and lemon juice in a bowl. Mix well and set aside.
When I buy frozen chicken thighs, they often come a little balled up and I can't undo the ball until they've cooked a little bit. If yours are like that, after the first 8 minutes, you'll want to use tongs to flatten out your chicken pieces in the basket.
Using a basting brush, coat the chicken with the prepared sauce and continue to cook for 3 more minutes. Flip the chicken over and brush more sauce on the second side, then continue cooking for another 3 minutes.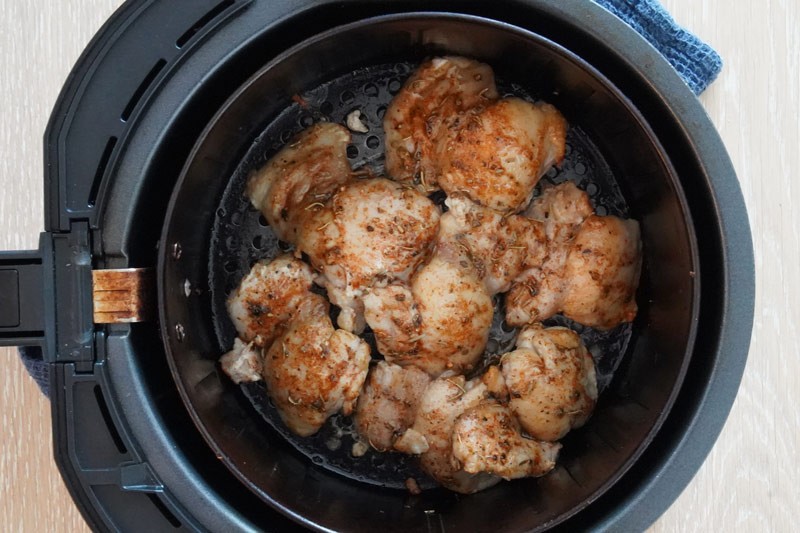 In total, it will take about 12-15 minutes to cook the chicken all the way through, but some chicken thighs are larger than others, so it's very important to check the temperature of the chicken before calling it done. The internal temperature should reach 165° F. Measure it with a meat thermometer to make sure it's done. It not, continue cooking for another few minutes.
Tips for Making Air Fryer Chicken Thighs
The cook time of the chicken is directly proportional to its size, and whether it is boneless and/or skinless. If you're cooking large bone-in chicken thighs, you will need to cook them for at least 25 minutes for them to be cooked through, maybe more if they were frozen to start. Always check the internal temperature to gauge how long to leave them in.
If you are using frozen chicken, the cooking time can vary as well. As a general rule, it will take 3-4 minutes longer to cook.
Always check the internal temperature of the chicken before taking it out of the air fryer. It should be 165° F.
Use silicon-tipped tongs to easily flip over the chicken without ruining the non-stick surface of your air fryer.
Can I Use Bone-In Chicken Thighs and/or Skin-On Instead?
Here's the good news – you can use any type of chicken you want with this recipe. It's possible to use boneless or bone-in and it doesn't matter much whether it has skin or not. You can even use chicken breast. The difference is in how long you will need to cook it.
Boneless (skin on or off): Cook for 12 minutes; 15 minutes from frozen; up to 18 minutes for larger pieces
Bone-in (skin on): Cook for 25 minutes; 30 minutes from frozen, up to 35 minutes for larger pieces
Boneless skinless chicken breast: Cook for 20 minutes; 23-25 from frozen; up to 28 minutes for larger pieces
Note: Always check the internal temperature of the chicken before determining it's done. It should be 165° F.
What Side Dishes to Serve?
There are some really easy side dishes you can serve with your main dish cooked in the Air Fryer. In some cases, you can even cook them together in the air fryer to make it even faster.
Some of our favorite side dishes to serve include air fryer cauliflower, brussels sprouts, and corn on the cob. Other quick options are to make a side garden salad or some macaroni and cheese.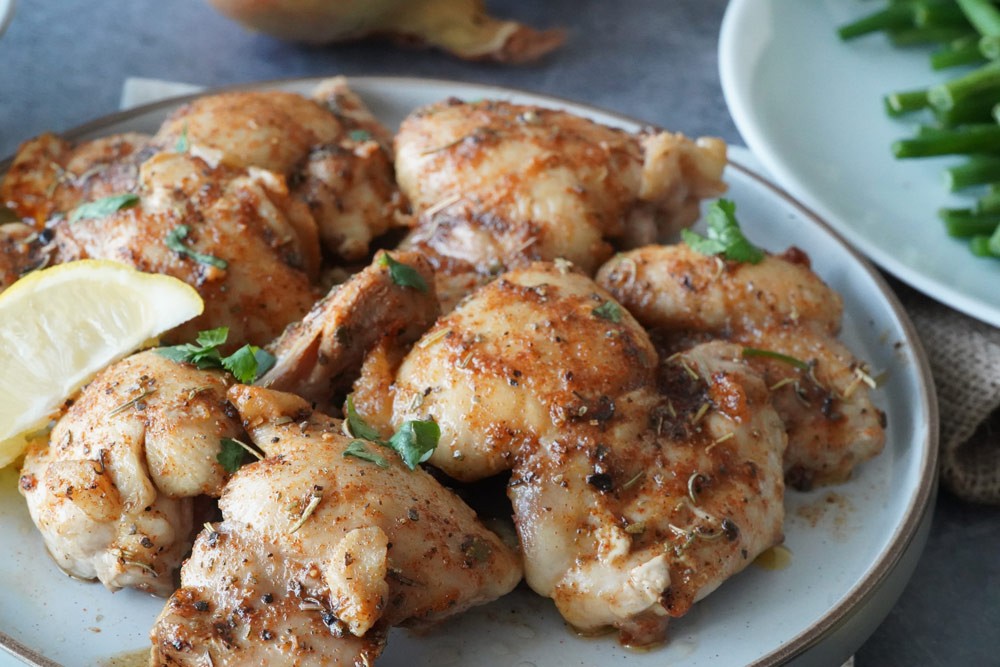 Why Use an Air Fryer
An air fryer is an incredibly easy way to cook just about anything. You place the food in a fryer-style basket and hot air rapidly circulates all around the food, making the food crisp – much like deep-frying, but without the oil. You can cook anything you'd make in the oven.
Like this recipe? We'd love for you to share it with your friends on social media. For more great recipes, follow us on Pinterest and Facebook, where we share our recipes daily.
Air Fryer Boneless Chicken Thighs (Frozen or Fresh)
Air fryer Boneless chicken thighs are juicy, tender, and loaded with flavor, but they are nearly effortless to make. The flavors come from brushing the chicken with a sweet and tangy sauce while air frying.
Ingredients
1

pound

boneless chicken thighs

2

tablespoons

extra virgin olive oil

divided

1

teaspoon

salt

divided

1

teaspoon

Worcestershire sauce

1/4

teaspoon

garlic salt

1/4

teaspoon

Spanish paprika

1/4

teaspoon

dried sage

1/4

teaspoon

ground black pepper

Squeeze of fresh lemon juice

optional
Instructions
Coat the chicken thighs with ½ tablespoon of olive oil. Season with ½ teaspoon of salt. Place the chicken thighs in the air fryer and cook on 385° F (195° C) for 8 minutes.

Meanwhile, mix the remaining olive oil, salt, Worcestershire sauce, garlic salt, paprika, sage, black pepper and lemon juice in a bowl.

After 8 minutes, flip the chicken over and flatten it out if necessary. Baste the chicken with the sauce and cook for an additional 6 minutes. Halfway through, flip the chicken again, baste the second side, and complete the cooking.
Notes
The chicken cooking time will vary greatly based on the size of your chicken, as well as if it was frozen or fresh prior to cooking. Read notes in the post for specifics.
Always use a meat thermometer to determine the internal temperature of the meat. It must be at least 165° F.
All air fryers have different wattage and may cook at different rates. You may need to adjust the time or temp for the best results.
Nutrition
Calories:
312
kcal
Carbohydrates:
1
g
Protein:
18
g
Fat:
26
g
Saturated Fat:
6
g
Polyunsaturated Fat:
5
g
Monounsaturated Fat:
13
g
Trans Fat:
1
g
Cholesterol:
111
mg
Sodium:
829
mg
Potassium:
249
mg
Fiber:
1
g
Sugar:
1
g
Vitamin A:
152
IU
Vitamin C:
1
mg
Calcium:
12
mg
Iron:
1
mg
🥧 If you're interested in more great recipes, I share all my favorite recipes over at A Food Lover's Kitchen, and you'll find Instant Pot recipes at A Pressure Cooker Kitchen, and cocktails and drinks at Savored Sips. Check it out today!
Pin it for later!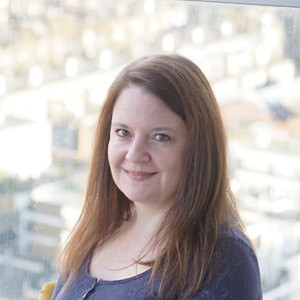 Laura spends a lot of her time cooking and creating recipes to share. She loves traveling and learning about new foods around the world to bring into her own recipes at home.