Air Fryer Corn on the Cob is a quick and easy way to make this tasty side dish and summer barbecue staple. Brushed with salted butter, the corn turns out savory and perfectly crunchy.
» Pair your corn with Air Fryer Brats, Hamburgers or these Air Fryer 4th of July Recipes.
Corn on the cob made in the air fryer is one of our dinner staples, for many reasons. It's incredibly easy to just toss some ears in the air fryer and let them cook – no pot of water to boil, no real prep, besides shucking and trimming the ears of corn. Change up dinner with these fun corn ribs in the air fryer.
In my 5-quart air fryer, 4 ears of corn that are trimmed fit perfectly. Two fit in the bottom and two are placed crossways on top of the others. You'll turn them around once during cooking, so they'll get cooked evenly.
» See a preview of how to make corn on the cob in the air fryer.
How to Make Corn on the Cob in the Air Fryer
The most important thing about cooking corn on the cob in the air fryer is adding oil or butter so the kernels don't get dried out while it cooks. The circulating air in the air fryer can lead to dried corn, if you don't coat the kernels.
For this, I like to use salted butter. The butter gives flavor to the corn and keeps it moist as it cooks.
Melt 2 tablespoons of butter in a bowl and use a basting brush to liberally paint on the butter. If you don't have a basting brush, you can put the butter on a dish and roll the corn in it.
If you'd rather not use butter, you can spray the ears of corn with olive oil. I wouldn't use a lesser-quality cooking oil or spray like Pam, because it can add off-flavors to the corn.
Air fry at 370°F for 12-16 minutes, flipping half way.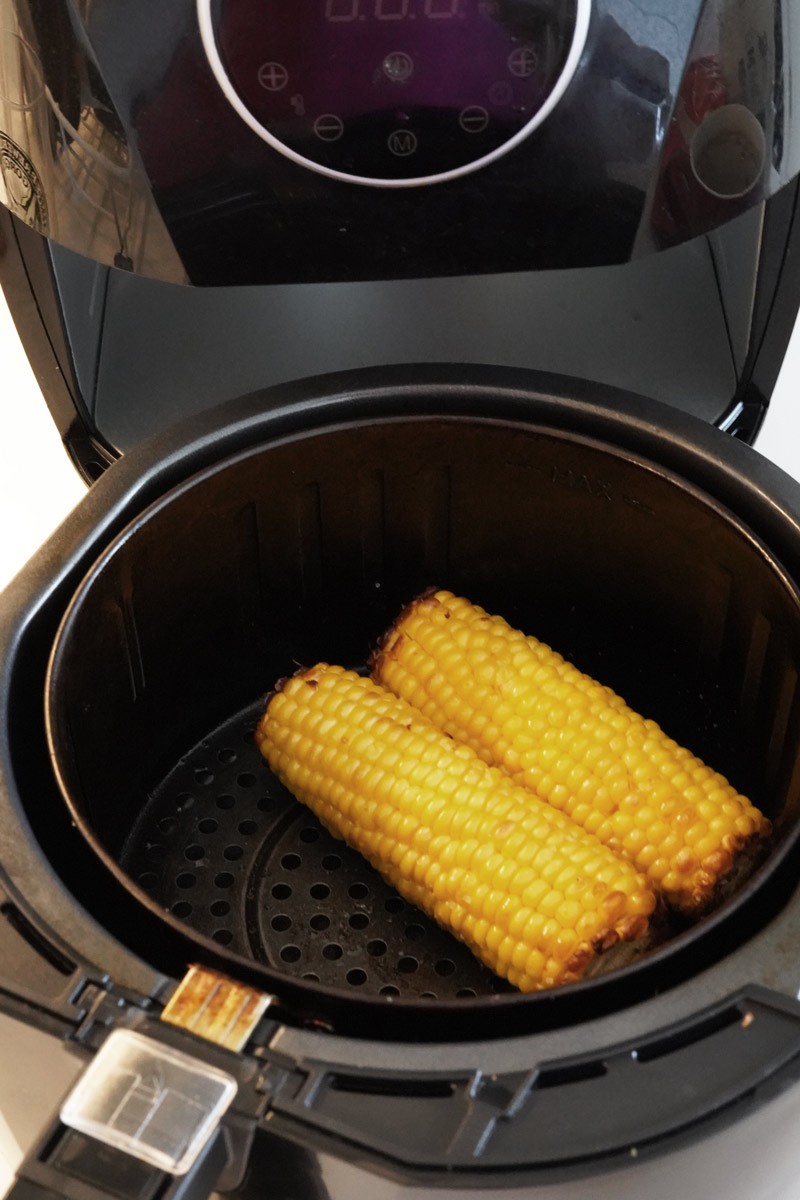 Additional Toppings for Corn on the Cob
I think the best topping for corn is butter and a little salt and pepper. But you can dress up your corn in so many different ways. Give one of these a try:
Shredded parmesan cheese
Cojita or feta cheese crumbles with paprika
Mayonnaise and cajun seasoning
Try this authentic Mexican street corn variation with mayo, cotija cheese, cilantro, and chili powder.
What to Serve with This Dish
There are so many options for main dishes to serve with this dish. You can make these all in the air fryer or in the oven, if you wish.
Like this recipe? We'd love for you to share it with your friends on social media. For more great recipes, follow us on Pinterest and Facebook, where we share our recipes daily.
Air Fryer Corn on the Cob
Air Fryer Corn on the Cob is a quick and easy way to make this tasty side dish. Brushed with salted butter, the corn turns out savory and perfectly crunchy.
Ingredients
4

ears

corn

small enough to fit in your air fryer

2

tablespoons

butter

melted
Instructions
Shuck the corn and trim the ends so the ears fit in the

air fryer

.

Brush with butter.

Air fry at 370°F for 12-16 minutes, rotating the corn half way through cooking.
All air fryers have different wattage and may cook at different rates. You may need to adjust the time or temp for the best results.
Nutrition
Calories:
128
kcal
Carbohydrates:
17
g
Protein:
3
g
Fat:
7
g
Saturated Fat:
1
g
Polyunsaturated Fat:
2
g
Monounsaturated Fat:
3
g
Trans Fat:
1
g
Sodium:
80
mg
Potassium:
246
mg
Fiber:
2
g
Sugar:
6
g
Vitamin A:
419
IU
Vitamin C:
6
mg
Calcium:
4
mg
Iron:
1
mg
Why Use an Air Fryer
An air fryer is an incredibly easy way to cook just about anything. You place the food in a fryer-style basket and hot air rapidly circulates all around the food, making the food crisp – much like deep-frying, but without the oil. You can cook anything you'd make in the oven.
Like it? Share it on Pinterest!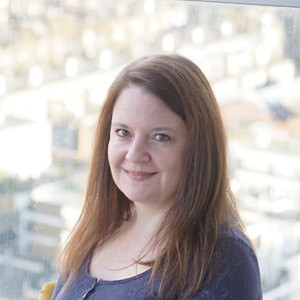 Laura is a passionate foodie and owner of Air Fry Anytime She is dedicated to sharing delicious recipes and helpful tips for using air fryers at home. With years of experience in the kitchen and a love for healthy, flavorful cooking, Laura has become an expert at using air fryers to create amazing meals that are both nutritious and delicious.