This post was originally published on A Food Lover's Kitchen.
Want to know how to easily make these Air Fryer Hamburgers? You'll be surprised how easy it is and how delicious burgers in the air fryer turn out!
» Serve these up with air fryer potato wedges or sweet potato fries, for the perfect meal.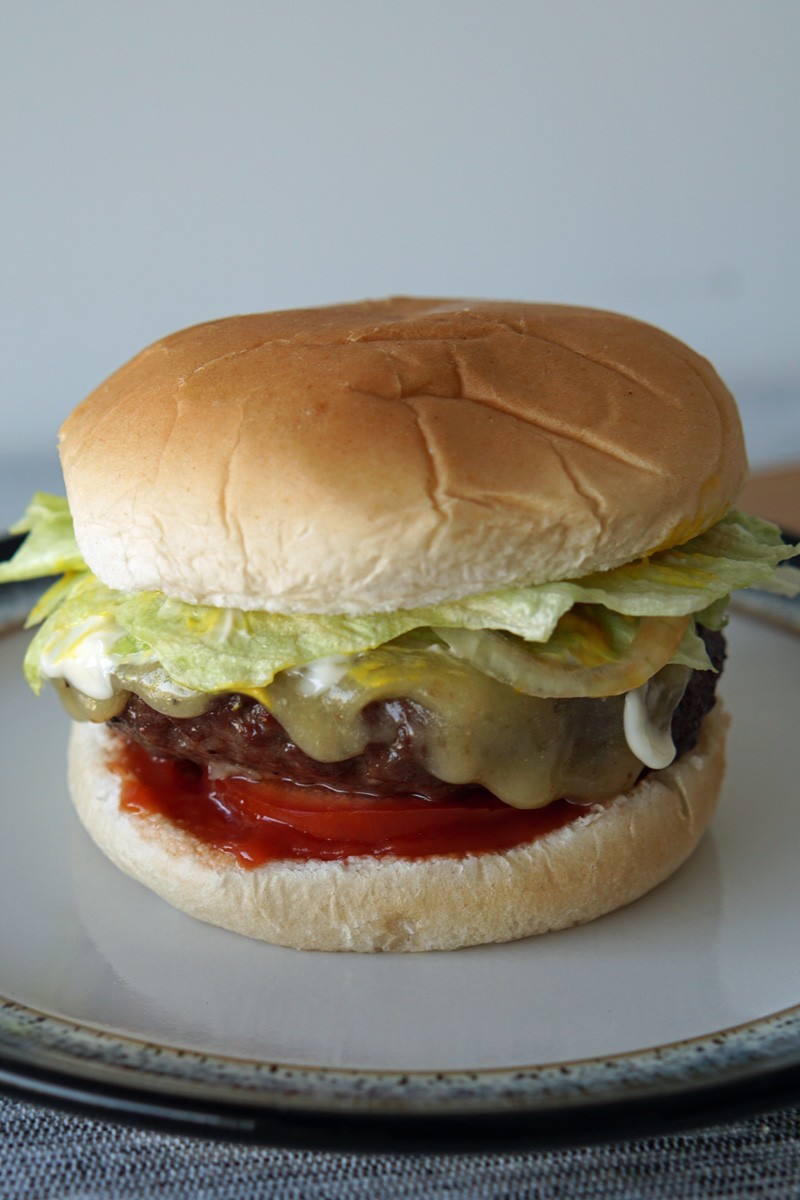 Burgers are one of the things we make the most in our air fryer. You might not know that the air fryer isn't just a substitute for deep frying. It's a great alternative to the stove or oven for things like burgers.
These air fryer burgers are so easy to make. They come together super quick and are just as tasty as a restaurant burger. Try them with these quick and easy frozen French fries.
Of course, there are various ways you can go about making a burger in the air fryer. The easiest possible method is to use pre-formed patties that you can buy at the store, already made up. These come either fresh or frozen.
If you choose to use a pre-formed patty, all you need to do is fire up the air fryer and cook it for 8 minutes on 350° F (180° C). If you're cooking from frozen, cook them at 375° F (190° C) for 10 minutes.
Ingredients You'll Need
Ground chuck – Go for ground beef chuck with 15% fat content. The higher fat content will help keep the burgers moist and full of flavor.
Seasonings – Garlic powder, salt, and ground black pepper.
Butter – Use salted butter here. It is used for basting the burger and adding flavor.
Buns
Cheese – Optional. We like to use Tillamook cheddar slices but you could use American, provolone, or Monterey Jack.
Condiments
Equipment Information
Air fryer: I use this 4-quart basket-style air fryer. It's large enough to fit a meal for 4-6. But some things need more space in the air fryer basket, so they cook evenly.
Kitchen tongs: It's very easy to remove food from your air fryer with kitchen tongs. I use these kitchen tongs that are silicon coated so they don't scratch the interior.
Meat thermometer: The only way to tell if meat is fully cooked to the right temperature is to use a meat thermometer. I use this Instant Read thermometer. It's so quick to open the basket and check the temp.
2 independent XL air fryer baskets
Integrated Foodi® Smart Thermometer
Cook 2 foods 2 ways that finish at the same time
Making Your Own Burger Patties
I prefer to make my own burgers. It's very simple to make a great burger, and it's cheaper to buy ground beef and form the patties yourself. If you want to make your own, we have a quick recipe you can mix up.
It requires 1 pound of ground beef chuck with 15% fat content. This will make 2 good-sized burgers. It's pretty hard to stretch 1 pound of meat into 4 burgers, but you're making sliders, that's definitely possible.
Mix the ground beef with garlic powder, salt, and ground pepper. Then form the patties.
Be sure to flatten out the patties into even discs. They shouldn't resemble a flattened ball. If they're uneven (such as more meat in the middle section), they won't cook evenly and they'll swell up into an even thicker ball. So flatten them out into a 1/2-inch-thick disc.
If you like turkey burgers try making these from scratch, or try these hamburger stuffed mushrooms to lay off the buns. They cook to perfection in the air fryer.
Why Use an Air Fryer
An air fryer is an incredibly easy way to cook just about anything. You place the food in a fryer-style basket and hot air rapidly circulates all around the food, making the food crisp – much like deep-frying, but without the oil. You can cook anything you'd make in the oven.
Cooking Air Fryer Hamburgers
Fire up your air fryer to 350° F (180° C). It's not necessary to pre-heat the air fryer.
Spray the basket lightly with oil and set in your patties. They might overlap in the center, depending on the size of your air fryer. That's not a problem.
Cook them for 4 minutes. Then open up the basket and baste the burgers on both sides with half the butter. Believe me, this is the step that makes the burgers really sing.
Cook on the other side for 4 more minutes.
If you wish to add cheese, be aware that it can be pushed off the burger while cooking in the air fryer due to the forced circulating air. For this reason, I add the cheese after the cooking time has finished.
Open the basket, lay your cheese on and close the basket for a minute or two. The residual heat will melt the cheese perfectly with no worry of your cheese blowing off.
You can also toast the buns in the air fryer if you want. I butter them lightly and then set them facing up in the tray and put them in for 3-4 minutes on 380° F (190° F).
Now you can assemble your burgers with whatever condiments and extras you like.
If you liked these burgers you might try these air fryer brats. They cook up quick and easy while staying nice and juicy. Chicken patties are another great lunch to cook up in the air fryer. From frozen or homemade they are cooked to perfection.
What Oil & Oil Sprayer is Best for the Air Fryer?
The biggest issue most air fryer lovers face is finding the right oil and oil sprayer to use on food cooked in the air fryer. A fine mist of oil will help the entire piece of food crisp evenly, so it's very important.
My personal preference is to use canola oil, extra virgin olive oil, or avocado oil. I use both a refillable spray bottle like the Evo one pictured below and non-propellant extra virgin olive oil, which has not harmful aerosols or chemicals.
Tips For Making Burgers in the Air Fryer
Not all air fryers cook the same way. For this reason, your burgers might cook faster or take a bit longer. You can check the internal temperature of the patties as they near completion to make sure they reach your desired doneness. I aim for 135° F for medium rare, which takes about 8 minutes.
The burgers will cook slower if the meat is chilled straight from the refrigerator when you put them in, or if they are frozen. Add an extra minute or two.
If you can ask your butcher for a custom blend, we recommend 85% beef chuck and 15% brisket for a super tasty burger.
Gordon Ramsey shaves frozen butter into his patties for extra juiciness. Why not give it a try!
Be careful when adding cheese to the burgers in the air fryer. It often will just get blown off into the tray. A better way of adding cheese would be to stuff the burger with it!
» Reading in one second or less
» Accuracy of ± 0.5°
» 5-year warranty
» Auto-rotate display; motion-sensing
» Insanely long battery life (2000 hrs)
Frequently Asked Questions
How long do burgers take in the air fryer?
Hamburger patties will take between 8-12 minutes to cook. We like to cook burgers for 8 minutes at 350° F. While all air fryers cook differently 8 minutes is perfect for a medium-rare burger. Use a meat thermometer to test for the desired doneness.
Do you need to flip burgers in the air fryer?
Yes, flipping the burger half way through cooking allows you to baste the burger on both sides adding more flavor and allowing both sides to crisp up.
What temperature should I set the air fryer at for ground beef patties?
These hamburgers are cooked at 350° F for 8 minutes. Make sure to leave room between your burger patties for air to circulate and don't stack them.
Related Posts:
Like this recipe? We'd love for you to share it with your friends on social media. For more great recipes, follow us on Pinterest and Facebook, where we share our recipes daily.
Air Fryer Hamburgers
Want to know how to easily make burgers in the air fryer? You'll be surprised how easy it is and how delicious burgers in the air fryer turn out!
Ingredients
12

ounces

ground beef chuck

15% fat

1

teaspoon

garlic powder

3/4

teaspoon

salt

1/2

teaspoon

ground black pepper

1

tablespoon

butter

softened

2

hamburger buns

2

slices

cheese

optional

condiments

as desired
Instructions
Combine the ground beef, garlic powder, salt and pepper in a bowl. Mix it all together with your hands. Break the meat into 2 balls. Form uniformly flat patties that don't bulge in the middle.

Set the air fryer to 350° F (180° C) for 4 minutes. When ready, spray the basket lightly with oil. Set the patties in the basket. Cook for 8-12 minutes (times will vary based on your air fryer and desired degree of doneness. I find that 8 minutes is perfect for a medium-rare burger. Halfway through, baste the burger with butter, then flip it over and baste the other side. Finish cooking.

Butter the buns and lightly toast them on the stovetop, or in the air fryer after the patties are done cooking.

Assemble your burger, dressing it with your desired condiments.
Notes
If you wish to add cheese, be aware that it can be pushed off the burger while cooking in the air fryer due to the forced circulating air. For this reason, I add the cheese after the cooking time is finished.  Add the cheese and close the basket and let is sit for a minute or two.
All air fryers have different wattage and may cook at different rates. You may need to adjust the time or temp for the best results.
Nutrition
Calories:
675
kcal
Carbohydrates:
24
g
Protein:
41
g
Fat:
45
g
Saturated Fat:
19
g
Polyunsaturated Fat:
2
g
Monounsaturated Fat:
18
g
Trans Fat:
2
g
Cholesterol:
151
mg
Sodium:
1384
mg
Potassium:
576
mg
Fiber:
1
g
Sugar:
3
g
Vitamin A:
296
IU
Vitamin C:
1
mg
Calcium:
319
mg
Iron:
5
mg
🥧 If you're interested in more great recipes, I share all my favorite recipes over at A Food Lover's Kitchen, and you'll find Instant Pot recipes at A Pressure Cooker Kitchen, and cocktails and drinks at Savored Sips. Check it out today!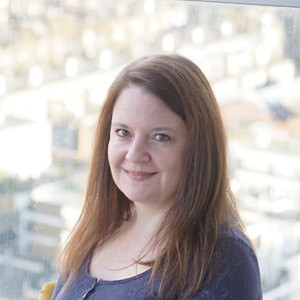 Laura is a passionate foodie and owner of Air Fry Anytime She is dedicated to sharing delicious recipes and helpful tips for using air fryers at home. With years of experience in the kitchen and a love for healthy, flavorful cooking, Laura has become an expert at using air fryers to create amazing meals that are both nutritious and delicious.