These Air Fryer Frozen French Fries are a healthier way to make fries without the oil of deep frying and they turn out perfectly crispy and crunchy, just like your favorite fast food fries.
» We also love these Air Fryer Sweet Potato Fries and Air Fryer Frozen Onion Rings.
Just when you thought making frozen French fries couldn't get any easier, along comes the air fryer and it's now easier than ever.
If you've bought a bag of frozen French fries and need to know how to cook them in the air fryer, this recipe will make that really simple for you. For a slight twist on fries, but just as quick, try air fryer gnocchi.
There's no easier way to make Frozen French Fries than in the air fryer.
What French Fries to Use?
There are so many different brands of frozen French fries you can buy. Which one you use really depends on your own preferences. We use Ore Ida extra crispy fast food fries most often. Their golden fries are very good as well.
Other brands we really like are Alexia House Cut Fries and Market Pantry Crispy Shoestring Fries. McCain fast food fries are also quite good.
Can I Make My Own Fries?
Yes, of course you can make your own fries from raw potatoes. The best way to get them uniform is to use a french fry cutter, like this one. This professional grade french fry cutter gives you the type of fry you would buy in a bag. They will cook at about the same rate as frozen fries.
The only thing different is that you'll have to spray them with oil in order to get them crispy, because they won't already have oil on them like the store-bought ones do.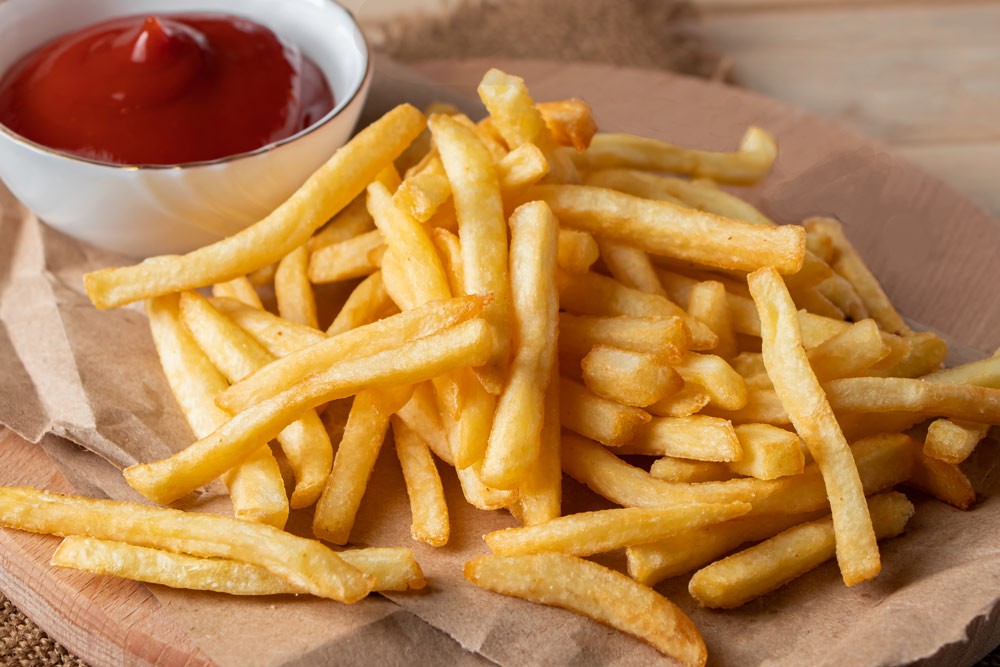 How to Cook Frozen French Fries in the Air Fryer
All you have to do is dump the frozen fries into the air fryer basket – no oil is needed because the fries were pre-cooked with oil, so they have enough oil to crisp them up nicely.
If you have a simple basket air fryer, you can just put as many fries into the basket as you want to cook. It's totally fine if they're piled up on top of each other. You'll give the basket a big shake halfway through cooking, which will break them up and allow them to cook evenly.
However, if you have a tray, like the one below, for your air fryer, you can spread them out on the racks to get a more even cooking.
Cook the fries on 400 degrees F (200 C) for 15 minutes, shaking the basket halfway through. You can shake the basket a couple of times during cooking, if you've really piled them up in there. For my 5-quart air fryer, if I cook a whole bag of fries at the same time, I need to shake them around a couple of times so all the pieces get cooked.
If after 15 minutes, your fries aren't cooked to your preferred doneness, put them back on for 2-4 more minutes, or until they've reached the crispiness you like.
If the fries aren't crisping up the way you want, give them a light spray of cooking oil and put them back on for 2-4 more minutes. The oil will help them crisp better.
What to Serve as a Main Dish
There are so many options for main dishes to serve with this side dish. You can make these all in the air fryer or in the oven, if you wish.
Why Use an Air Fryer
An air fryer is an incredibly easy way to cook just about anything. You place the food in a fryer-style basket and hot air rapidly circulates all around the food, making the food crisp – much like deep-frying, but without the oil. You can cook anything you'd make in the oven.
Related Posts:
Like this recipe? We'd love for you to share it with your friends on social media. For more great recipes, follow us on Pinterest and Facebook, where we share our recipes daily.
Air Fryer Frozen French Fries
These Air Fryer Frozen French Fries are a healthier way to make fries without the oil of deep frying.
Ingredients
1

pound

frozen French fries

fast food style

Salt & ground black pepper to taste
Instructions
Spray the basket with cooking oil.

Put the French fries in the basket and cook on 400 degrees F (200 C) for 15 minutes, shaking the basket once or twice during cooking. If the fries are not as crispy as you like after 15 minutes, continue cooking in 2 minute increments until your preferred degree of crispiness.
Notes
Thicker fries, like steak fries, will take 20 minutes, while thinner fries, like shoestring, might only take 10 minutes.
There's no need to spray the fries with extra oil.
You can cook up to a 2-lb bag of fries in a 6 quart air fryer. It will take 5-8 minutes longer to cook more fries.
All air fryers have different wattage and may cook at different rates. You may need to adjust the time or temp for the best results.
Nutrition
Calories:
197
kcal
Carbohydrates:
23
g
Protein:
2
g
Fat:
11
g
Saturated Fat:
3
g
Polyunsaturated Fat:
1
g
Monounsaturated Fat:
7
g
Sodium:
370
mg
Potassium:
325
mg
Fiber:
3
g
Vitamin C:
5
mg
Calcium:
7
mg
Iron:
1
mg
🥧 If you're interested in more great recipes, I share all my favorite recipes over at A Food Lover's Kitchen, and you'll find Instant Pot recipes at A Pressure Cooker Kitchen, and cocktails and drinks at Savored Sips. Check it out today!
Pin It For Later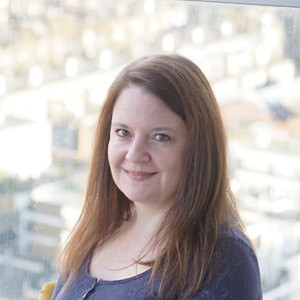 Laura spends a lot of her time cooking and creating recipes to share. She loves traveling and learning about new foods around the world to bring into her own recipes at home.