This post was first published on A Food Lover's Kitchen.
Looking for the perfect sweet potato fry recipe without a hassle of baking in the oven? The air fryer makes perfect, crispy sweet potato fries in a fraction of the time.
>> Looking for a few other air fryer recipes to try? These jalapeno poppers and chicken nuggets are quick and easy!
Sweet potato fries are definitely one of my favorite things. Any time we eat somewhere that I can substitute sweet potato for regular fries, I do. There's something so delicious about soft, yet crunchy, sweet potato fries. They rank right up there with air fryer wedge potatoes.
Why own an air fryer? Well, the Air Fryer has gained such popularity over the years, due in large[read more...]
Read More
For as much as I love them, you'd think I'd make them at home more often, but I only ventured to make sweet potato fries at home twice before getting an air fryer.
Deep fried were good, but our house smelled like a grease for days afterwards! In the oven, they were a complete flop. You know what I mean if you've ever tried it before. The fries turn out limp and just not right.
That's why I love this recipe. It's simple, easy, and so tasty. The fries turn out perfect every time.
How to Make Air Fryer Sweet Potato Fries From Scratch
To start, peel the skin, since the skin of sweet potatoes can be quite tough after cooking. Then wash the sweet potatoes and pat them dry.
Cut them into thin matchsticks. You can make them as thin or chunky as you like, but the thinner they are the crispier the end product will be.
Below is the size I make them, about a 1/4″ thick.
Spray the potatoes with oil, and also spray the bottom of the air fryer basket to help prevent sticking. (Remember, don't use a non-stick cooking spray! A reusable oil sprayer is the way to go!)
Place the potatoes in the basket, making sure not to crowd them so that they crisp on all sides. Air fry at 400°F for 8 minutes, flipping them half way through.
Add your desired seasoning after removing them from the basket. And you're finished. Simple and delicious sweet potato fries in the air fryer!
Acorn and butternut squash make fast and easy side dishes in the air fryer.
Make Them From Frozen
If you want to make store bought frozen sweet potato fries, you will follow a similar cooking time.
Pour as many sweet potato fries as you want into the air fryer basket. Air fry at 400°F for 8-10 minutes, flipping them half way through.
Keep in mind that all air fryers vary and so it might take a few more or less minutes to cook the fries in your air fryer. Keep an eye on them and continue cooking for 1-2 minutes at a time until they reach your desired crispiness.
Why Use an Air Fryer
An air fryer is an incredibly easy way to cook just about anything. You place the food in a fryer-style basket and hot air rapidly circulates all around the food, making the food crisp – much like deep-frying, but without the oil. You can cook anything you'd make in the oven.
Seasonings to Try
You can season these fries any way you like. I use seasoning salt, or a blend of seasoning and garlic salt. Just plain salt and pepper is also good.
If you like them as the sweeter side, wait until after they're cooked, then sprinkle them with cinnamon sugar. They're so good that way.
Here are a few seasonings you could try:
Cinnamon Sugar
Garlic Powder & Paprika
Salt & Cayenne
Tips For Making Air Fryer Sweet Potato Fries
When cutting your sweet potatoes, you can cut them thicker if you like your fries with a soft middle and less crispiness.
But keep in mind that cutting the fries thicker will change the cook time. It might take 10 minutes total to cook thicker fries. You can determine how much additional time is needed to trying one after the 8 minutes is up.
When spraying the potatoes and basket, make sure to use pure oil such as avocado, canola, or vegetable oil. Don't use a non-stick cooking oil spray, as it has other additives that can disrupt the air fryer.
Related Posts:
Air Fryer Sweet Potato Fries
Looking for the perfect sweet potato fry recipe without a hassel? Look no further. The air fryer makes perfect, crispy sweet potato fries in no time at all.
Ingredients
2

sweet potatoes

medium

oil, for spraying the basket and sweet potatoes

desired seasoning
Instructions
Wash and peel 2 medium sweet potatoes.

Cut into like size slices.

Spray air fryer basket lightly with oil and fill with sweet potato slices spraying them lightly with oil as well. Making sure to leave room between for air to circulate.

Cook at 400 degrees F for 8 minutes, flipping half way through. Once removed from the basket sprinkle them with desired seasoning.

If cooking from store-bought frozen fries, cook at the same time and temperature. You may need to add 2-3 minutes to reach your desired crispiness.
All air fryers have different wattage and may cook at different rates. You may need to adjust the time or temp for the best results.
Nutrition
Calories:
194
kcal
Carbohydrates:
45
g
Protein:
4
g
Fat:
1
g
Saturated Fat:
1
g
Polyunsaturated Fat:
1
g
Sodium:
124
mg
Potassium:
762
mg
Fiber:
7
g
Sugar:
9
g
Vitamin A:
32063
IU
Vitamin C:
5
mg
Calcium:
68
mg
Iron:
1
mg
🥧 If you're interested in more great recipes, I share all my favorite recipes over at A Food Lover's Kitchen, and you'll find Instant Pot recipes at A Pressure Cooker Kitchen, and cocktails and drinks at Savored Sips. Check it out today!
Pin it for later!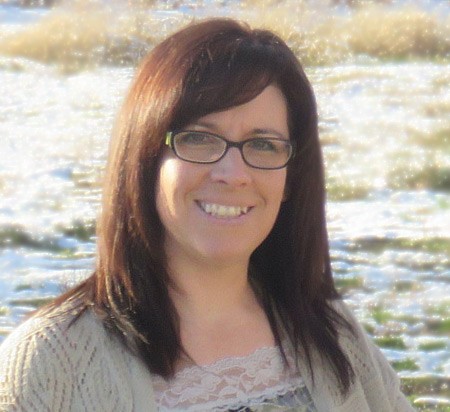 Angela is a talented home cook and passionate advocate for healthy, flavorful cooking in the air fryer. She shares her favorite air fryer recipes and helpful tips for using this versatile kitchen appliance to create delicious, nutritious meals.