Frozen Sweet Potato Fries in the Air Fryer are the easiest possible method for making great, crispy sweet potato fries, without the hassle of baking in the oven.
» You might also like these Air Fryer Pork Kebabs.
Sweet potato fries are definitely one of my favorite things, second only to regular potato French fries. I make them all the time. And every time I use the air fryer, because it's way faster than the oven, and the fries turn out perfectly cooked in just a few minutes.
Since sweet potato fries are better for you than regular potato fries, you can make them more often, and using the air fryer means you don't have to add any extra oil to get a crispy exterior. If you want to make them from scratch try this recipe.
Ingredients You Need
Sweet potato fries – The hardest part is finding the frozen sweet potato fries that you like best. I like the Alexia brand, but there are so many available brands. Give them a try and see what you like best.
Dipping sauce – I like to dip my sweet potato fries in mayonnaise, but maybe that's just me! You could dip in ketchup, sweet mustard, or serve with no dipping sauce.
How to Make Frozen Sweet Potato Fries in the Air Fryer
Pour as many frozen sweet potato fries as you want into the air fryer basket. Air fry at 375°F for 13-15 minutes, shaking the basket half way through. Shaking will ensure that all sides of the fries get cooked to the same crispiness.
The reason I don't cook them at 400° F is because that is often too hot for sweet potatoes that tend to brown and burn on the ends in too hot a temperature. Cooking at 375° F allows them to get more cooked and crispy in the center without the ends scorching.
Keep in mind that all air fryers vary and so it might take a few more or less minutes to cook the fries in your air fryer. Keep an eye on them and continue cooking for 1-2 minutes at a time until they reach your desired crispiness.
Why Use an Air Fryer
An air fryer is an incredibly easy way to cook just about anything. You place the food in a fryer-style basket and hot air rapidly circulates all around the food, making the food crisp – much like deep-frying, but without the oil. You can cook anything you'd make in the oven.
Seasonings to Try
You can season these Air Fryer Frozen Sweet Potato Fries any way you like. I use seasoning salt, or a blend of seasoning and garlic salt. Just plain salt and pepper is also good.
If you like them as the sweeter side, wait until after they're cooked, then sprinkle them with cinnamon sugar. They're so good that way.
Here are a few seasonings you could try:
Cinnamon Sugar
Garlic Powder & Paprika
Salt & Cayenne
What To Serve Them With
Tips For Making Air Fryer Sweet Potato Fries
Don't add extra oil to the fries. They come with enough oil in them to make a crispy fry without adding extra.
If you notice that the ends of the fries are getting too dark or burning, turn down the heat and continue cooking on a lower heat.
It helps to shake the basket a few times during cooking to ensure the fries get evenly cooked.
Related Posts:
Like this recipe? We'd love for you to share it with your friends on social media. For more great recipes, follow us on Pinterest and Facebook, where we share our recipes daily.
Frozen Sweet Potato Fries in the Air Fryer
Frozen Sweet Potato Fries in the Air Fryer are the easiest possible method for making great, crispy sweet potato fries, without the hassle of baking in the oven.
Ingredients
1

bag sweet potato fries

or as many as you like

Dipping sauce

if desired
Instructions
Pour the frozen sweet potato fries into the

air fryer

basket.

Cook at 375°F for 15 minutes, shaking the basket every 5-6 minutes.

Serve with your favorite dipping sauce
All air fryers have different wattage and may cook at different rates. You may need to adjust the time or temp for the best results.
Nutrition
Calories:
140
kcal
Carbohydrates:
24
g
Protein:
1
g
Fat:
5
g
Polyunsaturated Fat:
1.5
g
Monounsaturated Fat:
3.5
g
Sodium:
140
mg
Potassium:
190
mg
Fiber:
3
g
Sugar:
6
g
Calcium:
20
mg
Iron:
0.36
mg
🥧 If you're interested in more great recipes, I share all my favorite recipes over at A Food Lover's Kitchen, and you'll find Instant Pot recipes at A Pressure Cooker Kitchen, and cocktails and drinks at Savored Sips. Check it out today!
Pin it for later!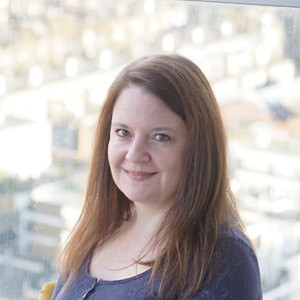 Laura is a passionate foodie and owner of Air Fry Anytime She is dedicated to sharing delicious recipes and helpful tips for using air fryers at home. With years of experience in the kitchen and a love for healthy, flavorful cooking, Laura has become an expert at using air fryers to create amazing meals that are both nutritious and delicious.