Air fryer chicken breasts without breading is a tasteful, tender, and juicy dish that is super easy to make. Coated with spices, this dish is made by using minimum oil and is therefore healthy and quick.
» You might also like these Air Fryer Sausage, Peppers and Onions or Air Fryer Sirloin Steak.
The best thing about this dish is you can make it in advance and store it for later use. Try adding it to this crack chicken broccoli casserole or cobb salad with penne pasta. Place it in an airtight container and refrigerate. It will last for up to 3 days. Furthermore, you can also freeze cooked or uncooked chicken for up to 2 months. Thus it is a very convenient dish you can make whenever you want!
Ingredient Breakdown
Chicken breasts: The main ingredient used for this dish is chicken breast. We are using boneless and skinless chicken breast for this recipe.
Paprika: Paprika is a perfect ingredient that adds smokiness and heat to a dish. You can add red chili powder or cayenne powder as well.
Lawry's seasoned salt: Lawry's seasoned salt is a premade seasoned salt that is a mixture of several spices and herbs. It adds tones of flavor to the dish. By adding seasoned salt, you don't have to add individual spices like garlic powder, onion powder, turmeric, etc. you can use any brand's season salt or homemade season salt as well.
Dried oregano: Dried oregano is known for its intense warm and earthy flavor. You can add fresh oregano instead of dried one as well.
Spray cooking oil: Because we are cooking the chicken breasts in an air fryer, you will need cooking oil spray. However, you can also use a dash of olive oil as well. Rub it gently on the chicken breasts, and that's it.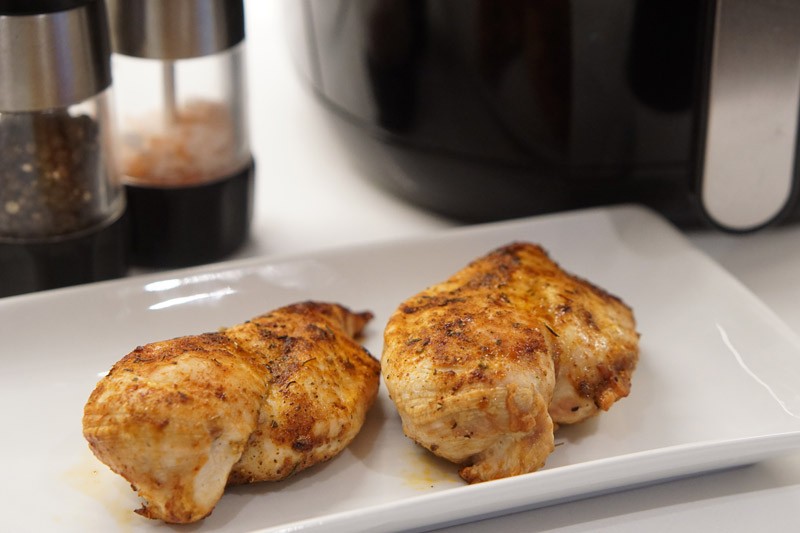 Why Use an Air Fryer
An air fryer is an incredibly easy way to cook just about anything. You place the food in a fryer-style basket and hot air rapidly circulates all around the food, making the food crisp – much like deep-frying, but without the oil. You can cook anything you'd make in the oven.
How to Make Air Fryer Chicken Breast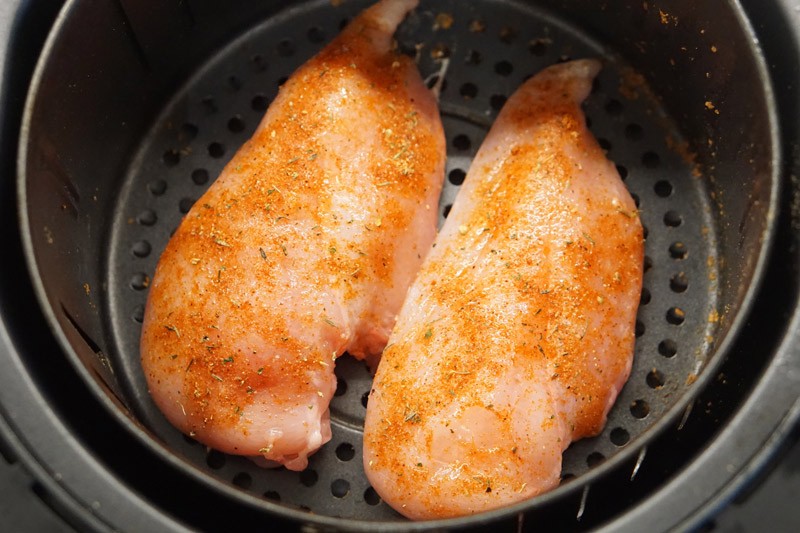 Making air fryer chicken breasts is very easy. Here are simple steps you have to follow:
Step 1: Wash the chicken breasts, pat them dry using a kitchen towel and trim excess fat.
Step 2: In a bowl, add seasoned salt, dried oregano, and paprika. Mix well and rub the dry mixture generously on chicken breast pieces.
Step 3: Spray cooking oil on the bottom of the air fryer basket.
Step 4: Place the chicken breast pieces in an air fryer basket and cook for about 18 minutes at 360-degree F. turn the chicken halfway into the cook.
Step 5: Once the chicken is cooked, remove the air fryer from the oven and let it rest for about 5 minutes. Serve.
Tips for Making Air Fryer Chicken Breasts
Here are a few things you should keep in mind when making chicken breasts:
If the chicken breasts are large in size or are thicker, they will take more time to cook. You can cut the breasts in half or pound them to reduce the thickness. Make sure its internal temperature is 165-degree F.
Don't stack chicken on top of each other. This way, it won't cook properly and evenly.
What to Pair with Air Fryer Chicken Breasts Without Breading
There are so many things you can pair with this tasty chicken dish. Here are a few ideas you should try:
Leafy greens: Top your fresh leafy green salad up with this delicious chicken piece and turn it into a healthy and complete meal.
Roasted vegetables: You can serve it with these hasselback potatoes or spaghetti squash.
Rice/quinoa: The dish goes well with garlic rice or quinoa as well.
Gravy: You can serve it with any gravy. Try it with peppercorn sauce, and I am sure you will love it.
Sandwich: You can turn this chicken piece into a grilled sandwich as well. Top with onions, tomatoes, and cheese, and enjoy.
Like this recipe? We'd love for you to share it with your friends on social media. For more great recipes, follow us on Pinterest and Facebook, where we share our recipes daily.
Air Fryer Chicken Breast
Air fryer chicken breasts without breading is a tasteful, tender, and juicy dish that is super easy to make.
Ingredients
4

8 ounce

chicken breasts

1

teaspoon

Spanish paprika

1/2

teaspoon

Lawry's seasoned salt

or similar

Spray cooking oil
Instructions
Pat the chicken breasts dry with a paper towel.

Combine the paprika and seasoned salt. Season each piece of chicken.

Place chicken in the basket. Cook at 360° for 18 minutes, turning the pieces over at the halfway mark.

Remove from air fryer and rest for 5 minutes before slicing.
Notes
If your chicken is bigger or thicker, it might require additional time. For smaller chicken breasts, cook a few minutes less. Internal temperature should reach 165 degrees F.
If cooking from frozen, it will take just a few minutes longer than from fresh. Add 3 minutes per side for frozen and be sure to check the temperature before eating.
The chicken will not cook thoroughly if stacked on top of each other, so be sure to move the pieces around the basket a few times during cooking if they are overlapping.
All air fryers have different wattage and may cook at different rates. You may need to adjust the time or temp for the best results.
Nutrition
Calories:
259
kcal
Carbohydrates:
1
g
Protein:
48
g
Fat:
6
g
Saturated Fat:
1
g
Polyunsaturated Fat:
1
g
Monounsaturated Fat:
2
g
Trans Fat:
1
g
Cholesterol:
145
mg
Sodium:
553
mg
Potassium:
848
mg
Fiber:
1
g
Sugar:
1
g
Vitamin A:
314
IU
Vitamin C:
3
mg
Calcium:
13
mg
Iron:
1
mg
Pin for later!