This post was first published on A Food Lover's Kitchen. Web story version.
Air Fryer Bang Bang Shrimp is simple to make and full of flavor, with a crispy exterior and a spicy sweet copycat Bang Bang sauce that makes it irresistible.
The first time I tried Bang Bang Shrimp was at Bonefish Grill. It's a pretty famous shrimp appetizer that has sparked the "bang bang" revolution. Everyone needs a good copy cat recipe for this delicious appetizer.
This recipe is so simple to make. The air fryer is a crazy useful tool that cooks food super fast, but also really well, without the oil and complication of deep frying.
You can make amazing crispy breaded shrimp in the air fryer. Add a delicious Bang Bang Sauce to the dish once it's cooked and you've got the perfect appetizer or main dish.
Ingredients in Bang Bang Shrimp
Bang Bang Shrimp has just 8 ingredients. You might even already have those things in your fridge, so you can make this up tonight!
Here are the ingredients you'll need to make this dish. See the recipe for the quantities.
Shrimp
Flour
Egg
Breadcrumbs
Mayo
Sriracha
Sweet chili sauce
Honey
How to Make Bang Bang Shrimp in the Air Fryer
If you've never made crispy shrimp in the air fryer, you're totally missing out on one of the easiest and best things you can make in an air fryer.
Step One: Bread the Shrimp
Bread the shrimp in a 3-step process. For this, I like to create three different dipping stations: one for flour, one for egg and one for breadcrumbs. Dredge the shrimp through the flour, then dip it in the egg, then coat it with breadcrumbs.
Step Two: Add the Shrimp to the Air Fryer
Lay the breaded shrimp in the air fryer so they aren't touching each other. Don't crowd the basket. The food needs room to become crispy and you don't want the breading to stick to each other and come off.
Step Three: Cook the Shrimp
Cook the shrimp in the air fryer on 400 degrees F for 3 minutes, then turn the shrimp over and cook for an additional 3 minutes. Times will vary a bit depending on the size of shrimp you are using.
Step Four: Mix the Sauce
While the shrimp is cooking, quickly mix up the sauce. It comes together in just one minute. Super fast.
Step Five: Prepare the Dish
Once the shrimp is done, you can toss the shrimp in a bowl with the sauce and serve it. I like to serve it over a bed of rice, but you can also serve it just as an appetizer with no rice.
Why Use an Air Fryer
An air fryer is an incredibly easy way to cook just about anything. You place the food in a fryer-style basket and hot air rapidly circulates all around the food, making the food crisp – much like deep-frying, but without the oil. You can cook anything you'd make in the oven.
What Shrimp To Use
I like to use a medium sized shrimp that can be eaten in one bite. I think these make the best appetizer sized Bang Bang Shrimp.
I buy fresh raw shrimp that is already shelled and cleaned (who has the time for that!) If you do have that time, it's totally fine to get shrimp with the shells on and do the shelling and cleaning yourself.
You can use frozen shrimp, but you'll have to thaw it first in order to bread them properly. The flour, egg and breadcrumbs won't adhere to the shrimp when they're frozen.
Like this recipe? We'd love for you to share it with your friends on social media. For more great recipes, follow us on Pinterest and Facebook, where we share our recipes daily.
Air Fryer Bang Bang Shrimp
Air Fryer Bang Bang Shrimp is simple to make and full of flavor with a spicy sweet copycat bang bang sauce.
Ingredients
1

lb

shrimp

shelled, deveined, cleaned

1/4

cup

flour

1/2

teaspoon

salt

1

large

egg

lightly beaten

1/2

cup

panko breadcrumbs
For the sauce
1/4

cup

mayonnaise

1

tablespoon

sweet Thai chili sauce

1/2

tablespoon

Sriracha

1/4

teaspoon

honey
Instructions
Clean and dry the shrimp.

You need three shallow bowls. Add flour and salt to one bowl, egg to another bowl, and breadcrumbs to the third bowl. Start by coating the shrimp in flour, then dip it in the egg mixture, then coat it with breadcrumbs. Bread all the shrimp this way.

Preheat air fryer to 400 degrees F for 3-5 minutes.

Lightly spray air fryer basket with oil and place shrimp in the basket, leaving space between each shrimp. Lightly spray the tops of the shrimp.

Cook for 6 minutes, turning the shrimp over at the halfway point. Large shrimp may need more time to cook through. Continue until all shrimp are cooked.

Mix the sauce ingredients together in a bowl. Once shrimp are cooked, toss the shrimp in a bowl with the sauce to fully coat.

Serve over rice, if desired.
Notes
Wait for the shrimp to cool slightly before tossing with the sauce to retain the crispy exterior.
Serve as an appetizer, or over rice as a meal.
All air fryers have different wattage and may cook at different rates. You may need to adjust the time or temp for the best results.
Nutrition
Calories:
181
kcal
Carbohydrates:
14
g
Protein:
4
g
Fat:
12
g
Saturated Fat:
2
g
Polyunsaturated Fat:
7
g
Monounsaturated Fat:
3
g
Trans Fat:
1
g
Cholesterol:
52
mg
Sodium:
538
mg
Potassium:
46
mg
Fiber:
1
g
Sugar:
3
g
Vitamin A:
79
IU
Vitamin C:
1
mg
Calcium:
23
mg
Iron:
1
mg
Pin it for later!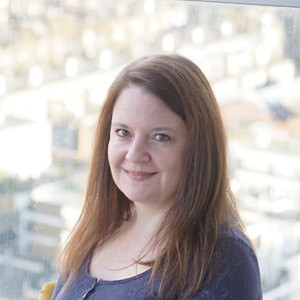 Laura spends a lot of her time cooking and creating recipes to share. She loves traveling and learning about new foods around the world to bring into her own recipes at home.