These Air Fryer Frozen Egg Rolls get perfectly crispy on the outside and cooked on the inside, without all the extra oil they'd soak up in the deep fryer. Whether you buy frozen egg rolls or make your own fresh egg rolls, you can make them quickly and easily in the air fryer.
» Looking for more snacks to make from frozen in the air fryer? Try Frozen French Fries, Frozen Potstickers, and Pizza Rolls.
Super Useful Air Fryer Accessories
Once you've started using your air fryer more regularly, you'll find there are so many other ways you *could* be using it, if you had a few extra useful accessories. Here are a few favorites that we use almost every day.
12-piece accessories kit for 3.7-5.8 quart air fryers – includes silicone cake pan, cake barrel, pizza pan, toasting/warming rack, skewer rack, silicone mat, bread rack and more
Thermopen instant read thermometer for checking the internal temp of your meats
Evo Oil Sprayer Bottle – BPA, latex, and dehp-free plastic, won't clog or shatter, reusable, refillable, recyclable
The air fryer is a fantastic way to cook egg rolls. Really they are one of those perfect things to cook in the air fryer. The circulating air will allow the outside to get super crispy without all the oil that they usually soak up when cooked in the deep fryer.
You won't miss that slightly grease deep fried version of egg rolls. Not after you see how perfect they turn out in the air fryer.
And there's no need to defrost the egg rolls first. In fact, they turn out even better when placed in the air fryer while frozen. This is because the outside has more time to crisp while the inside cooks.
Why Use an Air Fryer
An air fryer is an incredibly easy way to cook just about anything. You place the food in a fryer-style basket and hot air rapidly circulates all around the food, making the food crisp – much like deep-frying, but without the oil. You can cook anything you'd make in the oven.
OUR FAVORITE AIR FRYER
COSORI PRO LE 5-QT AIR FRYER
There are a lot of features to love about this air fryer, but top of our list are the tempered glass display, super easy to clean basket, and ability to add shake reminders.
How to Make Egg Rolls in the Air Fryer
This recipe is specifically for making frozen egg rolls in the air fryer. You can purchase many different brands of egg rolls at the store. Of course that means they will also come in different sizes and sometimes even shapes. While they all cook in about the same amount of time in the air fryer, you will have to take these differences into consideration.
I always cook the egg rolls for the set amount of time indicated below, but then be prepared to put them back on for a few more minutes if they aren't as crispy as you want.
Place the egg rolls in the basket, spaced out if possible.
Set the air fryer to 390 degrees F (200 degrees C). There's really no need to pre-heat or to spray the basket. Store-bought egg rolls have a bit of oil already in their wrappers to ensure they get crispy in the oven, so they don't need additional oil.
Cook for 12 minutes, turning the egg rolls at least once during cooking to ensure they get evenly browned and crispy. If after 12 minutes they aren't as dark and crispy as you like, continue cooking for an additional 2 minutes.
That is all that there is to it. They come out perfect every time.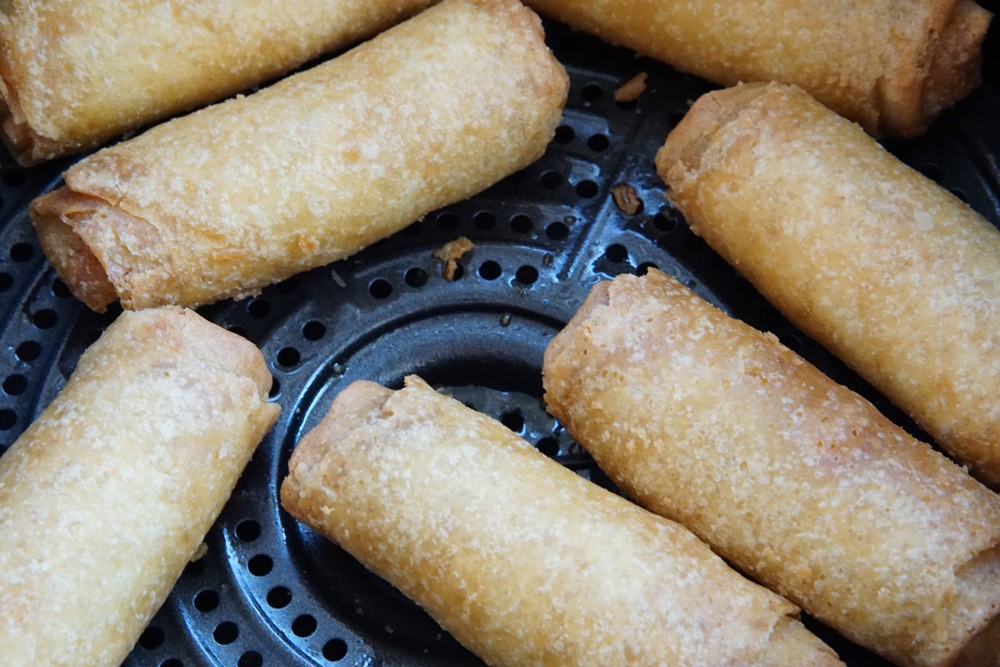 What About Homemade Egg Rolls?
You can certainly make your own homemade egg rolls and cook them in the air fryer. It's fun to make them yourself so you can include whatever fillings you want, and they will have less preservatives and additives than store-bought egg rolls.
Here is an easy recipe to make your own egg rolls:
Ingredients you need:
1/2 pound ground chicken
2 cups shredded cole slaw mix (with cabbage and carrots)
2 tablespoons oyster sauce
2 tablespoons soy sauce
1 teaspoon sesame oil
1/2 teaspoon minced garlic
1/2 teaspoon minced ginger
1/4 cup chopped green onion
8 egg roll wrappers
Instructions:
Brown the chicken in a pan over medium high heat. Turn the heat down to medium low and add the remaining ingredients, except the egg roll wrappers. When the cabbage is wilted, remove from heat.
Stuff the egg roll wrappers with equal amounts of filling. Place them in the air fryer. Spray with cooking oil.
Cook according to the instructions listed in the recipe card below.
What Oil & Oil Sprayer is Best for the Air Fryer?
The biggest issue most air fryer lovers face is finding the right oil and oil sprayer to use on food cooked in the air fryer. A fine mist of oil will help the entire piece of food crisp evenly, so it's very important.
My personal preference is to use canola oil, extra virgin olive oil, or avocado oil. I use both a refillable spray bottle like the Evo one pictured below and non-propellant extra virgin olive oil, which has not harmful aerosols or chemicals.
How to Freeze Homemade Egg Rolls
If you choose to make your own egg rolls, you might have some left over that you want to freeze to use later. I would recommend freezing them before cooking them, for the best results. Just place the rolled egg rolls on a plate, not touching. Put the plate in the freezer for about 10-15 minutes to firm them up.
You can then remove the egg rolls from the plate and place them together in a freezer bag to store them. They'll keep for about 1-2 months, if well packaged.
Dips to Serve With Egg Rolls
The perennial favorite dipping sauce for egg rolls is sweet chili sauce. You can buy Blue Dragon Sweet Chili Sauce. It's delicious with these egg rolls.
You could also mix up your own dipping sauce. Here's a great recipe to use.
What Brand Egg Rolls to Try
Some of our favorite brands are:
Chung's Egg Rolls
PF Chang's Chicken Egg Rolls
Minh Chicken Vegetable Egg Rolls (Costco)
Once you see how easy it is to make these frozen egg rolls in the air fryer, you'll want to keep a bag of them in the freezer at all times, so you can crisp some up on a whim.
Like this recipe? We'd love for you to share it with your friends on social media. For more great recipes, follow us on Pinterest and Facebook, where we share our recipes daily.
Frozen Egg Rolls in the Air Fryer
These Air Fryer Frozen Egg Rolls get perfectly crispy on the outside and cooked on the inside, without all the extra oil they'd soak up in the deep fryer.
Instructions
Set the air fryer to 390°F | 200°C.

Spray the basket of your air fryer with oil.

Add egg rolls to the air fryer basket or tray (how many you can fit depends on the capacity of your air fryer). Spray the rolls with oil.

Cook for 12 minutes, shaking the basket halfway through.
All air fryers have different wattage and may cook at different rates. You may need to adjust the time or temp for the best results.
Nutrition
Calories:
300
kcal
Carbohydrates:
18
g
Protein:
4
g
Fat:
7
g
Saturated Fat:
0.5
g
Cholesterol:
10
mg
Sodium:
380
mg
Fiber:
1
g
Sugar:
2
g
Vitamin A:
6
IU
Vitamin C:
10
mg
Iron:
2
mg
🥧 If you're interested in more great recipes, I share all my favorite recipes over at A Food Lover's Kitchen, and you'll find Instant Pot recipes at A Pressure Cooker Kitchen, and cocktails and drinks at Savored Sips. Check it out today!
Pin it for later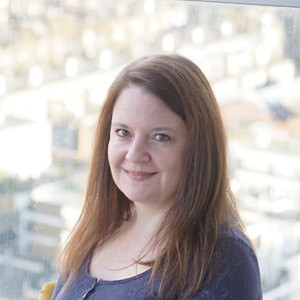 Laura is a passionate foodie and owner of Air Fry Anytime She is dedicated to sharing delicious recipes and helpful tips for using air fryers at home. With years of experience in the kitchen and a love for healthy, flavorful cooking, Laura has become an expert at using air fryers to create amazing meals that are both nutritious and delicious.