Air Fryer Onions are spectacularly sweet, tender, and delicious. They make a great addition to burgers, steaks, and fajitas and have an addictive quality you won't understand until you try them.
Note to self: these onions go perfectly with air fryer brats.
Air fryer onions are not just super tasty, they are very easy to make as well. You can make them in under 20 minutes and they make a great side with your dinner.
I make air fryer onions a lot, because they go so well with just about anything. Last night, I air fried some onions, peppers and cubed lamb and it was divine. You'll be surprised how sweet and savory they taste. I've never had better onions that from the air fryer.
They turn out similar to sautéed onions that you'd make in the frying pan, but I think they're quite a bit better in flavor and texture. They don't get soggy in the middle, and the ends are just slightly crispy.
>> Try these Easy Air Fryer Green Beans with your next meal.
What Ingredients You Need for Air Fryer Onions?
Here is what you will need to make air fryer onions:
Onions: The main ingredient is onions. White onions are known for their milky, sweet flavor. They have a low sulphur content so they won't sting your eyes when you cut them. If you don't have white onions, you can use yellow onions, sweet onions, or red onions as well.
Olive oil: Go for premium grade extra virgin olive oil. It offers healthy nutrients and fats. Plus, it adds a great flavor to the onions. The next best thing instead of olive oil is avocado oil.
Black pepper: Freshly ground black pepper does a great job adding flavor to the air fryer onions.
Salt: You can use sea salt, table salt, or even pink Himalayan salt. Add according to your liking.
Cooking spray: Because onions can stick due to their sweetness, spray the air fryer basket with cooking spray.
How to Slice the Onions
For this recipe, we cut the onion in to wedges to give the most surface space, so they don't get too crispy and burn on the edges. These wedged onions can be used in so many ways, but specifically they make a great side dish for any main you're making.
Here's how to slice the onion into wedges:
Cut off the top and bottom of the onion.
Slice the onion in half.
Place an onion half flat on the cutting board and cut it in half again.
Finally, cut each quarter in half. Then break up the pieces and put them in a bowl.
How to Make Air Fryer Onions?
Making air fryer onions is very easy. The preparation takes only 5 minutes. Here is what you have to do to cook onions in an air fryer:
Step 1: Start by peeling the onions. Slice them into wedges using a sharp knife. It is crucial that you slice them in similar sizes. This way they will cook equally as well. Don't go for very thin slices, or they'll crisp up too fast on the outside.
Step 2: Place the sliced onions in a bowl and drizzle olive oil on top. Add salt and black pepper. Mix well so that the ingredients coat the onions.
Step 3: Now spray the air fryer basket with cooking spray and place onions in it. Make sure you place them in a single layer. They should be spread evenly.
Step 4: Cook the sliced onions for about 385° F for 15 minutes. Make sure you shake the basket after 7 minutes so that the onions cook evenly.
Step 5: Once done, take them out of the air fryer basket. They should be translucent in the middle, and the edges should be browned and a bit crispy
Variations to Try
Since onions are so versatile, you can make them in all kinds of different ways to change things up. Here are some ways you can customize this recipe:
Add seasonings: I like to add Cajun seasoning to the onions for a nice spicy kick. You can add any seasonings you like.
Crispy brown onions: Cook the onions for about 45 minutes, shaking after every 10 minutes to get a brown color and a crisp. Use red onions for best results.
Caramelized onions: Caramelized onions are sweet and savory, and utterly delicious. Add a teaspoon of sugar and air fry for 40 minutes to get a nice caramelization.
Spiced onions: Add red chili flakes and Italian herbs for a great taste.
What to Serve as a Main Dish
There are so many options for main dishes to serve with this side dish. You can make these all in the air fryer or in the oven, if you wish.
Like this recipe? We'd love for you to share it with your friends on social media. For more great recipes, follow us on Pinterest and Facebook, where we share our recipes daily.
Air Fryer Onions
Air Fryer Onions are spectacularly sweet, tender, and delicious. They make a great addition to burgers, steaks, and fajitas.
Ingredients
1

large

white onion

sliced

2

teaspoons

extra virgin olive oil

Salt and ground black pepper

Cooking spray
Instructions
Add the sliced onions to a bowl and drizzle over the olive oil. Stir to coat. Sprinkle with salt and paper.

Add the onions to the air fryer basket and cook at 385 degrees for 10 minutes, shaking the basket halfway through.

The onions are done when they are beginning to brown around the edges and are translucent in the middle.
Notes
Cook up to 4 onions in the air fryer at the same time with the same cooking instructions.
Spice up your onions with different spices and sauces.
All air fryers have different wattage and may cook at different rates. You may need to adjust the time or temp for the best results.
Nutrition
Calories:
29
kcal
Carbohydrates:
3
g
Protein:
1
g
Fat:
2
g
Saturated Fat:
1
g
Polyunsaturated Fat:
1
g
Monounsaturated Fat:
1
g
Sodium:
1
mg
Potassium:
40
mg
Fiber:
1
g
Sugar:
1
g
Vitamin A:
1
IU
Vitamin C:
2
mg
Calcium:
6
mg
Iron:
1
mg
Like this recipe? Save it for later!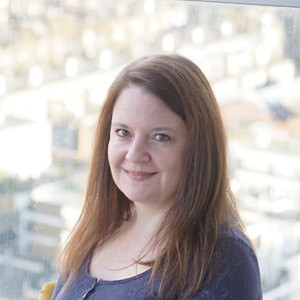 Laura spends a lot of her time cooking and creating recipes to share. She loves traveling and learning about new foods around the world to bring into her own recipes at home.