Air Fryer Green Beans are so simple to make and they turn out perfectly crispy and tender when cooked in the air fryer. So why not save yourself a few steps and cook your green beans with a tasty seasoning in the air fryer.
» You might also try these Air Fryer Onions and Air Fryer Turkey Burgers.
Super Useful Air Fryer Accessories
Once you've started using your air fryer more regularly, you'll find there are so many other ways you *could* be using it, if you had a few extra useful accessories. Here are a few favorites that we use almost every day.
12-piece accessories kit for 3.7-5.8 quart air fryers – includes silicone cake pan, cake barrel, pizza pan, toasting/warming rack, skewer rack, silicone mat, bread rack and more
Thermopen instant read thermometer for checking the internal temp of your meats
Evo Oil Sprayer Bottle – BPA, latex, and dehp-free plastic, won't clog or shatter, reusable, refillable, recyclable
You can make these using only four ingredients, two of which are seasonings. How much easier can it get than that? And these green beans are a great, healthy addition to your dinner. Once you see how great green beans turn out in the air fryer you might try this air fryer green bean casserole.
These are super quick to make and are a perfect way to enjoy something fresh and healthy. You can forget about having to heat up a pan on the stovetop because you can just toss these green beans into the air fryer and let it do the work for you. These are a very healthy option, and you can spice it up according to your liking.
What Type of Green Beans to Use?
Green beans come in many different types. You can use green beans, wax beans, purple string beans, long beans – you name it!
While there are small differences, mainly in color and shape, there is very little difference between the types and they all cook about the same. So why not give them all a try!
Ingredients You Need
You can easily make green beans in the air fryer by using only four ingredients. Don't have one of these things on hand? No problem! You can use whatever seasoning you like on these green beans. These are:
Green beans: Green beans are crunchy, tasty and loaded with health benefits. These are usually available year round. When buying fresh green beans, make sure you choose ones that have a fresh green colour. They should be firm and not soggy or drying on the edges. Moreover, the ends shouldn't be brown in colour. Green beans are rich in fiber and other nutrients.
Olive oil: You can either use extra virgin olive oil or olive oil cooking spray for this recipe.
Red pepper flakes: Red pepper flakes bring in heat and spice t the green beans.
Black pepper: A little freshly ground black pepper also adds flavour to these beans.
Salt: A dash of salt gives them the salty flavour we all love.
How to Make Air Fryer Green Beans?
Making green beans is effortless and quick. Here is what you have to do:
Step 1: Start by trimming the edges of the green beans. Wash them and pat them dry.
Step 2: Place the green beans in your air fryer basket and spray them lightly with cooking spray. If you don't have cooking spray, you can also drizzle olive oil on and toss to coat. Spread the green beans out evenly in the tray. It's okay if they are overlapping a bit.
Step 3: Cook the green beans at 400° F (200° C) for about 10-12 minutes. Give the air fryer basket a shake halfway through cooking to ensure they cook evenly. Remember that every air fryer cooks differently, so it might take more or less time than this to get them to your desired tenderness. Just check on them at 10 minutes to see.
Step 4: Once done, put them on a serving tray and sprinkle with red chilli flakes, black pepper and salt.
Why Use an Air Fryer
An air fryer is an incredibly easy way to cook just about anything. You place the food in a fryer-style basket and hot air rapidly circulates all around the food, making the food crisp – much like deep-frying, but without the oil. You can cook anything you'd make in the oven.
FAQs
Is it possible to make green beans crispier?
Green beans have a significant water content, so they won't become super crispy until they are quite a bit overcooked. If you like them that way, you can make these green beans crispier by giving them about ten more minutes in the air fryer. However, I don't recommend overcooking for the sake of crispiness.
Can I use frozen or canned green beans for this recipe?
Yes, you can also use frozen or canned green beans for this recipe. There's no need to thaw them out first. For canned, you do need to drain them as well as you possibly can to prevent sogginess. They won't become as crispy as fresh green beans would.
For frozen green beans, you can cook them just as long as for fresh. For canned, you're basically just reheating them, so they only need about 5 minutes of cook time.
Variation Ideas
You can season these beans by adding more or different seasonings to them. Here are a few ideas for alternative ways to season your green beans.
Seasoned salt: Try adding seasoned salt, garlic salt, or celery salt to these beans.
Soy sauce: Drizzle soy sauce or tamari for an umami flavour.
Sesame oil: Give the green beans an Asian touch by drizzling sesame oil on top.
Herbs: Sprinkle dried herbs like thyme, rosemary, oregano, or sage.
What Oil & Oil Sprayer is Best for the Air Fryer?
The biggest issue most air fryer lovers face is finding the right oil and oil sprayer to use on food cooked in the air fryer. A fine mist of oil will help the entire piece of food crisp evenly, so it's very important.
My personal preference is to use canola oil, extra virgin olive oil, or avocado oil. I use both a refillable spray bottle like the Evo one pictured below and non-propellant extra virgin olive oil, which has no harmful aerosols or chemicals.
What to Serve with This Dish
There are so many options for main dishes to serve with this dish. You can make these all in the air fryer or in the oven, if you wish.
Like this recipe? We'd love for you to share it with your friends on social media. For more great recipes, follow us on Pinterest and Facebook, where we share our recipes daily.
Air Fryer Green Beans
Air Fryer Green Beans are so simple to make and they turn out perfectly crispy and tender when cooked in the air fryer. So why not save yourself a few steps and cook your green beans with a tasty seasoning in the air fryer.
Ingredients
1

pound

green beans

trimmed

Olive oil cooking spray

1/2

teaspoon

salt

1/2

teaspoon

red pepper flakes

1/4

teaspoon

ground black pepper
Instructions
Place the green beans in the air fryer and spray with olive oil spray.

Cook on 400° F (200° C) for 12 minutes, shaking the basket halfway through cooking.

When done, season with salt, red pepper flakes, and black pepper.
Notes
If you like your green beans slightly crispy still, cook for only 10 minutes.
Use any other seasonings you like to flavor your green beans, like garlic salt, soy sauce, or seasoned salt.
All air fryers have different wattage and may cook at different rates. You may need to adjust the time or temp for the best results.
Nutrition
Calories:
36
kcal
Carbohydrates:
8
g
Protein:
2
g
Fat:
1
g
Saturated Fat:
1
g
Polyunsaturated Fat:
1
g
Monounsaturated Fat:
1
g
Sodium:
302
mg
Potassium:
246
mg
Fiber:
3
g
Sugar:
4
g
Vitamin A:
857
IU
Vitamin C:
14
mg
Calcium:
44
mg
Iron:
1
mg
Pin it for later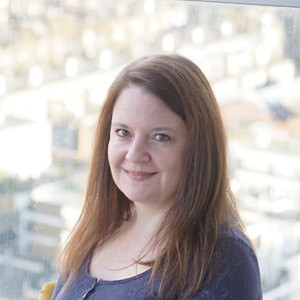 Laura is a passionate foodie and owner of Air Fry Anytime She is dedicated to sharing delicious recipes and helpful tips for using air fryers at home. With years of experience in the kitchen and a love for healthy, flavorful cooking, Laura has become an expert at using air fryers to create amazing meals that are both nutritious and delicious.