This easy air fryer asparagus is a quick way to make a veggie side dish in just a few minutes in the air fryer. It can be cooked to your preference – tender and crisp.
» You might also like these Air Fryer Turkey Burgers and Air Fryer Broccoli.
Asparagus is one of those veggies that should be easy to cook, but it can turn out mushy and flavorless when boiled, limp and soft when steamed on the stove top, and completely over done when grilled. You might not consider popping it into the air fryer, but I can tell you it comes out great!
The reason asparagus cooks well in the air fryer is the great air circulation that cooks all sides of the asparagus without making it soggy or overcooked. It takes just 3 ingredients plus any seasonings you might want.
Ingredients You Need
This isn't surprising, but you don't need many ingredients to make Air Fryer asparagus. In fact, you really only need asparagus, cooking oil, and salt. However, you can boost the flavor by adding a few additional items.
Asparagus
Olive oil
Salt & Pepper
Garlic salt (optional)
Lemon juice (optional)
Parmesan cheese (optional)
Adding garlic salt, ground black pepper, or shredded Parmesan cheese will add even more flavor. I find that a drizzle of high-quality olive oil, some salt, pepper, garlic salt, and a squeeze of lemon makes the asparagus perfect for serving.
What Size Asparagus to Use
Asparagus comes in many different sizes (and colors!). You can cook any size asparagus in the air fryer, but a larger stock is going to turn out the best. They don't all need to be the exact same diameter, but get as close as you can.
With larger stocks of asparagus, you'd set the cook time to 8 minutes. If you want your asparagus to turn out crisp and just cooked set the timer for 6 minutes, tender with no crisp or snap left 8-10 minutes. This depends greatly on the size of your asparagus. Check the texture by poking it with a fork, they may need more time.
How to Cook Asparagus in an Air Fryer
Wash the asparagus and remove the hard stems. You don't want to take off too much of the ends, but the spears need to fit in the Air Fryer basket, so you can't leave them too long.
Place the asparagus in the air fryer basket. Spread it out. They can be overlapping, but don't stack too many in there, so there's room for the air to circulate around. Spray them with cooking oil spray and sprinkle on the salt.
Cook on 370° F for 8 minutes, shaking the basket halfway through. They should be tender with some snap left at this point. If you have thinner asparagus, it might only need 6 minutes. Larger stocks can take a few more minutes. Be flexible and test the asparagus to see if it's done to your preference.
Remove the asparagus to a plate right away so it doesn't continue cooking in the basket. Drizzle on extra olive oil, additional salt (as desired), pepper and garlic salt, and serve.
Variations to Try
You can use any type of seasoning you like on the asparagus to give it more flavor. I like to switch it up to keep things interesting. Here are a few options you can try:
Parmesan and garlic
Balsamic glaze
Italian, Greek or Japanese seasoning
Old Bay seasoning
What to Serve With Asparagus
We love to serve asparagus as a side with mac and cheese, brisket or a rack of ribs. All of those things can be made in the Instant Pot.
Asparagus is a great side for any chicken dish, or you can make it for a pot luck. It doesn't have to be served hot. Try using this asparagus for this roasted asparagus salad with cranberries and feta cheese.
There are so many options for main dishes to serve with this side dish. You can make these all in the air fryer or in the oven, if you wish.
Frequently Asked Questions
What's the best way to trim asparagus ends?
I like to keep it easy and snap off the bottom of the asparagus. It will generally snap off at the right place, where the end becomes woody. If you want, you can snap off the first one, then use that as a guide for home much of the end to cut off the other spears.
Is air fryer asparagus healthy?
Air fryer asparagus is very healthy. Asparagus alone is one of the healthiest vegetables, with very few calories, no fat, and very few carbs. Cooking it in the air fryer keeps it super healthy because you don't add a lot of oil during cooking.
Can I add seasonings to the asparagus?
You can add any seasonings you like to the asparagus once it's cooked. During cooking, you only want to add cooking oil and salt/pepper, because other seasonings and shredded cheese can burn in the cooking process.
Like this recipe? We'd love for you to share it with your friends on social media. For more great recipes, follow us on Pinterest and Facebook, where we share our recipes daily.
Easy Air Fryer Asparagus
This easy air fryer asparagus is a quick way to make a veggie side dish in just a few minutes in the air fryer. It can be cooked to your preference – tender and crisp.
Ingredients
1

pound

asparagus

ends trimmed

Salt & pepper

to taste
Instructions
Rinse and trim the asparagus. Place it in the air fryer basket. If they don't fit, cut them in half. Spray with cooking oil and season with salt and pepper.

Cook on 370° F for 6-9 minutes, tossing halfway through. Thin asparagus needs about 6 minutes, while thicker asparagus needs up to 9 minutes.
Notes
Cooking time depends greatly on the side of your asparagus. Check the tenderness with a fork at 5 minutes then cook for an additional 1-2 minutes until done.
All air fryers have different wattage and may cook at different rates. You may need to adjust the time or temp for the best results.
Nutrition
Calories:
23
kcal
Carbohydrates:
4
g
Protein:
2
g
Fat:
1
g
Saturated Fat:
1
g
Polyunsaturated Fat:
1
g
Sodium:
2
mg
Potassium:
229
mg
Fiber:
2
g
Sugar:
2
g
Vitamin A:
857
IU
Vitamin C:
6
mg
Calcium:
27
mg
Iron:
2
mg
🥧 If you're interested in more great recipes, I share all my favorite recipes over at A Food Lover's Kitchen, and you'll find Instant Pot recipes at A Pressure Cooker Kitchen, and cocktails and drinks at Savored Sips. Check it out today!
PIN IT FOR LATER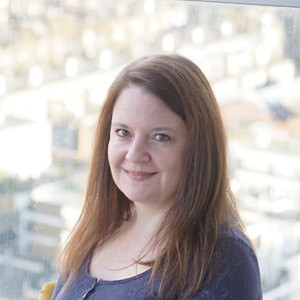 Laura is a passionate foodie and owner of Air Fry Anytime She is dedicated to sharing delicious recipes and helpful tips for using air fryers at home. With years of experience in the kitchen and a love for healthy, flavorful cooking, Laura has become an expert at using air fryers to create amazing meals that are both nutritious and delicious.