You'll love this air fryer beef roast, rubbed with a zesty steak seasoning that becomes perfectly crusty on the outside and wonderfully tender on the inside.
» You might like these Air Fryer Steak Bites & Potatoes and Air Fryer Pork Roast.
This tender air fryer beef roast recipe makes a fantastic and easy meal for any occasion. You may think of a beef roast as complicated and time consuming, but thanks to the air fryer it is quite simple. The steak seasoning brings lots of flavor to each bite of this juicy beef roast.
Using an air fryer prevents the meat from becoming dry and locks in the moisture better than the traditional method. Whether you are making a holiday dinner, or just want to enjoy something yummy, give this air fryer beef roast a try!
» For more main dish recipes you might try: Perfect Air Fryer Pork Tenderloin and Crispy Air Fryer Chicken Fried Steak.
Ingredients You Need
Chuck Roast: We like to use chuck roast, but some other meats you can use are rolled rib roast or prime rib roast. Slice against the grain to get tender slices.
Olive Oil: I use an olive oil spray for my air fryer, so that's my personal preference, but you can use any oil with a high smoke point, like avocado oil or canola oil.
Steak Seasoning: You can buy steak seasoning or make it yourself. It adds a lot of flavor to the meat, so we do not recommend skipping it. This is the seasoning I use. You could also use this recipe to make your own rub.
How to Make Air Fryer Beef Roast
Start off by preheating the air fryer to 400°F, this will ensure that it's hot enough to properly sear the meat.
Give the roast a gentle rinse and dry off all moisture. If the meat isn't dry, then it won't cook as nicely. Coat the chuck roast with olive oil (or your oil of choice) and lots of steak seasoning. Make sure the steak seasoning you use has salt in it. Salt brings out a lot of the meat's natural flavors.
Once the air fryer has been preheating for about 5 minutes, place your seasoned chuck roast with the fat side up. Cook it for a round of 15 minutes, this will give the meat a beautiful sear.
After the first round of searing, flip the roast over and turn the air fryer's temperature down to 325°F. Let it cook for another 25-35 minutes, or until the meat's internal temperature is between 135°F (medium rare) to 150°F (medium well).
When the meat is to your desired level of rareness, take it out from the air fryer and let it rest for 10 minutes. Resting is a necessary step to make sure the meat stays juicy, so do not skip this! Slice the meat thinly against the grain and serve.
Questions About the Recipe
How do I know when the beef is cooked?
The best way to check the beef's doneness level is by using a meat thermometer. The meat's internal temperature should be between 135°F (medium rare) to 150°F (medium well). You should rest the meat for 5-10 minutes after cooking to bring it up to the final temperature and seal in the juices.
What if I don't have a meat thermometer?
If you don't have a meat thermometer you can use the following rule. For rare beef, you would do 15 minutes per pound. The more cooked you want the beef, add 5 more minutes. For example, if you want to cook 1 pound of beef medium-rare, it would be 20 minutes (15 + 5).
How do I prevent my beef roast from getting dry?
There are two important steps in the recipe to ensure a juicy beef roast. Make sure to preheat your air fryer for 5 minutes, and let the beef rest before slicing. These two steps seal in the beef's juices.
Is aluminum foil safe to put in the air fryer?
You don't have to put aluminum foil in the air fryer when making this recipe. Adding aluminum can help with clean up, and the liquid drippings can be used to make a gravy. To use aluminum, make sure to roll up the sides so the air can still circulate well.
How Can I Store Leftovers?
Place leftovers in an airtight container in the fridge for max 5 days. You can also freeze the beef roast for 7 months. Whichever storing method you choose to do, make sure to let beef cool fully before storing. To reheat leftover beef roast, add a bit of broth to it to add moisture back in.
How Do I Make Gravy from the Drippings?
One of the easiest ways to make gravy with the roast's drippings is to add it to a pan with a cup of red wine. Bring it to a simmer and let it cook until the wine is almost gone. Pour in a bit of beef stock and reduce it. You'll get a delicious gravy for your beef roast.
Why Use an Air Fryer
An air fryer is an incredibly easy way to cook just about anything. You place the food in a fryer-style basket and hot air rapidly circulates all around the food, making the food crisp – much like deep-frying, but without the oil. You can cook anything you'd make in the oven.
Tips for Making Perfect Beef Roast
Make sure to preheat the air fryer before adding the beef in. If you don't preheat the air fryer, you won't be able to sear the beef.
When using the meat thermometer to measure the beef, place it into the middle of the meat's thickest part. This will ensure a correct reading.
While the beef is resting, the residual heat keeps cooking the meat. It is best to remove the roast when it's under below the desired temperature by 5°F.
To get the best slices of beef roast, use a sharp knife and cut against the grain. Don't cut your slices too thick either.
Though you are coating the beef roast with oil, we recommend spraying a bit of cooking oil onto the air fryer basket. Cleaning up will be much easier and there will be less food sticking.
Buy a portion of beef that comfortably fits in your air fryer. Overcrowding the air fryer's basket will not cook the meat evenly.
Serving Information
Beef roast tastes delicious with some roasted vegetables, especially potatoes.
Try this recipe with a side of mashed potatoes, or mashed cauliflower to keep it low-carb.
It is best to use a chef's knife or carving knife when serving beef roast.
Use the drippings from the beef roast to make a delicious gravy!
What Side Dishes to Serve?
You can serve some really easy side dishes with your main dish cooked in the Air Fryer. Sometimes, you can cook them together in the air fryer to make it even faster.
Some of our favorite side dishes to serve include:
Here are 28 more air fryer side dishes to try
Like this recipe? We'd love for you to share it with your friends on social media. For more great recipes, follow us on Pinterest and Facebook, where we share our recipes daily.
Best Air Fryer Beef Roast
You'll love this air fryer beef roast, rubbed with a zesty steak seasoning that becomes perfectly crusty on the outside and wonderfully tender on the inside. 
Ingredients
3

pound

beef chuck roast

2

tablespoons

olive oil

2

tablespoons

steak seasoning
Instructions
Preheat the

air fryer

to 400°F for 5 minutes.

Rinse and pat dry the roast. Coat with olive oil and steak seasoning.

Place the roast in the preheated air fryer (fat side down, if applicable) and cook for 15 minutes to sear the meat.

Turn the heat down to 325° F, flip the roast over (fat side up) and continue cooking for 25-35 minutes, until the internal temperature of the meat reaches 135° (medium rare) to 150°F (medium well). Remove the roast from the air fryer basket and let it rest for 10 minutes before slicing.
All air fryers have different wattage and may cook at different rates. You may need to adjust the time or temp for the best results.
Nutrition
Calories:
454
kcal
Carbohydrates:
1
g
Protein:
44
g
Fat:
31
g
Saturated Fat:
12
g
Polyunsaturated Fat:
3
g
Monounsaturated Fat:
17
g
Trans Fat:
2
g
Cholesterol:
156
mg
Sodium:
184
mg
Potassium:
762
mg
Fiber:
1
g
Sugar:
1
g
Vitamin A:
65
IU
Vitamin C:
1
mg
Calcium:
52
mg
Iron:
5
mg
🥧 If you're interested in more great recipes, I share all my favorite recipes over at A Food Lover's Kitchen, and you'll find Instant Pot recipes at A Pressure Cooker Kitchen, and cocktails and drinks at Savored Sips. Check it out today!
Pin this recipe for later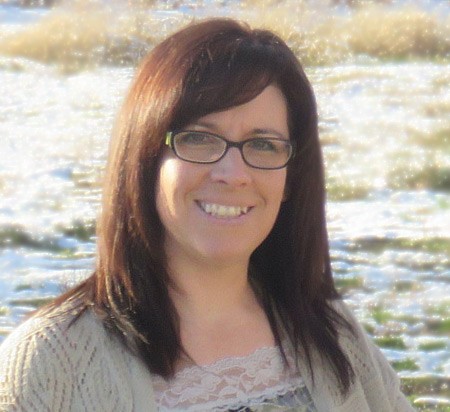 Angela is a talented home cook and passionate advocate for healthy, flavorful cooking in the air fryer. She shares her favorite air fryer recipes and helpful tips for using this versatile kitchen appliance to create delicious, nutritious meals.