It can be tricky to reheat steak without sacrificing some of it's juiciness and texture. But if you reheat steak in the air fryer it's actually quite easy and it will retain the moisture. Not only is it quick, steak reheated in the air fryer turns out just as perfect as when you first made it.
Since it is very important to maintain the internal temperature of steak to make sure it doesn't get overcooked, you do have a watch it closely while cooking, but it's a very simple process that leads to perfectly reheated steak.
»» See also: Perfectly Cooked Air Fryer Sirloin Steak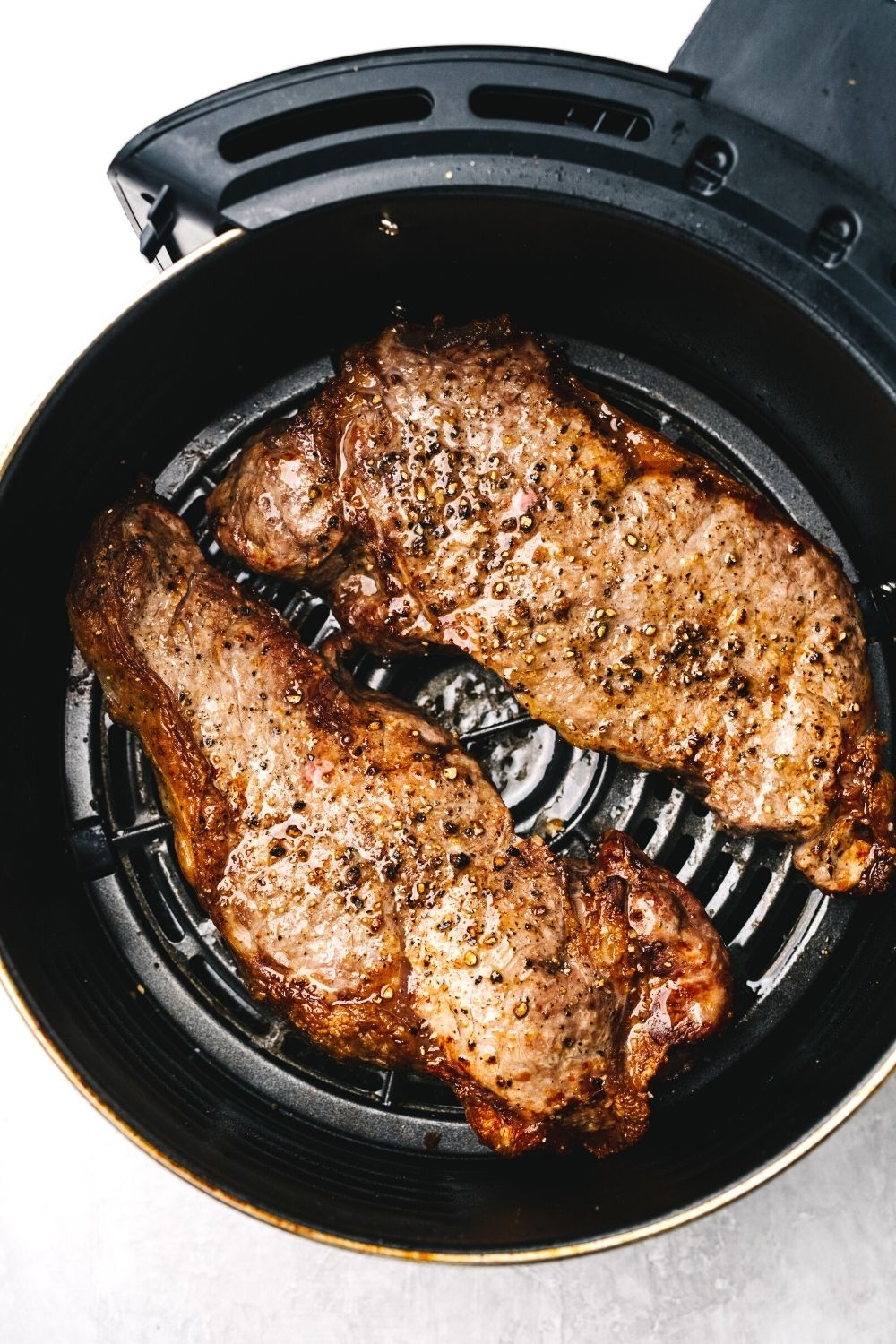 Steak often doesn't taste the same after being reheated and it can result in a chewy or leathery texture. Your perfectly cooked medium rare steak turns into an overcooked hunk of meat. We want to avoid that tragedy at all costs.
A properly reheated steak requires patience and the right techniques, but you can reheat a steak and have it be just as juicy and delicious as the first time you eat it.
Here are the best ways to reheat steak without ruining it.
Next time you need to reheat steak, skip the oven, and the overcooked mess of the microwave and go straight for the air fryer.
While this method works best for reheating large pieces of steak, like a large chunk of left over filet or T-Bone, you can use the air fryer to cook all types and amounts of steak.
» Also learn how to reheat pizza and chicken in the air fryer.
Can You Reheat Steak in An Air Fryer?
Yes, you can use the air fryer to reheat steak and it is actually the best, easiest, and fastest way to do so. Most people have an air fryer these days. It's become a very popular kitchen appliance that helps you avoid the oven all together.
The circulating air in the air fryer, coupled with the small space in the basket, heats back up the steak from the outside, so the inside doesn't overcook.
If your steak was originally cooked to 145°F, the center will still be medium. Now that you're reheating from a much colder temperature, having brought it from the refrigerator, you can reheat the steak to the same internal temperature as the first time, and the center will remain at medium.
How To Reheat Steak In The Air Fryer
To reheat your steak in the air fryer, first start out with steak that has been brought up to room temperature. Place the steak in the air fryer basket. Spray or coat the steak with cooking oil. For extra goodness, add a dollop of butter on the top of each steak.
Cook at 350°F until the steak reaches 130°F, or more, depending on your desired doneness. This will take about 3-8 minutes. Check it every 2 minutes to prevent over cooking.
Step One: Lay the steak in the air fryer (don't overlap)
First of all, arrange the steak in the air fryer, taking care to place them in a single layer. This is important so that each piece gets surface air circulation to quickly reheat the whole exterior without overcooking the inside.
Step Two: Cook until heated through
Set the air fryer temperature to 350 °F. Air fry until the steak is heated through to your optimal internal temperature. For best results, flip the steak over about halfway through to ensure both sides get evenly warmed.
NOTE: In order to be safe to eat, steak should have an internal temperature of at least 135°F. Use an instant-read meat thermometer to determine whether the temperature has reached this safe level.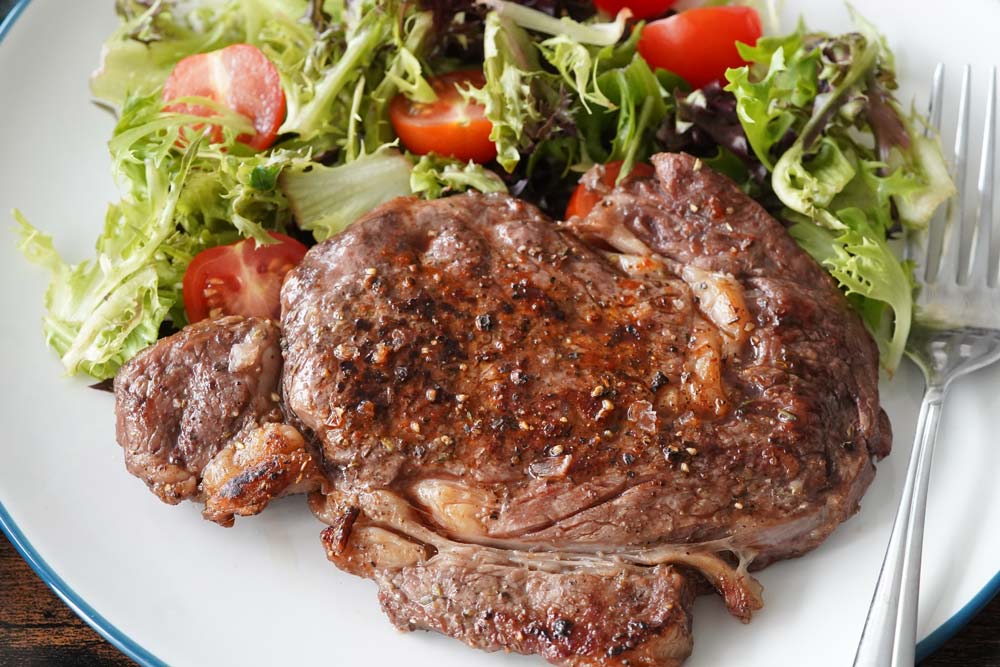 Tips for Reheating Steak in an Air Fryer
Eat the reheated steak immediately, hot from the fryer.
You only want to reheat steak one time. A second reheating will lead to dry steak that's pretty undesirable to eat.
In most cases, there's no need to preheat the air fryer. However, if your air fryer works better with preheating, give it 3-5 minutes then add the steak. It will likely take less time to reach the proper internal temperature with preheating.
Reheat steak pieces of similar size for the best results. That way, they'll be more likely to cook evenly, with no hot or cold spots.
There's no need to add any more oil to the steak. There should be enough residual fat to preserve the texture. However, you might want to add a dollop of butter on the top for extra flavor.
What is the Best Way to Reheat Steak?
We might be biased because we love our air fryer so much, but having reheated steak in many different ways, I honestly believe the best way is in the air fryer.
Reheating steak in the air fryer is fast and easy. There's no need to waste energy by turning on the oven, and you don't have to wait for the unit to preheat. Just pop the steak in the air fryer, set the temperature, and wait. It's true that you should flip the wings at the halfway mark, but that will only take a few seconds.
Since the air fryer preserves the interior temperature of the steak, it'll taste almost as fresh as when it was made.
Questions About the Recipe
Can You Reheat Steak Pieces in the Air Fryer?
Reheating small pieces of steak in the air fryer is a bit harder than reheating a large piece of steak. The pieces will become cooked through almost immediately, so it's hard to preserve the interior temperature you want. However, it's a great way to reheat steak fajita filling, because you likely don't mind if the interior of the steak is cooked to well-done.
Can I Reheat Steak Fingers in the Air Fryer?
You can reheat any type of steak in the air fryer, but steak fingers are especially easy to reheat. All you do is place them in the basket and cook on 350 degrees F for about 3 minutes. They will get heated through, just like new.
OUR FAVORITE AIR FRYER
There are a lot of features to love about this air fryer, but top of our list are the tempered glass display, super easy to clean basket, and ability to add shake reminders.
Like it? Pin it for later!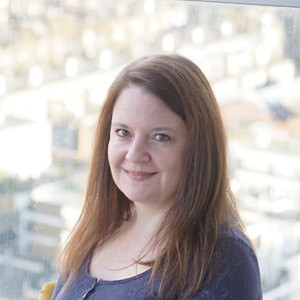 Laura is a passionate foodie and owner of Air Fry Anytime She is dedicated to sharing delicious recipes and helpful tips for using air fryers at home. With years of experience in the kitchen and a love for healthy, flavorful cooking, Laura has become an expert at using air fryers to create amazing meals that are both nutritious and delicious.