Many people wonder can you toast bread in an air fryer. The answer is yes, you can! Toasting bread in the air fryer is a quick and easy way to make a healthy snack or breakfast.
The air fryer has become a popular appliance in recent years as it cooks food quickly by circulating hot air around it. You might not know how convenient an air fryer is until you start to use it, but it's great for making all kinds of things, even to toast your morning bread! It's not just for fried foods.
» You might like these Easy Homemade Air Fryer Biscuits and Air Fryer Garlic Bread.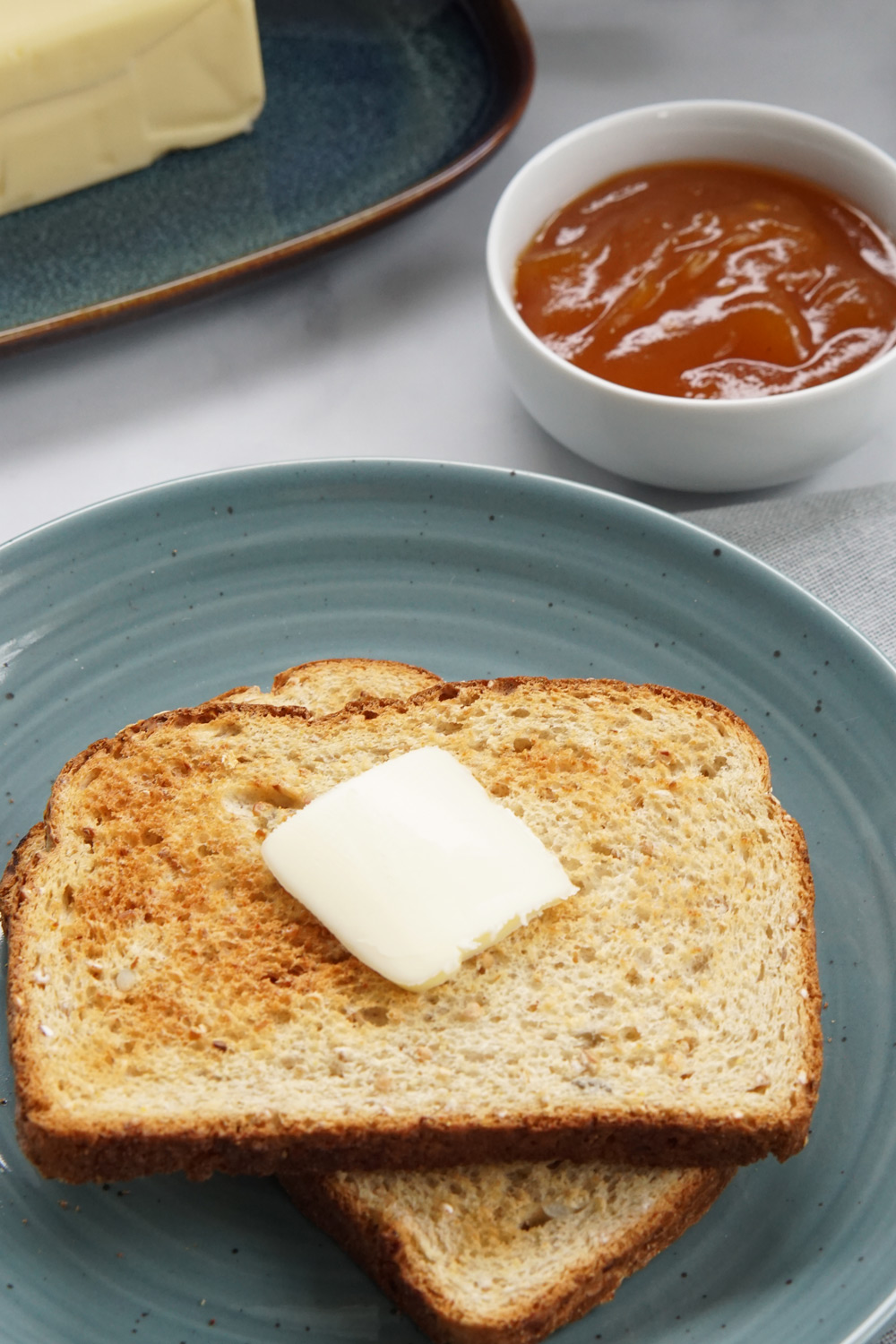 Can You Make Toast in an Air Fryer?
Yes, you can toast bread in the air fryer. The air fryer is a versatile appliance that can be used for a variety of tasks, such as grilling, baking, and frying. One of the lesser-known functions of the air fryer is toasting bread. Toasting bread in the air fryer is a quick and easy way to prepare a snack or a meal.
The key is to make sure the bread is evenly coated with oil and that the air fryer is set to a high enough temperature so that the bread will Toast quickly. Remember to keep an eye on it, as it toasts quickly and can easily burn if you're not careful.
To toast bread in the air fryer, you will need:
Air fryer – A basket or tray style can be used.
Bread – Use any bread you like – sliced white or wheat, sourdough, English muffin, etc.
Toppings:
Butter or olive oil spray
Jam or jelly
What About Croutons?
I use my air fryer to make croutons for a Caesar salad, because it's way faster and more efficient than putting them in the oven. You'll get perfectly crisped and browned cubes of bread with very little effort.
To make croutons, you just need to prepare the bread and cut it into cubes.
I usually just use whatever bread we happen to have in the house, which often is just sliced sandwich bread, but you can make great croutons from a French bread loaf or even sourdough.
To prepare the bread, lightly drizzle olive oil on both sides and sprinkle with garlic salt. Then cut the bread into cubes in whatever size you want. Then follow the instructions below to toast them in the air fryer.
How to Make Toast in the Air Fryer
Preheat your air fryer to the desired temperature, we used 375° F.
Place the bread in the basket.
Cook for about 2-4 minutes, turning the bread over halfway through to ensure even cooking.
You can cook the bread for longer or shorter time depending on how toasted you want it to be. You can give it a light toasting in about 2-3 minutes or a darker firmer toast in about 4-5 minutes.
Will the Toast Fly Around in the Air Fryer?
This is a real concern! Many light weight foods will blow around in the air fryer basket as it cooks. Some things will cook perfectly fine while some things have a chance of sticking to the heating element and possibly catching fire.
I noticed as I started my air fryer that my toast was light enough to blow around. There are a couple of ways to combat this. If you have a metal rack or trivet you could put it on top of the toast while it cooks. I have used toothpicks to keep the bread from flying around while making grilled cheese in the air fryer so I decided to try that.
Lay two slices side by side and tether them together using toothpicks. This was they are heavy enough to stay put and easy to flip.
Optional Toppings
You can add anything you want to your toast once you've taken it out of the air fryer. I prefer to just add butter most of the time, but these optional toppings are also great on toast:
Jam or jelly
Mascarpone or clotted cream
Peanut butter
Nutella
What to Serve With Toast
I mean, I'm a firm believer that toast is a meal on its own. You can easily just eat buttered toast or some toast with jelly for a meal.
If you want to add toast to a more robust meal, you can also cook great breakfast items in the air fryer. See a few of these ideas for inspiration:
FAQS
How do I keep the bread from bouncing around the basket?
One of the problems with air frying light items is that they can be bounced around in the basket by the circulating air. This can happen with bread and it can be blown up into the heating element, which can cause it to burn. To prevent this, you can hook the bread together using toothpicks or lay a wire rack on top of the bread to hold it down or place it between the trays in your oven-style air fryer.
What type of bread works best?
Any type of bread can be toasted in the air fryer. Use whatever bread you prefer and whatever you usually toast in your toaster, regular sliced white, wheat, or sourdough. Why not try toasting banana bread, corn bread slices or even keto bread.
Can you make French Toast in the air fryer?
Yes, you can bake French toast in the air fryer too! Once you've dipped the bread in the egg mixture, cook it on 375 degrees F in the air fryer for about 5 minutes per side. I've also made eggs in the middle in the air fryer, with a piece of parchment paper to keep the egg from slipping into the cracks.
Why Use an Air Fryer
An air fryer is an incredibly easy way to cook just about anything. You place the food in a fryer-style basket and hot air rapidly circulates all around the food, making the food crisp – much like deep-frying, but without the oil. You can cook anything you'd make in the oven.
Like this recipe? We'd love for you to share it with your friends on social media. For more great recipes, follow us on Pinterest and Facebook, where we share our recipes daily.
Can You Toast Bread in the Air Fryer?
Toasting bread in the air fryer is a quick and easy way to make a healthy snack or breakfast.
Ingredients
2

slices

bread

desired toppings
Instructions
Place the bread slices in the air fryer basket.

Use toothpicks or metal rack to weigh the bread down so that it won't blow around.

Cook on 375° F for 2-4 minutes, turning halfway to ensure even browning. Continue cooking until the toast has reached your desired toastiness.

Remove the bread and add your desired topping (butter, jelly, etc).
All air fryers have different wattage and may cook at different rates. You may need to adjust the time or temp for the best results.
Nutrition
Calories:
153
kcal
Carbohydrates:
27
g
Protein:
6
g
Fat:
3
g
Saturated Fat:
1
g
Polyunsaturated Fat:
1
g
Monounsaturated Fat:
1
g
Trans Fat:
1
g
Sodium:
265
mg
Potassium:
79
mg
Fiber:
2
g
Sugar:
3
g
Vitamin A:
1
IU
Vitamin C:
1
mg
Calcium:
70
mg
Iron:
2
mg
So, Can You Toast Bread in an Air Fryer?
Yes! The air fryer may not be the best way to toast bread – the toaster still wins for that – but if you don't have a toaster (that's me!), then this is a great way to make yourself a slice of toast and have it turn out nicely toasted.
🥧 If you're interested in more great recipes, I share all my favorite recipes over at A Food Lover's Kitchen, and you'll find Instant Pot recipes at A Pressure Cooker Kitchen, and cocktails and drinks at Savored Sips. Check it out today!
Pin it for later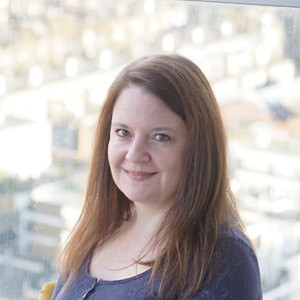 Laura spends a lot of her time cooking and creating recipes to share. She loves traveling and learning about new foods around the world to bring into her own recipes at home.