Air Fryer Garlic Bread is a simple combination of fluffy French bread, butter, and garlic that turns out to be perfectly crispy and unexpectedly heavenly.
» You might also like Can You Toast Bread in an Air Fryer? and Air Fryer Roasted Garlic.
We all know that crispy garlic bread makes a perfect snack or side dish for dinner. We often make it in the oven, but I have to say that the air fryer actually does an even better job of getting the outside nice and crisp while keeping the inside of the bread super soft.
You can make it in a small loaf or as individual slices, as we've done in this recipe. It takes under 5 minutes to toast the slices to perfection.
» Looking for more side dish recipes? You will love these 28 Everyday Side Dish Recipes in the Air Fryer.
Ingredients You Need
Butter – I always use salted butter to give the bread even more flavor. Be sure to set it out in advance so that it can soften.
Garlic – Always use fresh garlic that hasn't been kept in the refrigerator for too long. This has the best flavor and no bitterness that comes from older garlic.
Parmesan cheese – Be sure to use a good quality Parmesan for this dish. I like to shred my own from a block of cheese, but you can use a pre-shredded version.
Basil and parsley – These herbs combined with the butter and garlic add great flavor to the bread. You can use fresh or dried – whatever you have available.
Baguette – Fresh soft and crunchy bread will yield the best result. This recipe makes about half of a baguette, in 1/4″ slices. To make the whole baguette, double the spread ingredients.
How to Make Air Fryer Garlic Bread
Cut the baguette into 1/4″ to 1/2″ slices.
In a small bowl mix together the softened butter, minced garlic, Parmesan, basil, and parsley. Spread this mixture onto each slice of bread front and back. This will add extra flavor and help the bread to crisp up.
Place the bread into the air fryer basket in a single layer. You don't want them to overlap because the bread won't get crispy.
Air fry at 350° F for 4-5 minutes, or until the bread has reached your desired crispiness. I found that 4 minutes was just about right but if you like extra crispy bread you will want the extra minute.
Remove from the air fryer and serve warm.
What Type of Bread to Use
The best bread to use for air fryer garlic bread is a firm crusty bread such as Italian or French baguette or sourdough baguette. This recipe will make half of a long baguette. To make the whole baguette, just double the butter mixture.
Why use a baguette? Since the air fryer basket is pretty small, it's best to use a baguette that can be sliced into many small slices. You can then toast up to 8 or 10 slices at once.
You can use a full loaf of French or Italian bread, if you want. If you slice it, the slices will be bigger and it's hard to fit more than 2-3 slices at once in the air fryer. If you want to toast it in a chunk, that's fine too.
Additional Cooking Notes
If you didn't take the butter out of the refrigerator to soften, you can quickly microwave to soften it, making it easier to spread on the bread.
Don't add too many slices of baguette to the air fryer; you need it to be evenly toasted. Put in only as many slices as you can fit in the basket in one layer. It's quick to make, so you can always make it in batches.
You can be creative by customizing the garlic bread to your preference. Add more cheese or garlic or anything that works for you.
This recipe assumes you are not preheating your air fryer. However, if you're making two or more batches, the air fryer will naturally be preheated for the 2nd batch, so you might find that you need a minute or two less cooking time for all batches after the first one.
Possible Substitutions
Mozzarella cheese could be used to top the bread instead of parmesan cheese. Don't add it to the butter mixture, just put it on top of the bread after you've arranged the slices in the air fryer.
Dried oregano, thyme, or tarragon could serve as a substitute for dried basil or parsley.
If you want to make full-sized French bread, you can. You just don't want to overlap the bread in the air fryer if you can avoid it. You can also cut a chunk of bread that will fit in the air fryer, slicing only partway through each slice, butter each slice, and air fryer the whole chunk at once, rather than in slices.
Frequently Asked Questions
How long should garlic bread stay in the air fryer?
I usually toast the bread for about five minutes, but this is dependent on your preference and your air fryer. Allow it to stay in the air fryer until it is golden brown, but don't overdo it or the bread will be hard. If you don't it crispy, you might leave it in for less time.
How do I store air fryer garlic bread?
Air fryer garlic bread can be preserved in an airtight container and left in the refrigerator for up to five days. If you choose to store it in a freezer, you should keep it in a freezer bag. You can leave it in there for up to two months. This is a great way to grab a piece or two of bread when needed.
Will the garlic burn?
If the garlic is stirred into the butter mixture before putting it on the bread, it won't burn. If you add the bread separately, it might burn, which makes it quite bitter and pungent.
Like this recipe? We'd love for you to share it with your friends on social media. For more great recipes, follow us on Pinterest and Facebook, where we share our recipes daily.
Air Fryer Garlic Bread
Air Fryer Garlic Bread is a simple combination of fluffy French bread, butter, and garlic that turns out to be perfectly crispy and unexpectedly heavenly.
Ingredients
1/4

cup

salted butter

softened

2

cloves

garlic

minced

1/4

cup

Parmesan cheese

finely grated

1

teaspoon

dried basil

1

teaspoon

dried parsley

1/2

long baguette

sliced
Instructions
Slice the baguette into slices 1/2 in thick.

Mix together the butter, garlic, Parmesan, basil, and parsley. Spread it onto each piece of baguette, top and bottom.

Place the bread in the air fryer in a single layer.

Air fry at 350° F for 4-5 minutes, until your desired crispiness.

Remove from the air fryer and serve warm.
All air fryers have different wattage and may cook at different rates. You may need to adjust the time or temp for the best results.
Nutrition
Calories:
210
kcal
Carbohydrates:
16
g
Protein:
5
g
Fat:
14
g
Saturated Fat:
8
g
Polyunsaturated Fat:
1
g
Monounsaturated Fat:
4
g
Trans Fat:
0.5
g
Cholesterol:
35
mg
Sodium:
385
mg
Potassium:
61
mg
Fiber:
1
g
Sugar:
2
g
Vitamin A:
406
IU
Vitamin C:
1
mg
Calcium:
119
mg
Iron:
1
mg
🥧 If you're interested in more great recipes, I share all my favorite recipes over at A Food Lover's Kitchen, and you'll find Instant Pot recipes at A Pressure Cooker Kitchen, and cocktails and drinks at Savored Sips. Check it out today!
Like it? Pin it!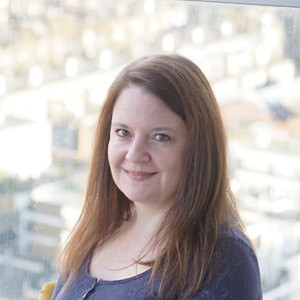 Laura is a passionate foodie and owner of Air Fry Anytime She is dedicated to sharing delicious recipes and helpful tips for using air fryers at home. With years of experience in the kitchen and a love for healthy, flavorful cooking, Laura has become an expert at using air fryers to create amazing meals that are both nutritious and delicious.