Air Fryer Buffalo Cauliflower is delicious and super easy to make. The cauliflower florets are breaded and air fried to crispy perfection, then drenched in tasty buffalo sauce and dipped in blue cheese dip.
>> You might try these Air Fryer Chicken Wings or these Air Fryer Portobello Mushrooms.
The best thing about this recipe is that everyone loves it. You don't need any fancy ingredients, and you can enjoy it as a snack or side. It is a great way to add more vegetables to your diet or to indulge in a meatless Monday.
Just wait until you try these. Before I made them, I was wondering what all the fuss was about, but they are so good you'll definitely be plotting the next time you'll make them before they're even gone.
Ingredients You Need
For this vegetarian recipe, you'll need a few simple ingredients. See below for the list of items and any substitutions you could make, if necessary.
Cauliflower: The main ingredient for this recipe is cauliflower. I have used a medium-sized head of cauliflower. Cut it so that the florets separate. When buying cauliflower for this recipe, make sure you choose a fresh head. It shouldn't have green or brown coloured patches on it.
All-purpose flour: All-purpose flour sets the base for the batter. It is easily available in every grocery store and is a staple in every kitchen pantry.
Garlic powder: It adds a garlicky, savoury and intense flavour to the batter.
Onion powder: Onion also has a savoury flavour with a hint of sweetness.
Spanish paprika: Spanish paprika has a sweet, smoky flavour with a heat we all love.
Salt: Salt balances out the flavour.
Water: You will need water to smooth out the batter.
Buffalo sauce: Buffalo sauce has a delicious sweet, savoury flavour with a kick of spice. You can use any brand's buffalo sauce. My favourite is Frank's Red Hot buffalo sauce.
Blue cheese dressing: Serve these florets with blue cheese dressing.
OUR FAVORITE AIR FRYER
COSORI PRO LE 5-QT AIR FRYER
There are a lot of features to love about this air fryer, but top of our list are the tempered glass display, super easy to clean basket, and ability to add shake reminders.
How to Make Air Fryer Buffalo Cauliflower?
You can effortlessly make this delicious and crispy buffalo cauliflower. Here are a few steps you have to follow:
Step 1: Start by separating the cauliflower florets from the head, keeping them in fairly large pieces, about the size of a golf ball. Wash the florets thoroughly and let them dry in a colander.
Step 2: In a large bowl, add all-purpose flour, garlic powder, onion powder, paprika and salt. Mix well using a fork or a whisk. Slowly pour in the water and whisk the mixture until you get a smooth and lump-free batter.
Step 3: Add the cauliflower florets to the batter and stir so that the batter coats every single floret. Take each floret out of the batter and place it on a wire rack so that the excess batter drips off. Make sure you place paper towels or paper underneath the rack to avoid mess.
Step 4: Put a parchment paper round into the bottom of the air fryer. This will prevent a big mess when the batter gets baked onto the basket. It's so much easier to clean up, trust me! If you don't have parchment paper, you can spray the air fryer basket with cooking spray instead.
Step 5: Place the cauliflower florets in the air fryer basket in a single layer. Make sure the pieces don't overlap or touch each other. If they stick together, they'll be difficult to pull apart, and won't get as crispy.
Step 6: Let the pieces cook for about 15 minutes at 350 degree F. Once done, take them out for the basket and place them in a large bowl. Drizzle buffalo sauce on top and toss so that the sauce coats the cauliflower florets. Serve with blue cheese dressing and enjoy!
Dips to Pair with Air Fryer Buffalo Cauliflower
While blue cheese dressing is a dip for these cauliflowers, feel free and get creative with your dip options. You can also try the following:
Buffalo ranch dip
Hummus
Tahini sauce
Salsa
Sour cream and chives
Roasted red pepper dip
Garlic Aioli
Baba Ganoush
Cilantro Lime Dip
Tools We Used
Frequently Asked Questions
Can I make my own buffalo sauce?
I usually use store-bought Frank's Red Hot sauce for this recipe because it's easier to buy. But you can make it yourself. Here is a recipe for making your own buffalo sauce without Frank's Red Hot.
Can we make this recipe gluten-free?
You can make this recipe gluten-free by using almond flour or any gluten-free flour. Along the same lines, substituting the flour can make it low-carb or keto-friendly. I like to use half almond and half coconut for the best texture.
Can the cauliflower be deep-fried or baked instead?
While you can deep fry and bake them in the oven, the best part about using the air fryer to make buffalo cauliflower is that it achieves a similar result, with a nice crispy exterior, without having to deep fry it.
How To Store Leftover Air Fryer Buffalo Cauliflower
Transfer the leftover buffalo cauliflower to an airtight container with fitting lids to prevent excess air from getting in, and store it in the refrigerator for up to 2-3 days. Store the extra sauce separately to prevent the cauliflower from becoming soggy.
Why Use an Air Fryer
An air fryer is an incredibly easy way to cook just about anything. You place the food in a fryer-style basket and hot air rapidly circulates all around the food, making the food crisp – much like deep-frying, but without the oil. You can cook anything you'd make in the oven.
What Oil & Oil Sprayer is Best for the Air Fryer?
The biggest issue most air fryer lovers face is finding the right oil and oil sprayer to use on food cooked in the air fryer. A fine mist of oil will help the entire piece of food crisp evenly, so it's very important.
My personal preference is to use canola oil, extra virgin olive oil, or avocado oil. I use both a refillable spray bottle like the Evo one pictured below and non-propellant extra virgin olive oil, which has not harmful aerosols or chemicals.
What to Serve with This Dish
There are so many options for main dishes to serve with this dish. You can make these all in the air fryer or in the oven, if you wish.
Like this recipe? We'd love for you to share it with your friends on social media. For more great recipes, follow us on Pinterest and Facebook, where we share our recipes daily.
Air Fryer Buffalo Cauliflower
Air Fryer Buffalo Cauliflower is delicious and super easy to make. The cauliflower florets are breaded and air fried to crispy perfection, then drenched in tasty buffalo sauce and dipped in blue cheese dip.
Ingredients
1

head cauliflower

cut into florets

3/4

cup

all-purpose flour

2

teaspoons

garlic powder

1

teaspoon

onion powder

1

teaspoon

Spanish paprika

1/2

teaspoon

salt

3/4

cup

water

1/2

cup

Frank's red hot buffalo sauce

1/4

cup

Blue cheese dressing
Instructions
Mix the flour, garlic and onion powders, paprika and salt in a large bowl. Whisk in the water and mix until smooth.

Pour the cauliflower into the batter and stir to coat each piece.

Take out the pieces of cauliflower and set them on a rack to let the excess batter drip off.

Place a piece of parchment paper on the bottom of the air fryer basket, or spray it with

cooking spray

.

Arrange the cauliflower pieces inside the basket in a single layer, not touching each other. Cook at 350º F (175º C) for 15 minutes. They don't need to be flipped halfway through.

When done, toss the cauliflower pieces in a bowl with the buffalo sauce until coated. Serve with blue cheese dressing.
Notes
You can substitute the flour for almond flour or gluten-free flour, if you want.
All air fryers have different wattage and may cook at different rates. You may need to adjust the time or temp for the best results.
Nutrition
Calories:
144
kcal
Carbohydrates:
27
g
Protein:
6
g
Fat:
2
g
Saturated Fat:
1
g
Polyunsaturated Fat:
1
g
Monounsaturated Fat:
1
g
Cholesterol:
1
mg
Sodium:
1402
mg
Potassium:
490
mg
Fiber:
4
g
Sugar:
3
g
Vitamin A:
247
IU
Vitamin C:
69
mg
Calcium:
55
mg
Iron:
2
mg
🥧 If you're interested in more great recipes, I share all my favorite recipes over at A Food Lover's Kitchen, and you'll find Instant Pot recipes at A Pressure Cooker Kitchen, and cocktails and drinks at Savored Sips. Check it out today!
Like this recipe? Pin it for later!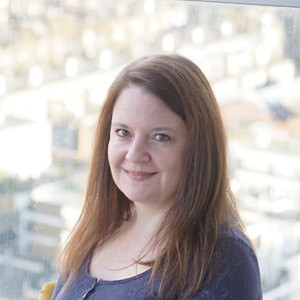 Laura is a passionate foodie and owner of Air Fry Anytime She is dedicated to sharing delicious recipes and helpful tips for using air fryers at home. With years of experience in the kitchen and a love for healthy, flavorful cooking, Laura has become an expert at using air fryers to create amazing meals that are both nutritious and delicious.