These Air Fryer Fish Sticks are a super simple way to turn store-bought frozen fish sticks into a crispy hot snack or meal in just minutes.
» You might also like these Air Fryer Chicken Patties and Easy Air Fryer Teriyaki Salmon.
One of the easiest things you can pull out of the freezer and make for lunch or dinner is fish sticks. While they aren't as good for you as fresh unbreaded fish, containing about twice the calories, they are still a relatively healthy meal and one that the kids will often eat even if they're picky.
We've tried many different brands of frozen fish sticks and find that Gorton's and Trader Joes are some of the better ones. You might know of another brand that you like. Whatever you choose, it'll work with this air fryer recipe.
Ingredients You'll Need
It's no surprised that cooking fish sticks in the air fryer doesn't require a lot of ingredients. Basically we're just showing you our method for air frying frozen fish sticks. So that's all you really need! Since the sticks already have oil on them, you don't even need any cooking spray.
Frozen fish sticks – You can use any brand of fish you like. Trader Joes has a great one that we like, as well as Gorton's. They can be breaded or battered. It doesn't matter.
Lemon wedges – A spritz of lemon gives a bright acidity to the fish.
Tartar sauce – if you like to eat your fish with tartar sauce or another sauce. This is optional.
How to Air Fryer Fish Sticks
Space frozen fish sticks apart in the air fryer basket so they aren't touching or overlapping.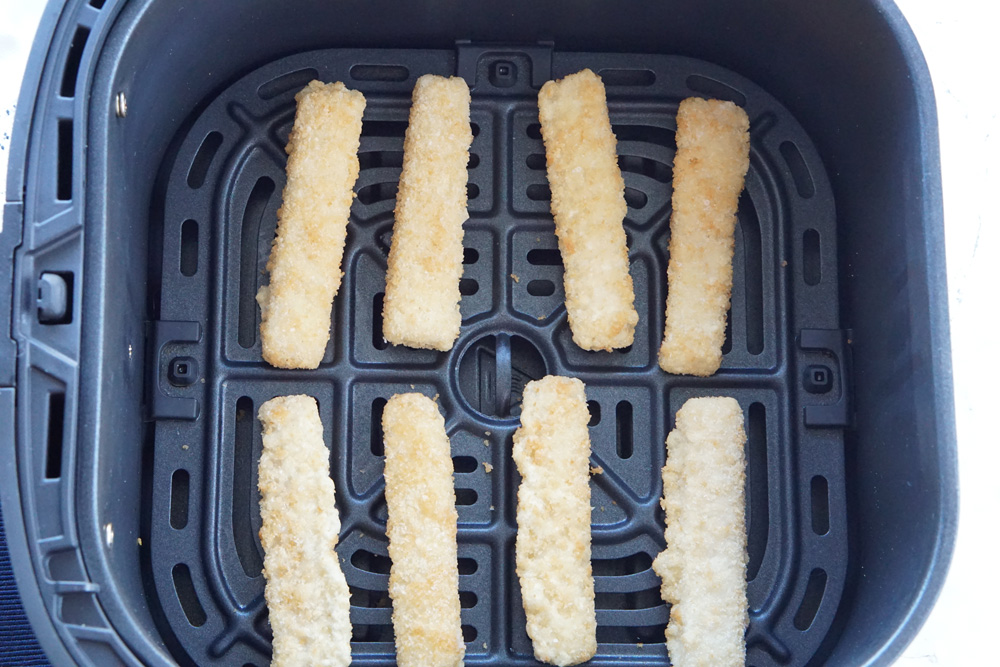 Air fry at 400°F for 8-10 minutes, until crispy, flipping carefully halfway through cooking.
Serve with a lemon wedge and tartar sauce on the side, if desired.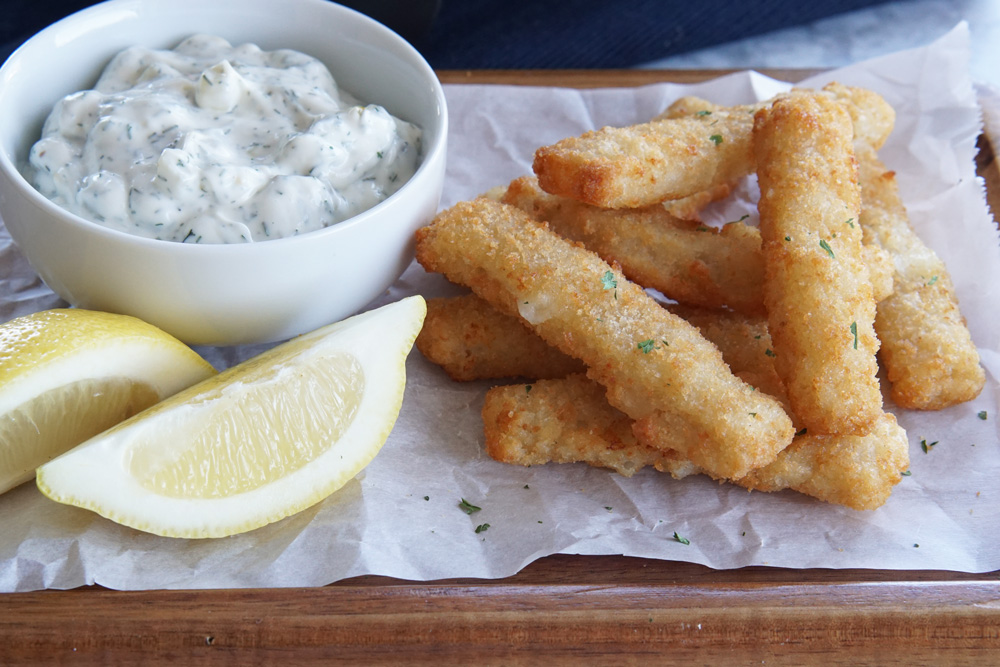 Air Frying Tips and Suggestions
No oil is necessary to cook fish sticks because they have already been flash deep fried in oil.
Cook the fish sticks from frozen. There is no need to thaw first and if you do, it can lead to a soggy exterior.
Put the fish in the basket in a single layer. You don't want to overcrowd them or overlap them because they won't get evenly crispy.
This recipe assumes you are cooking average sized fish sticks from frozen. There is no need to preheat the air fryer.
If you do, you can expect to reduce the cooking time by a few minutes. If you're cooking more fish sticks in multiple batches, the second batch and onward will cook a little quicker.
Remember that all air fryers cook differently and your fish sticks might be larger or smaller than mine. Adjust the cook time accordingly.
Frequently Asked Questions
Can you cook battered fish in an air fryer?
Yes, you can make battered fish or breaded fish in an air fryer. They will take the same amount of time to cook. However, if you are battering the fish yourself, you won't be able to cook them in the air fryer because the batter will just fall into the grate. It needs to be flash fried first.
Can you cook frozen fish in the air fryer with no breading?
You can make frozen fish that has no breading in the air fryer, but you will want to cook it on a lower temperature because you're not trying to crisp it up, rather you just want to heat it up slowly. You will also need to spray the basket or coat the fish with oil before adding to the basket, or it might stick.
I usually put a piece of parchment paper in the bottom to avoid it sticking. Cook on 350° F for about 8 minutes, turning halfway.
What Side Dishes to Serve?
There are some really easy side dishes you can serve with your main dish cooked in the Air Fryer. In some cases, you can even cook them together in the air fryer to make it even faster.
Some of our favorite side dishes to serve include air fryer cauliflower, brussels sprouts, and corn on the cob. We love these crispy smashed potatoes and cottage fries because they go with just about anything. Other quick options are to make a side garden salad or some macaroni and cheese.
Why Use an Air Fryer
An air fryer is an incredibly easy way to cook just about anything. You place the food in a fryer-style basket and hot air rapidly circulates all around the food, making the food crisp – much like deep-frying, but without the oil. You can cook anything you'd make in the oven.
Like this recipe? We'd love for you to share it with your friends on social media. For more great recipes, follow us on Pinterest and Facebook, where we share our recipes daily.
Crispy Air Fryer Fish Sticks
These Crispy Air Fryer Fish Sticks are a super simple way to turn store-bought frozen fish sticks into a crispy hot snack or meal in just minutes.
Ingredients
8

frozen fish sticks

Lemon wedge and tartar sauce for garnish

optional
Instructions
Space frozen fish sticks apart in the

air fryer

basket.

Air fry at 400°F for 8-10 minutes, until crispy, flipping carefully halfway through.

Serve with lemon wedge and tartar sauce on the side.
All air fryers have different wattage and may cook at different rates. You may need to adjust the time or temp for the best results.
Nutrition
Calories:
230
kcal
Carbohydrates:
26
g
Protein:
10
g
Fat:
10
g
Saturated Fat:
1
g
Polyunsaturated Fat:
3
g
Monounsaturated Fat:
7
g
Cholesterol:
20
mg
Sodium:
430
mg
Potassium:
209
mg
Fiber:
1
g
Sugar:
2
g
Calcium:
17
mg
OUR FAVORITE AIR FRYER
COSORI PRO LE 5-QT AIR FRYER
There are a lot of features to love about this air fryer, but top of our list are the tempered glass display, super easy to clean basket, and ability to add shake reminders.
🥧 If you're interested in more great recipes, I share all my favorite recipes over at A Food Lover's Kitchen, and you'll find Instant Pot recipes at A Pressure Cooker Kitchen, and cocktails and drinks at Savored Sips. Check it out today!
Like this post? Save it on Pinterest for next time!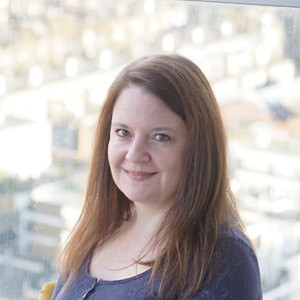 Laura spends a lot of her time cooking and creating recipes to share. She loves traveling and learning about new foods around the world to bring into her own recipes at home.