Make your own Craisins with this Air Fryer Dried Cranberries recipe. Store-bought cranberries are great, but if you want to learn to make your own, the air fryer is the perfect way.
» You might also like these Air Fryer Cranberry Turnovers and Air Fryer Sun Dried Tomatoes.
Most air fryers these days can be used as a dehydrator. They have a special setting with low heat that will allow your cranberries to dry in a very convenient way.
First, check that you have this setting on your air fryer or that it can go as low as 135° F. Most fruits and vegetables take between 6 and 8 hours to dry properly at 135°F. I am using a Ninja Max XL and it has a dehydrate button that sets a program for me. You may need to check your manual to see how to use the dehydrate setting on your machine.
Ingredients You Need
Fresh cranberries – When it's the right season, you can find bags of fresh cranberries easily at the store. If it's not in season, you can use frozen cranberries.
Water – You need to first boil the cranberries to get them to pop, then you can dehydrate them.
Sugar or sugar-substitute – Dried cranberries you buy at the store are packed with sugar. You might not realize it, but they are super tangy and sour if you don't add sugar. I use granulated sugar to make them sweet, or use a sugar-free substitute like allulose.
How to Make Air Fryer Dried Cranberries
First rinse the cranberries to remove any residue.
Boil a pot of water on the stove top and once it's boiling, add the cranberries. After about 5 minutes, they will begin to pop open and it should only take about 6-7 minutes for them all to pop.
Remove the pot from the heat and drain the water out. Then return the pot to the still warm stove top and dump in the sugar. Stir them until the sugar dissolves. If it's not melting, you can add in a few drops of warm water to soften it. It's okay if some of the sugar is still visible on the surface of the cranberries.
Place the cranberries in the air fryer basket, trying to spread them out as much as possible. How many you can fit will be based on the size of your air fryer basket or tray. Mine is a 5.5-quart and I can fit the 6 ounces of cranberries in an almost single layer in the basket.
You don't want to crowd them because they need space to dry, but it's okay if some of them overlap. They will shrivel as they dry.
Press the dehydrate button on your air fryer and let it go. Mine is set to 6 hours on 135° F. This is almost the perfect amount of time for the cranberries to dry. I did turn mine on for about another hour to get them to the level of dryness I wanted.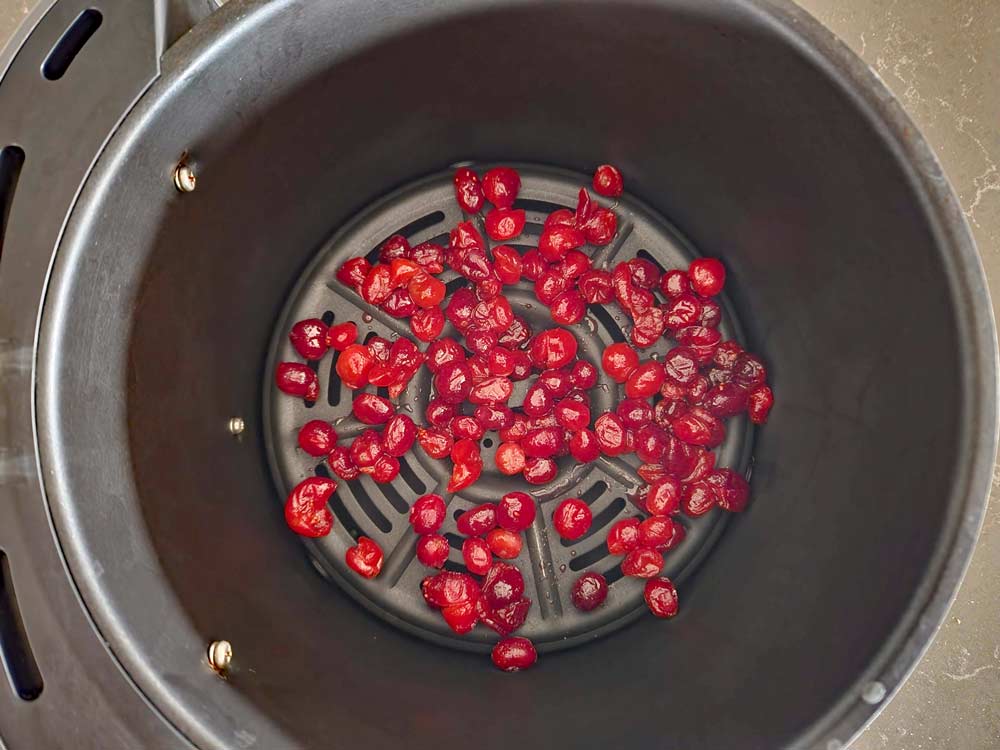 When the cranberries are dried, they will be shiny and shriveled. Some of them might still look a little juicy. That's okay. They will continue to dry when you set them out to cool.
Spread them out on a sheet of parchment paper and allow them to dry for another 1-2 hours, until completely cooled.
Why Use an Air Fryer
An air fryer is an incredibly easy way to cook just about anything. You place the food in a fryer-style basket and hot air rapidly circulates all around the food, making the food crisp – much like deep-frying, but without the oil. You can cook anything you'd make in the oven.
How to Use Dried Cranberries
I love dried cranberries on my salad for lunch. They give just a bit of sweetness and acidity, plus some nice texture. Try this delicious Harvest Cobb Salad.
Another way to use dried cranberries is in baked goods, like bread or muffins. They are great as a replacement for raisins in these orange cranberry scones.
How to Make Them Sugar Free
You shouldn't dry cranberries without first adding sugar to them. This is because they will turn out very acidic and sour. I can almost guarantee you won't like them that way. But if you want to keep them sugar free, or you are looking for a way to still enjoy dried cranberries without all the sugar you get in a store-bought version, you can replace the sugar with an equal amount of allulose or monk fruit sweetener.
Storage Method
Store your dried cranberries in an airtight container. If they are well dried out, you can keep them on the counter for a few weeks. They stay really nice, just like raisins would.
If they are still a bit moist, you might want to keep them in the refrigerator so they don't attract mold. The good thing about this recipe is that you can make more than you need and freeze them for up to a year. Just pull out as many as you need each time and leave the rest in the freezer.
Like this recipe? We'd love for you to share it with your friends on social media. For more great recipes, follow us on Pinterest and Facebook, where we share our recipes daily.
Air Fryer Dried Cranberries
Make your own Craisins with this Air Fryer Dried Cranberries recipe. Store-bought cranberries are great, but if you want to learn to make your own, the air fryer is the perfect way.
Ingredients
6

ounces

fresh cranberries

1/2

cup

sugar or sugar substitute

1

cup

water
Instructions
Boil one cup of water in a pot on the stove top. Once boiling, add the cranberries and cook until they pop, about 5-7 minutes. Turn off the heat.

Strain the cranberries, then return them to the pot that's still on the warm burner. Add the sugar and stir until the sugar dissolves.

Put the cranberries in the air fryer basket in a single layer. Press the air fryer's dehydrate button. It will take about 6-7 hours to dry the cranberries, depending on the temperature of your air fryer. Mine takes 6:30 on 135° F.

Remove the cranberries once they're dry and lay them out on parchment paper to cool completely before using or storing.
All air fryers have different wattage and may cook at different rates. You may need to adjust the time or temp for the best results.
Nutrition
Calories:
116
kcal
Carbohydrates:
30
g
Protein:
0.2
g
Fat:
0.1
g
Saturated Fat:
0.003
g
Polyunsaturated Fat:
0.02
g
Monounsaturated Fat:
0.01
g
Sodium:
4
mg
Potassium:
35
mg
Fiber:
2
g
Sugar:
27
g
Vitamin A:
26
IU
Vitamin C:
6
mg
Calcium:
5
mg
Iron:
0.1
mg
🥧 If you're interested in more great recipes, I share all my favorite recipes over at A Food Lover's Kitchen, and you'll find Instant Pot recipes at A Pressure Cooker Kitchen, and cocktails and drinks at Savored Sips. Check it out today!
Like it? Pin it!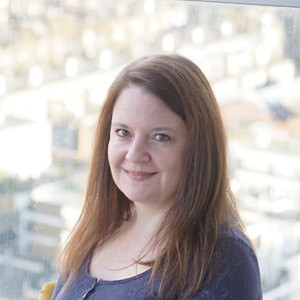 Laura spends a lot of her time cooking and creating recipes to share. She loves traveling and learning about new foods around the world to bring into her own recipes at home.