These Air Fryer Pork Belly Bites are perfect little morsels of deliciousness, having been cooked to crispy perfection in the air fryer. Serve them as finger food with a sauce on the side and they will be devoured in no time.
» You might also like these Air Fryer Steak Bites & Potatoes.
Super Useful Air Fryer Accessories
Once you've started using your air fryer more regularly, you'll find there are so many other ways you *could* be using it, if you had a few extra useful accessories. Here are a few favorites that we use almost every day.
12-piece accessories kit for 3.7-5.8 quart air fryers – includes silicone cake pan, cake barrel, pizza pan, toasting/warming rack, skewer rack, silicone mat, bread rack and more
Thermopen instant read thermometer for checking the internal temp of your meats
Evo Oil Sprayer Bottle – BPA, latex, and dehp-free plastic, won't clog or shatter, reusable, refillable, recyclable
If you've never cooked pork belly in the air fryer (or any other method, for that matter) before, you're really missing out. The circulating forced air in the air fryer gets it so crispy and the inside gets so tender and juicy. If you love this recipe then you should try these Crispy Air Fryer Pork Belly Strips.
These aren't your go-to healthy snack, of course. Pork Belly is quite fatty, but when cooked properly, the fat gets rendered and much of it drips off, leaving you with these delicious little bites. Just eat them in moderation – which admittedly is a bit difficult once you start smelling them cooking in the air fryer.
» Looking for more finger foods? Try Air Fryer Pizza Rolls, Air Fryer Gyoza and Crispy Breaded Shrimp.
Ingredients You'll Need
Pork belly cut into 1″ pieces, skinless – I find that 1-inch pieces cook best for pork bites, not too small when cooked and not too big that they don't coo through.
Dry rub or salt and pepper – While these are my seasoning of choice, feel free to use your favorite spaces for this recipe.
What is Pork Belly?
Pork belly is a boneless cut of meat from the belly of a pig, and it's a dream come true for meat lovers who adore fatty, juicy, and flavorful dishes. Unlike other cuts, pork belly is rich in fat layers alternating with muscle, making it incredibly tender when cooked properly.
Think of it as bacon's luxurious and unprocessed cousin; in fact, bacon is often made by smoking and curing slices of pork belly. We like to cook pork belly in the air fryer because it's a faster method than in the oven, but if slow-cooked, it creates tender, melt-in-your-mouth morsels.
Where to Buy Pork Belly
Pork belly is usually pretty easy to acquire at the grocery. It typically comes in packages of sliced or cubed pieces. Sometimes you'll find a whole slab of pork belly with the skin still on.
If you can't find it pre-packaged at the grocery, be sure to ask at the butcher counter. They typically can cut it for you from a slab they have in the back. Or they can order it special for you.
You can ask them to cut it into whatever size pieces you want. The butcher can also remove the skin. For this recipe, it's best to remove the skin, because it doesn't have time to get crispy.
If you still can't find it near you, you can go through an online butcher, like our favorite FarmFoods, who will ship it right out to you.
Why Use an Air Fryer
An air fryer is an incredibly easy way to cook just about anything. You place the food in a fryer-style basket and hot air rapidly circulates all around the food, making the food crisp – much like deep-frying, but without the oil. You can cook anything you'd make in the oven.
How to Cook Pork Belly in the Air Fryer
For this recipe, you want to use 1-inch pieces of pork belly. This cooks down to be the perfect bite-sized pieces.
Step One: Seasoning
Seasoning the pork belly gives it lots of extra flavor. We use our favorite homemade dry rub. I keep a container of this dry rub made up so I can use it on any type of meat or veggie I need to season.
It has paprika, chili powder, mustard powder, onion powder and garlic powder, brown sugar, black pepper and salt. It's a great addition to these pork belly bites.
Step Two: Add to Air Fryer
After seasoning, add the pork belly bites to the basket of your fryer basket. Make sure not to over crowd the basket. You want the air to circulate around all of the pieces.
Step Three: Set the Cooking Time
Different models will have different cooking times so make sure to consult your manual. Using the air fryer function which runs at 400 degrees, I set my air fryer for 8 minutes. Then I flipped them over and set it for another 5 minutes.
Step Four: Serve and Enjoy!
The pieces shrink down to little bite-sized morsels that are perfect for snacking. You can dip them in sauce, or just eat them the way they are.
Try Smoked Pork Belly Bites
We've recently acquired a Ninja Woodfire Outdoor Grill that has both an air fryer and smoker capability built in. This is the perfect ecipe to make in there. You get the smoked flavor and aroma along with the crispy pork taste. It's a bit like pork belly burnt ends, which we like to make on the grill in the summer, only quicker and easier.
How Long To Cook Pork Belly In the Air Fryer?
For these pork belly bites, cooking in an air fryer takes only 8 – 15 minutes, depending on size. You're probably thinking about how I just said it should be cooked slowly to become tender, but that only applies to larger pieces and whole slabs of pork belly, which can take aywhere from 30 – 60 minutes to become tender and for the fat to render properly.
With these small bites, the pork actually cooks very quickly and becomes a bit crispy too. You're not looking for that same fall-apart tender texture that you would in a whole piece of pork belly.
Can I Make Pork Belly Bites In The Oven?
Yes, you can make delicious pork belly bites in the oven. This method of cooking pork belly bites is best if you have a large batch to cook, prefer a slower and more even cooking process, and have the time to invest in longer cooking times.
Sauces for Pork Belly Bites
These little morsels are already super flavorful, but sauce makes everything better, so I suggest serving these with dipping sauce on the side.
One of our favorites at home is Alabama White BBQ Sauce, which is quite easy to make.You can also use a marinade before cooking the bites to give them a little extra flavor. To make them sweeter, try a honey bbq sauce.
They also go well with Ranch Dressing, Blue Cheese dressing, regular BBQ sauce, or even just mayonnaise.
Frequently Asked Questions
How long does belly pork take in an air fryer?
For these pork belly bites, cooking in an air fryer takes only 8 – 15 minutes. Cook it until it's crispy all around and firm. The fat in between the meat will have rendered and turned very soft.
Is pork belly better in an air fryer or oven?
The air fryer might be better if you prioritize speed, crispiness, and a smaller quantity of pork belly. If you need to cook larger quantities, prefer a slower and more even cooking process, and have the time to invest in longer cooking times, the oven may be more suitable.
Should pork belly be cooked fast or slow?
Fast cooking methods are best if you're after a crispy exterior and a quicker meal. Slow cooking is the way to go if you want an exceptionally tender, flavorful pork belly. You can also combine methods, such as starting with slow roasting and finishing with a quick sear, to achieve the best of both worlds.
Like this recipe? We'd love for you to share it with your friends on social media. For more great recipes, follow us on Pinterest and Facebook, where we share our recipes daily.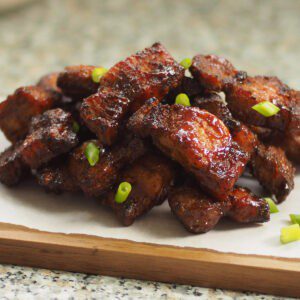 Air Fryer Pork Belly Bites
These pork belly bites are little morsels of deliciousness, turned crispy in the air fryer.
Ingredients
1

lb

pork belly

cut into 1" pieces, skinless

1

tbsp

dry rub

or salt and pepper
Instructions
Cut pork belly into 1" pieces. Sprinkle on the dry rub.

Place the pork belly bites in the air fryer basket, leaving room for the air to circulate.

Cook on 400 °F for 11-13 minutes, shaking the basket halfway through to ensure even cooking.

Remove the bites from the air fryer and enjoy with sauce, if desired.
Notes
These are best eaten right away. Leftovers can be stored in an airtight container in the refrigerator for up to a week.
If your pork belly comes with skin on, remove the skin before cooking.
If you prefer larger chunks, you may need to cook the bites longer to ensure they're cooked through.
All air fryers have different wattage and may cook at different rates. You may need to adjust the time or temp for the best results.
Nutrition
Calories:
394
kcal
Carbohydrates:
1
g
Protein:
7
g
Fat:
40
g
Saturated Fat:
15
g
Polyunsaturated Fat:
4
g
Monounsaturated Fat:
19
g
Cholesterol:
54
mg
Sodium:
24
mg
Potassium:
144
mg
Fiber:
1
g
Sugar:
1
g
Vitamin A:
25
IU
Vitamin C:
1
mg
Calcium:
10
mg
Iron:
1
mg
Pin it for later!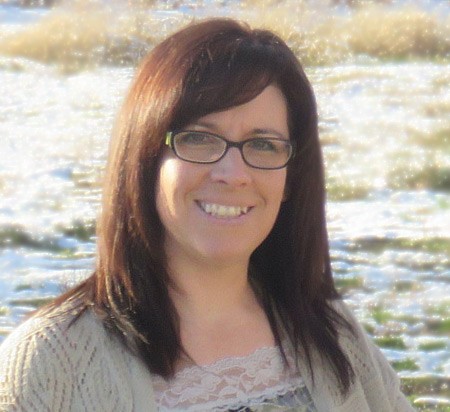 Angela is a talented home cook and passionate advocate for healthy, flavorful cooking in the air fryer. She shares her favorite air fryer recipes and helpful tips for using this versatile kitchen appliance to create delicious, nutritious meals.